TARIFS :
Tous les 45 tours sont à 6 euros
Tous les 25 cms sont à 10 euros
Tous les 33 tours sont à 12 euros
Toutes les Cassettes sont à 6 euros
Tous les CDs sont à 10 euros
Tous les Tee-shirts sont à 12 euros
ATTENTION : Les prix n'incluent pas le port!!
Nos colis sont envoyés depuis La Rochelle, en France, faites-nous parvenir votre commande par e-mail au préalable afin que nous établissions les frais de port!
A titre d'exemple, tarif des envois en colissimo : 6,45 euros pour un 33 tours, 7,25 euros pour deux 33 tours (ou huit 45 tours), 11,50 euros pour dix 33 tours.
Modes de réglement acceptés : Paypal, Chèques, Virements.
Pour toute information : frantic-city@hotmail.fr
Aller à : 45 TOURS - VINYLS 25 Cms - 33 TOURS - CASSETTES - CDs - DVDs - FANZINES - TEE-SHIRTS
NEW!!
Frantic City : Dragster 10", Double Cheese 7", Jaromil Sabor LP/CD
Bachelor : Makeouts LP, New Swears LP x 2
Beast : Go!Zilla LP x 2, Madcaps LP, Hipbone Slim LP
Dead Beat : Havenots LP, Heartbeeps LP, Brimstone Howl LP, Sick Thoughts LP x 2
Goodbye Boozy : Cumstain 7", Raw McCartney 7", Lazy 7"
Groovie : Los Tones 7", Routes LP
P.Trash : Marinellis LP, Useless Eaters LP, Genital Hospital LP x 2
Others : Skeptics CS (Retard), Regal LP/CD (Born Bad), World War III CS (Retard Records), Maharajas 7" (Moody Monkey), Decheman & Gardener LP (Kizmiaz), Owen Temple Quartet LP (Casbah), Social End Products 7" (Radar Eyes / Fuzz Overdose)!
-AGGRAVATION "Pressure EP"
We don't know what the hell isn't aggravating and going down the sewer in this world, but it sure ain't the music delivered by these French monsieurs. This 7'' looks like the negative counterpart to their ''Runaway'' EP on JoJo Records, packed in a white cover with black print and 4 new and catchy songs. The faster and elegantly stomping ''Pressure'' and ''Can't crush you'' on the A-side, as well as the bit slower and more melodic ''Scared to hate'' and ''Controlled'' on the flip please us with more revved up '77 Punk that sure doesn't lack of catchy melodies, a snotty voice, addictive choruses and cool, wavy passages. (P.Trash Records)
-AGGRAVATION "Runaway EP"
Plus sobre qu'un corbillard, la pochette ne nous apprend rien, laissant la musique faire l'essentiel. Le trio de Marseille à son meilleur, avec trois titres nerveux, sans temps morts, mais doté de ce sens de la respiration qui laisse toute leur place à la basse et à la batterie. Alors, répétons-le, les Aggravation ont du style. Et comment ! Avec des biscuits dans la soute. Coquetterie supplémentaire, le vinyle a la blancheur immaculée d'un évier n'ayant jamais servi. UN très bon groupe et un très bel objet. (Jojo Records)
-ANGEL SLUTS "Love Sweet Love"
Nouveau 45 tours pour ces Punks de Memphis, plan Power Pop catchy en face A, c'est plus Punk Rock sur l'autre face, 3 morceaux en tous. Joli vinyl coloré! (Chickpea Records)
-ASPHALT "Do you understand (me)? / Katzenkopf"
Second 45 tours des 4 toulousains qui affinent leur son, entre Punk 77 et Post-Punk, entre Aggravation et Frustration. Très bon! (Juvenile Delinquent Records)
-ATOMIC SUPLEX "Rock & Roll Must Die"
Destructo Rock & Roll at its best, ces gars (et cette meuf) de Croydon (Banlieue de Londres) sont les Guitar Wolf anlais, sans déconner! Ils ont sorti un premier split 45 tours avec les Swankers sur Death Pop (UK) avant ce single, et depuis ils ont sorti deux autres split 45 avec Hercules II sur Radiowave Recordings (UK) et avec Theee Bat sur Swamp Fiction (Japon). Ils ont fait au moins deux tournées au Japon et n'arrête pas de jouer chez eux à Londres et dans le reste de l'Angleterre, j'ai assisté à un de leurs shows et c'etait une boucherie Rock & Roll Trash sans nom, comme sur le disque! Trois titres Garage Punk speed et super trash genre les Sonics rencontrent Guitar Wolf, guitare qui dégueule de partout, sax débraillé et batterie rageuse!! (Frantic City Records)
-THE BEAVERS "Silly Girls"
Fameux groupe Garage Punk de Groningen, Hollande, les Beavers ont sorti leur premier 45 tours enregistré par Mike Mariconda (Raunch Hands, Devil Dogs...) sur Kogar Records au début des années 90, un an plus tard ils sortaient un split avec les rois du Trash de l'époque, GAUNT, sur Demolition Derby Records (Belgique)! Ils ont ensuite raccroché les guitares pendant quelques années, le guitariste/chanteur, Titus, a alors rejoint les Firebirds, groupe Garage/Surf qui a dû jouer au moins une fois dans toutes les villes des Pays-Bas (ils sont même passé à la télé là-bas!), et quand les Firebirds ont décidé d'arrêter il a rappelé ses pôtes des Beavers qui s'y sont remit avec un mâlin plaisir. Ils ont depuis sorti un nouveau 45 tours suivi de près par un terrible vinyl 25 cms sur le génial label hollandais High School Refuse en 2008, ils avaient gardé en stock une poignée de morceaux que l'on retrouve sur ce 45 tours! Trois titres : un brûlot Garage Punk genre Lyres meet Spider Babies en face A, la face B commence par un plan plus Garage "moody" qui sonne comme un morceau perdu des Crimson Shadows et se termine sur un hommage instrumental à Link Wray. (Frantic City Records)
-BELLY BUTTON "s/t"
3 morceaux lo-fi punk/power pop à la Nikki Corvette et early Donnas par ce trio japonais (2 nanas et un mec), joli vinyl rose sans face B, comme les 45 tours Rip Off! (Ken Rock)
-BENNY GORDINI WITH THE TEEN AXEL SOUND ARKESTRA "Tease me Baby"
Deux morceaux de Soul / Rhythm & Blues enregistrés par la famille Larsen! (B-Soul / Larsen)
-BIRDS OF PARADISE "The Little Death"
Birds Of Paradise is a new project by Roy Vucino (Red Mass, PYPY, CPC Gangbangs) and Hannah Lewis. Folk/Pop/Psych/Blues!! 200 copies. (Goodbye Boozy Records)
-BLEW-UP "On Fire"
Trashy Swamp Garage Punk Blues from Toulouse with members of Containers, Cheap Chaser, Jerry Spider Gang, Destination Lonely... (Relax-O-Matic Vibrator / Better Rock Than Roll)
-THE BORN LOSERS "For Chicago Girls"
Punk Rock US, 3 titres, mix assez spécial des New Bomb Turks, Humpers et Black Flag! (Scarey Records)
-CHEAP CHASER "s/t"
High-Energy Garage Rock par ce trio deux guitares + batterie de Toulouse, ex-Containers et actuels Angry Dead Pirates, 4 titres enregistrés par Lo'Spider bien sûr! (Better Rock Than Roll Records)
-COBALT CRANES "Freak Out"
Il aura fallut attendre une bonne année pour que ce 45 tours voit le jour, premier single 3 titres de ce groupe de Los Angeles et premier groupe US sorti sur Frantic City! Deux morceaux de Weird Garage Punk speed aux guitares bien psyché en face A, le premier est chanté par la sulfureuse bassiste Kate, le troisième morceau en face B est un mid tempo plus mélodique/mélancolique qui me donne envie de ressortir mes cassettes des Wipers à chaque écoute. (Frantic City Records)
-COCOCOBRA AND THE KILLERS "Baby you done me wrong"
4 track EP from the Coco Cobra that is fantastic, killer female fronted GaragePunk with a big G and a big P. After a LP and two CDs the first 7" is finally here. If you know this band think Spider Babies but with a female singer and you maybe have it, if not try it you will like it. (KenRock)
-COCONUT COOLOUTS "Yeah, Right!"
Nouveau single 3 titres des Coconut Coolouts, Weirdo Punk US, sur ce bon label suédois (Ken Rock Records)
-CORTONA "The Beat ist Billig"
Premier 45 tours du groupe lyonnais après plusieurs CDs, 4 titres Punk Rock à la Briefs, Hatepinks, Aggravation... (Casbah Records)
-CRISIS HOTLINES "A.R.T.I.F.I.C.I.A.L."
Premier 45 tours pour ce groupe d'Austin, Texas, 4 titres Punk Rock très 77, plans Killed By Death, avec un mec des Horribly Wrong. L'artwork fait très pochette de Black Flag! (KenRock Records)
-CUMSTAIN "Dahmer Blues" NEW!!
Cumstain is a sleazy Garage Punk band from Oakland, California, with a cool album out on Burger Records. Two new tracks recorded in October 2013 with Greg Ashley. Limited to 250 copies. (Goodbye Boozy)
-CURLEE WURLEE "My Brain is Empty"
New 7" featuring two originals by our favourite German/French garage heroes! Their smashing hit 'My brain is empty' came out this year on the sensational long-player 'Curlee Wurlee Likes Milk' and this 7" presents the obligatory piano version of it (instead of organ). It's anchored in the good old Kinks story-telling tradition : it could have been composed by Ray Davies in 1966, but it wasn't... it was written by Cécile Musy (better known as Organella) and it's a disillusioned hymn full of booze and macabre irony indeed. B-Side 'You are on your own' was written by Axel Oliveres (alias Teen Axel) and is a Mod & Mersey Beat-influenced smasher. (Larsen Records)
-DIGGER AND THE PUSSYCATS "Better listen up good - Europe Tour Part 1"
Hey y'all, Andy from Digger and the Pussycats here. Head P.Trash honcho asked me to write something to promote our two new 45s out on P.Trash Records and Timmeheiehumme Records. What can I say? We're just a dumb-arse rock and roll band who have aged considerably since our first P.Trash Record way back in 2005. Our waistlines and man-boobs have developed, but our music has not. We haven't tried to re-invent the wheel with these new tracks, but they're definitely Digger songs that could easily slip onto any of our previous albums/singles. If you like the band you'll like the songs. If you don't like us, then save your money! (P.Trash)
-DIGGER AND THE PUSSYCATS "Real Hard Time - Europe Tour Part 2"
With a back catalogue brimming with five albums, eight 7"s, a 10" and an EP, DIGGER & THE PUSSYCATS return with two new 7" singles to be released through German labels P. Trash and Timmeheiehumme. To celebrate the band are putting their adult contemporary lives on hold and getting in the van for an 18 shows in 18 days tour of Netherlands, Belgium and Germany. Expect suicidal rock moves, bad jokes and immature songs, not to mention the smell of gig clothes that live in a plastic bag in the back of the van that don't get washed until the final show. Not bad for a couple of thirty something fellas from Australia. (P.Trash)
-DISCO LEPERS "The Government took my Virginity"
7 titres, Punk speed bien Trashos genre GG Allin, Angry Samoans, compiles Killed By Death et tout ça, ça sonne un peu comme LiveFastDie et plus rapide! (Ken Rock)
-DOUBLE CHEESE "s/t" NEW!!
Formé à La Rochelle début 2014 par Ugo (Charles Howl) et Bart (Skeptics, Pneumonias, White Fangs…), Double Cheese enregistre en duo une première cassette 8 titres qui sort chez Cheap Trash Tapes, le label d'Ugo, en Avril avant qu'Aline alias Kristal Suiker (Skeptics) ne les rejoigne à la basse. Le trio sort alors une split cassette avec les Coffee Saucers sur Désobéissance en Octobre. Le son Garage Punk super trash des débuts s'en trouve étoffé et même si ça reste bien Garage et bien Punk, plein de Fuzz et de Reverb, ils se permettent quelques petites digressions Pop lors de leur session d'enregistrement chez Lo'Spider à Toulouse au printemps 2015 dont sont extraits les morceaux de ce 45 tours. Quatre titres merveilleusement emballés par le bruxellois Robin Renard à qui l'on devait déjà la pochette de leur première cassette. Le disque sera disponible sur la tournée de Double Cheese en compagnie des anglais de Proto Idiot qui les emmènera bien haut dans les Pays-Bas avant sa sortie officielle le 19 janvier 2016. (Frantic City)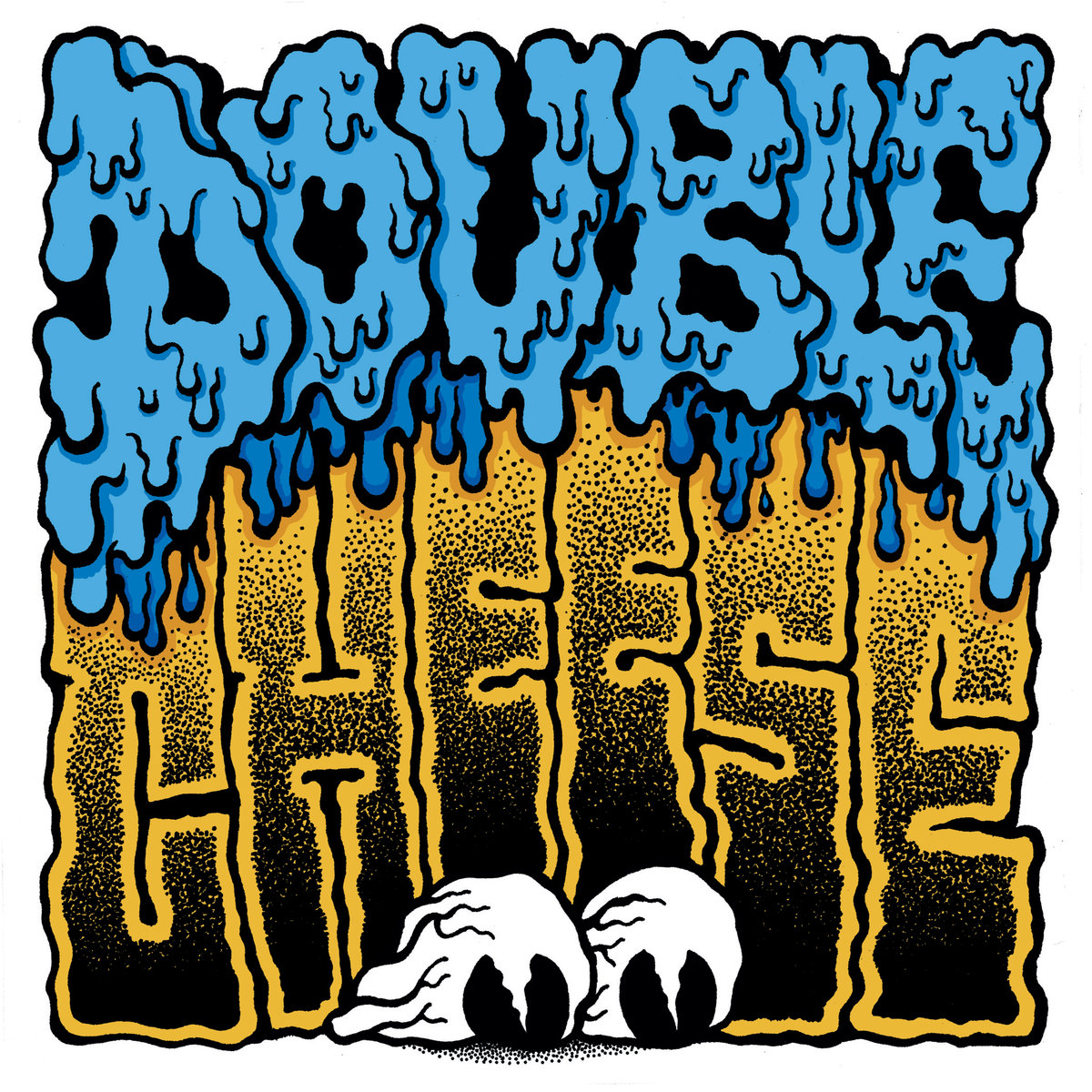 -DRAGS "Sense"
This lot are from Oakland and they play a kind of thunderous pop punk rinsed out in reverb. This gives quite a strangely spooky vibe to it which ends up falling somewhere between Deerhunter's sun-bleached psychedelic indie rock and proper functional pop punk bands like The Marked Men or The Ergs. It's a really strange combination but actually seems to work pretty well on this short but sweet two-song one-sider. (Goodbye Boozy Records)
-GO! "Your power means nothing"
Réédition du seul et unique 45 tours 11 titres (!) du groupe Old School hardcore New-Yorkais des 90s! (Guerilla Vinyl)
-GUT REACTIONS "Yer so cruel"
Punk Rock/Garage US enregistré par le mec des Teenage Rejects et Catholic Boys, 3 titres bien cools, ça sonne comme un mix des Reatards et Fe-Fi-Fo-Fums. (Ken Rock)
-THE JOLTS "Kaminari Lover"
Nouveau 45 tours de ce groupe Punk/Garage/Rock & Roll de Vancouver, 2 nouveaux titres qui rappellent pas mal Electric Frankenstein par exemple sur un joli vinyl jaune, avec une carte de téléchargement. (No Front Teeth)
-THE JUNOHOOS "First Class Motherfucker"
Second single from Groningen, The Netherlands' own Junohoos (with members of the Krontjong Devils and Hot Pockets), two new tracks primarily influenced by the Rip Off records back catalogue though this time they go louder and heavier, Joan Jett style! (Diftar Records)
-KAROVAS MILKSHAKE "Freak Out"
Debut vynil release from the best Russian garage/psych band right now! Two very cool tracks. (Chickpea Records)
-KUKEN "Black Rose"
Introducing Kuken from Hamburg, Germany. This is their first record, a two song 45, garage punkrock without any bullshit to sidetrack you from the impact. Guitar, bass, drums, two vocal lines all the time. Look out for their full lenght out on Bachelor early 2015 and a tour with Alien Snatch latest signing, Brain Traps. (Bachelor Records)
-LADY BANANA "Adult Rock"
Plus bruyants que les Oblivians et plus crades que Cheater Slicks, voici Lady Banana, de Göteborg, Suède! Ils sont deux et ils sont beaux bien-sûr, l'un d'eux était le cerveau-maître derrière les Tundra Fucks, autre duo devenu trio qui avait déjà sorti sur quelques 45 tours des morceaux Garage Trash parmi les plus ataviques qui puissent se trouver. Il revient avec un nouveau batteur et quatre nouveaux titres enregistrés dans un placard à balais!! Batterie primitive, guitare super trash et autres sons bizarres sont au programme de cette vingtième production Frantic City limitée à 300 copies avec pochettes rose fluo sérigraphiées par le batteur lui-même! (Frantic City Records)
-LAZY "s/t" NEW!!
Punk band from Kansas City, three tracks and it sounds like West Coast Punk and Hardcore circa '78 through about '82 - I'm talking about bands such as Avengers, X and the feral Hardcore offspring which quickly followed, like maybe Sin 34 and No Alternative. (Goodbye Boozy)
-LOS DERRUMBES "Hacen cantar a sus amigos!"
Deuxième 45 tours, sur ces 4 nouveaux titres ils invitent leurs potes à chanter et ça part dans des plans rockab' 50s bien sentis. (Vinyl Junkie Records)
-MAHARAJAS "Just let him go" NEW!!
How many nights and days did I spend listening to The Maharajas' milestone album "H-minor", while crying rivers of tears on Mathias Lilja's (The Strollers) amazing voice, next to some Teenage Shutdown desperate killers? I must admit I was almost missing these dark times of complete moodiness, and the deep sadness only The Maharajas can project in their songs, until the one and only Jens Lindberg (Crimson Shadows, Stomachmouths, Maggots, etc.) recently sent me these two new original songs. I couldn't believe my ears when I heard they still can be as moody as hell! Both "Just Let Him Go" (Jens Lindberg) and "Tell Me" (Ulf Guttormsson) are real monsters. "Just Let Him Go" is a cosy one with a discreet organ, a binary rhythmic bass, an ear-worm chorus, and a wonderful what I'd call Greek-style guitar free of any shitty effects, while "Tell me" could be another A-side: it is powerful and resolute, offering a surprising short middle part and an unresolved ending though, which in my mind enhances the tragic character of this song. Despite its moodiness, I can't help my body from moving like a bee. Both tunes are short and expurgated from any superfluous gimmick, and they go straight to the point. (Moody Monkey)
-MANIC ATTRACTS "Animals"
Manic Attracts are from Vancouver. As you likely know, for the past dozen years Canada has been spitting out some of the best garage and punk records. This is no exception. For fans of Black Time, Crime, The Oblivians and '60s girl groups. (Perpetrator Records)
-MARK & THE SPIES "Find yourself a way"
Deux nouveaux morceaux par ce bon groupe Mod/Garage/Soul hollandais sortis juste après leur dernier album chez Screaming Apple. (Vinyl Junkie Records)
-NEON BONE "Quits the band"
4-track 7inch from Pop-Punk-Oneman-Monster Neon Bone! Fantastic Screeching Weasel, Ramones, M.O.T.O., Weezer Punk from Münster! Full artwork in 3D and every 7" comes with 3D glasses... start your party right now!! (Ring Of Fire)
-NOVELTIES "s/t"
Quatre morceaux Punk Rock genre Punk 77 complètement barré par des suédoises, plutôt trash et mid-tempo, ça vaut le coup! (Ken Rock)
-OHMFACOM "s/t"
Punk Garage de Charleville-Mézières, quatre titres bien foutus, les bruxellois de Périphérique Est les reprennent sur scène, à écouter! (Music for Stupid Jerks)
-L'ORCHIDEE D'HAWAÏ "Eleki vol. 1"
Le groupe Frenchy weird Surf se barre au Japon volume 1! Super pochette! (Larsen Records)
-L'ORCHIDEE D'HAWAÏ "Eleki vol. 2"
Le groupe Frenchy weird Surf se barre au Japon volume 2! Super pochette! (Larsen Records)
-THE OTHERMEN "s/t"
The Othermen are a four-member garage punk, rock-and-roll band from Brooklyn, New York who are described by CMJ as one of "The most exciting garage punk act(s) currently soiling stages in NYC". "(Do The) Stand Still" is a foot-stomping ensemble complete with guitar buzzes and singing (screaming?!). Think Mummies!! (Chickpea Records)
-OUTFACE «TV generation»
Huit titres de Hardcore Punk Old School "straigh In-Your-Face" français enregistré en 2000! Très bon. (Panx)
-THEE OUTLETS "s/t"
Three girls (incl. Organella of Curlee Wurlee!) and one dude from Hamburg, St. Pauli, with their mighty cool four song debut EP: "You're not gonna" is a fast organ driven garage punker, "End of time" a cool ballad that might bring the Headcoatees back in your head, "Sortir avec toi" a mod / power pop cut and "Surprise party à Sankt Pauli" a fun sing along tune that you might think you've heard before, even though you've probably never been to Saint-Tropez, eeey, St. Pauli! Try it out!! (Moody Monkey Records)
-THEE OUTLETS "Halloween Bash"
today's so-called Garage Punk Sensation from Hamburg St. Pauli with their second release, a Halloween smasher offering two A-sides: My Monkey Man (Kerstin Holzwarth), a sexy Bo-Diddleyish fecundity ode, and Vampire of Mine (Cécile Musy) which beams you back in the ol' bad spooky world of Screaming Lord Sutch. Both of these dancing tunes were written by Thee Outlets, recorded at the Yeah!Yeah!Yeah! studios in Hamburg and come in a beautiful sleeve created by star illustrator Jean-François Martin in person! Two soon to become party classics, so put on your gorilla costume, smash your pumpkins and party on! (Moody Monkey Records)
-THE PEGS "Livin' at the Surf Motel"
Punk US speed et agressif à la Stitches, Briefs, Shakin' Nasties, Moorat Fingers... (No Front Teeth Records)
-THE PERCULATORS "White Trash"
Nouveau groupe de Stockholm avec une des meuf du groupe "Kamikatze", early Punk/Hardcore 80 avec un son crado genre Angry Samoans avec un chant féminin. (Ken Rock Records)
-PETER BERRY & THE SHAKE SET "Berry Express"
Nouveau 45 tours des Norvégiens, Mersey Beat qui sonne très early-Beatles, à ranger entre les Kaisers et Other Guys! 4 titres enregistrés par Liam Watson aux Toe Rag Studios. (Larsen Records)
-POPPETS "The Long Highway"
It have to happen and now it happen, and kenrock is happy to give the earth this nice Poppets record, after some nice 7' and a great LP at P.Trash Records they are back, The long highway is another great Poppets record, and the sleeve is a hot painting all screened down to paper, and yes black or colored record exist and 300 have been pressed. (KenRock)
-PROTOKIDS "Geometric Boy"
Official debut 45 of Paris own rising stars of powerpop (after the initial "Kings of the Hill" Single on on beloved Push My Button Records). The Protokids sound like edgy, working class teenage UK powerpop (Protex, Incredible Kidda Band, Rousers, Trainspotters, White Heat...). Add bouncy, jangly guitar nutso pop of the late ´70 US (think Heats, A's, Real Kids) and with their charming Bijou-esque french accent they take any punk heart by storm. This is right the stuff so many are hunting down - fanclub Power Pearls compilations from the heydays. Get on your jeans jacket, these moped racers are on stages in any departements in the fifth republic and Europe in the summer to play the right sound at the right time. The 7" has four (!!) so-catchy-it-hurts songs for your pre-weekend jerk-off party - each two songs recorded by Benjamin Daures of Yussuf Jerusalem in the basement and infamous Lo'Spider. Lim. 500 copies. (Alien Snatch!)
-RAW McCARTNEY "Midwest Eject" NEW!!
Psych KBD Punk Rock band from Indianapolis, the songs found here will scratch that psychedelic scuzz punk peppered with electronics itch that you might have been experiencing. (Goodbye Boozy)
-REGAL "Layer World"
Après un premier album qui a fait forte impression, « Possible Endings », sorti fin 2011 sur Frantic City et Azbin Records (chouette cadeau de Noël), et un second album tout aussi recommandable, « Misery, redemption & love », sorti un an plus tard sur Azbin, prolifique label monté par le groupe, c'est sur Born Bad qu'est sorti il y a quelques mois leur troisième, « Two cycles and a little more », également une franche réussite. Les deux premiers avaient été enregistrés plus ou moins à l'arrache avec le groupe au complet, mais pour la session du troisième album (dont sont également extraits les trois titres de ce nouveau disque) ils se sont retrouvés à deux et ont pris le temps d'arranger et de peaufiner leurs morceaux. Ça s'entend.
Si, comme on a pu le lire, ils se sont bien rencontrés sur World Of Warcraft, cela ne rend pas franchement compte de leur sensibilité et de leurs talents de compositeurs qui ont permis à Regal (groupe originaire de Lyon mais résidant aujourd'hui à Tournai, en Belgique) de se hisser au sommet de la scène Garage européenne contemporaine. Mais c'est là encore assez réducteur, car si Regal est bien un groupe de Garage, il n'est pas que cela et l'on perçoit à l'écoute de leur musique des touches Pop, Folk et Country, styles que les deux compères affectionnent probablement autant que le Garage lui-même.
Ils nous offrent sur leur premier 45 tours trois titres qu'ils n'ont pas pu mettre sur le dernier album faute de place, emballés comme d'habitude dans une jolie pochette signée Antoine Marchalot. Sortie officielle samedi 1er août, pour leur premier passage à Binic. (Frantic City)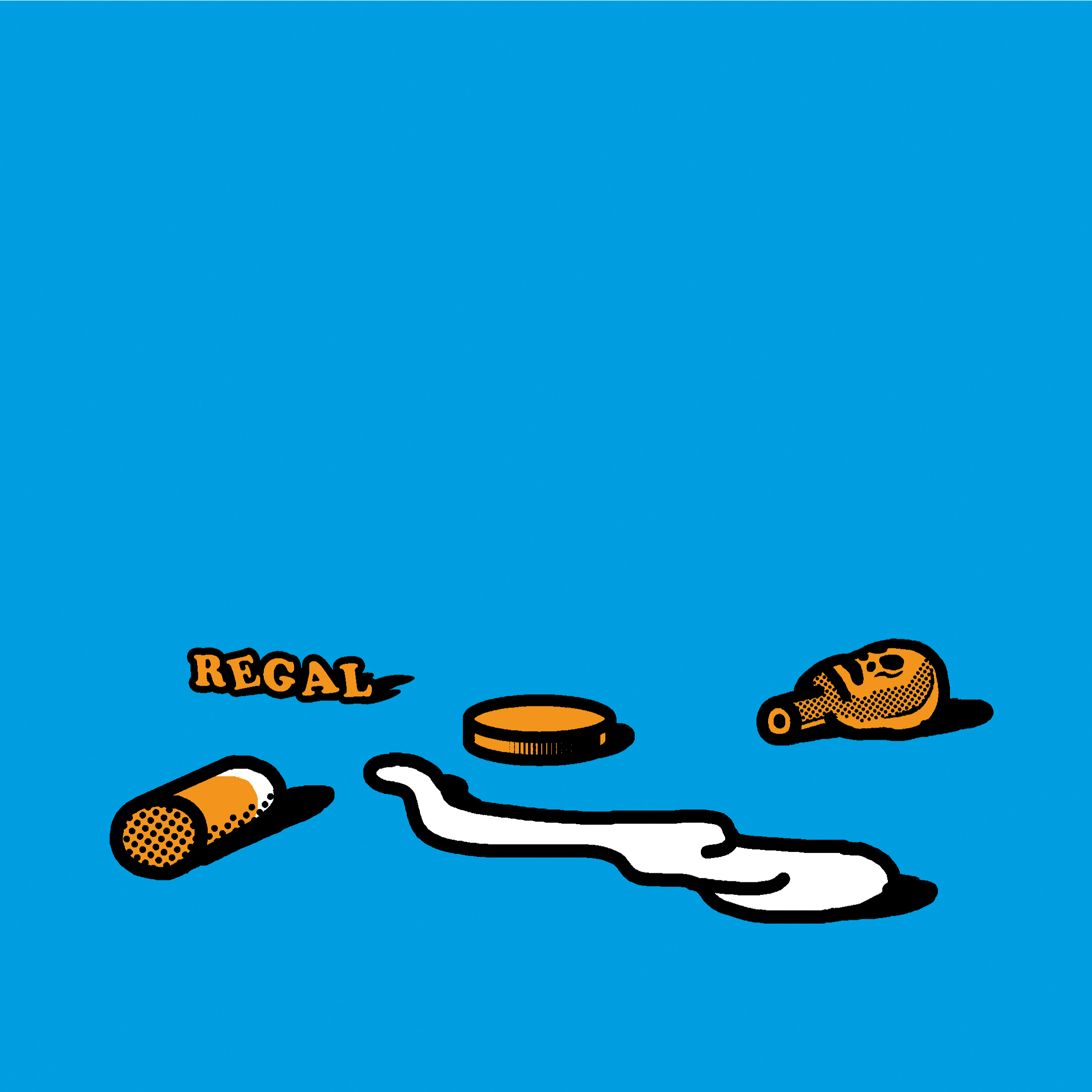 -REGULATIONS "Different needs"
This is the European version of the Regulations highly anticipated new platter where the Swedes brilliantly mingle dirty '70s Swedish Punkrock with the energy, rudeness and melody of early '80s LA Punkrock a la Adolescents or Circle Jerks. Rough, melodic and complex guitars, very good arrangements topped with some gritty vocals and pissed-off introspective lyrics make each of these 4 songs a hit. Top notch material from one of the best Hardcore-Punk bands around today. (P.Trash)
-RIC RHYTHM & THE REVENGERS "Free Love Free Guns"
Garage Punk Rock & Roll par ces ricians, 4 morceaux entre le Jerry Spider Gang et LiveFastDie! (Shit In Can)
-ROYAL ROUTES "Toxic"
Garage Punk bluesy et trash trash trash par ce trio de Montréal, deux titres. Terrible artwork sérigraphié par Bon Goût! (Yakisakana Records).
-SECTS TAPE "Harvester"
Groupe Punk Rock/Early Hardcore de Tournai, Belgique, trois morceaux influencés Dead Kennedys, Reagan Youth etc qui me font penser à The Aggravation en plus sombre. enregistré par Patrice Pétrole, pochette sérigraphiée sympa. (AzBin Records)
-SLOW SLUSHY BOYS "Move your hand/Don't look back"
Le groupe Garage Soul français nous la fait Ska/Rocksteady! Cool! (B-Soul/Larsen)
-SNUFFED BY THE YAKUZA "s/t"
4 titres Garage Punk super speed, un peu comme Dean Dirg ou les Manikins en plus rapide! (Ken Rock)
-SOCIAL END PRODUCTS "Egotrip" NEW!!
The Social End Products were formed in Nov 2009 in Athens / Greece by Stathis and Manos who were around since the 90s as members of the legendary Walking Screams, Outtasites, Mean Geanies and Inner Mystiques. The line up was completed with Themos and Dimitris who were playing together in the teen punk band Les Chrites. Influences range from artists like Hasil Adkins, Legendary Sturdust Cowboy, Bo Diddley, Red Crayola, 13th Floor Elevators, Sun Ra, the Back From The Grave compilation series... They deliver four explosive self penned Garage Punk songs which are gonna Psych-Out your brains out! (Radar Eyes / Fuzz Overdose)
-THE STACHES "NYC"
The Staches c'est deux filles, deux garçons de Genève, Suisse, ensemble depuis des lustres, soudés jusqu'à la moelle, qui s'acharnent à mélanger Garage, Punk de nanas, Pop lo-fi et Psyché. Poussés par l'ardeur de leur jeunesse, ils sillonnent déjà l'Europe et ont plus d'une centaine de concerts dans les pattes. Leur premier album « Machine » (Burning Sound Records, La Chaux-de-Fonds) est sorti en mai 2014 et un premier single « There's Something in Between » (La Suisse Primitive Records, Saint-Gall) a suivi en octobre 2014. Ce nouveau single, co-produit par Azbin et Frantic City Records, contient deux morceaux enregistrés par Seth Sutton des Useless Eaters à San Francisco en août 2014. (Frantic City Records)
-STOLEN GIRLS "s/t"
Garage punk from Upstate New York. One of the best live acts in Tri-State Area right now. 4 songs on a 7". (Chickpea Records)
-STRANGE ATTRACTOR "It's always Halloween (downtown)"
!!Punk/Garage/K.B.D./Punk!! Just in time for all hallows' eve, the groovy ghoulies from Scudbury's Strange Attractor are back with another crypt kicker. "It's Always Halloween (Downtown)" is a single-sided 7" that will shred your face off like a razor blade tucked into a candy apple. Tricks and treats! (Goodbye Boozy)
-THE SWINDLERS "I wanna kill my friends"
Le troisième et dernier 45 tours des Rip Offs vendéens sorti il y une bonne grosse quinzaine d'années sur Rockin' Bones Records en Italie après Rip Off et Wild Wild Records, 4 titres dont le fameux "Martian Attack"! (Rockin' Bones Records)
-SWINEHOOD "I'm a fuckin' misanthrope"
Speed Punk/Old School Hardcore bien virulent, 6 titres à la Drugstop ou early Hookers. (Ken Rock)
-LOS TONES "Jangle / Witch Hazel" NEW!!
Another killer record from Los Tones, one of the best Garage bands out of Australia! Double A-sider that's for sure, very strong 60s Garage/Psych flavour on this one, gotta dig it!! (Groovie)
-THE TOWELHEADS "Hiding Out / Turbanator"
The Towelheads is a secret band! No one knows who they are, no one knows where they are... Well actually they're guys from the Frowning Clouds from Australia going instrumental, but one thing is for sure, you need this!! Three different covers available, each cover is limited to 83 copies. (Goodbye Boozy)
-UV GLAZE "Daily Vomit"
UV Glaze is a Berlin based fuck you, noise punk monster including members of Herpes, Noem, Jailhouse Fuck and Wolfgang's Vacation. It's hard to describe their sound and dynamics its just uncontrollable and loud, noise/gunk punk! Been a fan of 'em before they even existed! UV Glaze is throwing us back to the mid 90ties when we all dug records of Amphetamine Reptile. Loud, wylde and even fun sometimes! If you go crazy while listening to The Jesus Lizard, Cows, Guzzard or Big Black, or much more recent Pissed Jeans and Metz, this band and this 45 is definitely a sure shot! (Bachelor Records)
-VAGINA BOYS "s/t"
Punk Rock italo-ricain, 4 titres tendus genre Fear, Feelers, Spits... (Ken Rock)
-WILD ZEROS "Homesick"
Premier single du groupe de La Rochelle/Bordeaux, parfait mélange de Garage 60s et Punk late-70s, quatre titres enregistrés par Lo'Spider aux studios Boogaloo à Bordeaux sur un 8 pistes à bandes, ils font une reprise de DMZ ("Boy from nowhere") qui leur sied à merveille, la musique du groupe rappelant fortement les différents groupes du Monoman ainsi que d'autres plans 77 savoureux comme les Real Kids, Saints, Fun Things... Looch Vibrato des Magnetix est venu plaquer quelques accords de Farfisa sur le dernier morceau. Les mecs viennent des Pneumonias, Flying Over, Mean Things, Magnetix (Wild F, le batteur des Wild Zeros, est aussi connu sous le nom de "Arthur Burners" qui n'était autre que le bassiste des Magnetix avant qu'ils ne deviennent un duo, il a enregistré quelques morceaux avec eux que l'on retrouve sur leur premier album "Magnetic Reaction" sorti sur Flame On Records), Challengers of the Unknown et d'autres encore! (Frantic City Records)
-WTHH "Lost in a cave / Tomato Gravy"
Two tracks on a single sided 7" by Waylon Thornton H. H., it's something like The Cramps in The Trip with The 13th Floor Elevators!! 200 copies. (Goodbye Boozy Records)
-THE YOUNG PUNKS «Do you punk rock?»
Punk Rock 77 à l'anglaise par ce défunt groupe français (Tours - futurs Fingertips et Vibrafingers!), 8 titres (!) qui sonnent comme si ils avaient été enregistrés en Angleterre en 77! (Ersatz Records)
-Split DEAD GHOSTS / SKEPTICS
Les Skeptics et Dead Ghosts ont joué trois fois ensemble, deux fois à La Rochelle et la troisième à Bordeaux, assez pour comprendre que Bryan et ses potes sont une bien belle bande de déglingos. On les suit depuis le single "Bad Vibes" sorti sur Yakisakana en 2009 (les deux titres sont sur la compile "Rarities" sortie chez Bachelor cette année) et jusqu'à leur deuxième album "Can't get no" sorti sur Burger Records en 2013 on a toujours été tout à fait satisfaits par leur mélange de Garage, Folk et que-sais-je-encore. Les Dead Ghosts sont définitivement une des meilleures choses qui nous soient arrivées du Canada ces dernières années avec Demon's Claws et Indian Wars. Ils préparent en ce moment leur troisième album et nous ont donné pour ce disque une terrible reprise du morceau "Girl" des Keggs, groupe qu'on retrouve sur deux volumes des Back from the Grave. Quant aux Skeptics, groupe Frantic City depuis le premier 45 tours sorti en 2009, ils préparent eux aussi leur troisième album, à quatre (= deux fois plus de fuzz et de reverb!!), et balancent une reprise très personnelle de "Misty Night", face A du premier 45 tours du groupe 60s hollandais Groep 1850. Deux covers 60s par deux des groupes Garage les plus excitants du Canada et de France sur un vinyl coloré, emballé dans une pochette du Bruxellois Robin Renard, limité à 300 copies. (Frantic City Records)
-Split WARM TOY MACHINE / WHITE FANGS
Deux groupes de Bruxelles qui partagent leur bassiste, ça sent le split consanguin! White Fangs envoie plus lourd que d'habitude avec "Shit Happens", enregistrée pendant les mêmes sessions que l'album, sorte d'hommage aux Cosmic Psychos ; sur l'autre face les mecs de Warm Toy Machine qui ont sorti un terrible premier album l'année dernière et préparent le suivant nous finissent avec leur mélange de Garage, Punk et Blues cradingue super fuzzy. Les deux morceaux ont été enregistrés chez Lo'Spider à Swampland et tu sais que ça va envoyer!! 300 exemplaires numérotés à la main avec 2 pochettes différentes. (Frantic City Records)
-Split FADEAWAYS / SMOGGERS
Chickpea Records presents an international garage split, volume 3 : 2 Bands / 4 Songs. Third installment in a series. This time delivering The Fadeaways from Japan and The Smoggers from Spain. Get it now!! (Chickpea Records)
-Split BARE HANDS / SIDA
Deux groupes consanguins de Lyon, deux titres par face, Garage-Noise avec plein de reverb et de delay genre Wavves en beaucoup plus dark en face A, la face B est plus Punk Trash 'synthétique'. Sympatoche! (Inch Allah Records)
-Split CHISTRMAS ISLAND / LE JONATHAN REILLY
The San Diego quartet called Christmas Island provide another interesting specimen for study, their tin-cans-with-strings lo-fi production making "Morning Sunshine" sound like a remnant of Southern Hemisphere indie rockers the Clean and their early-1980s New Zealand peers. That the production sounds vintage is doubly appropriate, since the track is a cover of a song by Jeff Lynne's pre-ELO band the Idle Race. "Seems like the world's late/ 'Cause I can't wait/ For sunshine in the morning," guitarist/vocalist Brian Carver observes. Christmas Island's guitars are grittier than on the Idle Race version, and Carver's slack indie-dude vocals replacing Lynne's Lennon-esque ones, but they're still backed by Beach Boys oohs and heavy-footed Maureen Tucker-style drumming. (FDH / Shit In Can)
-Split BOTOX RATS / DEAD RINGERS
Deux titres par groupe, les Botox Rats sont de Londres et nous la font à la Stitches, Smut Peddlers, The Ends, les Dead Ringers sont de San Francisco et jouent plus vite, avec un son plus crado, cool! (No Front Teeth Records)
-Split ULTRA TWIST / THE NACKERS
Un groupe italien et un groupe irlandais sur ce 45, deux titres chacuns, Garage Punk bien barré à tous les étages, école Mummies, DMZ et Back from the Grave, très cool! (Vinyl Junkie Records)
-Split AGGRAVATION / DEFENESTRORS
Two bands, Paris Vs Marseilles, very energetic Punk Rock. Wipers, Buzzcocks or Warsaw influences for the Aggravation and New Bomb Turks, Stooges and Ramones for the Defenestrors. Cover by Olivier Gasoil. (Relax-O-Matic Vibrator Records)
-Compilation "A Stompin' Party with 6 Rockin' Bands from New England"
This 7" includes some of New England's most interesting bands on the underground rock-n-roll scene. You get six bands playing Surf, Psychobilly, Garage and Punk. What unites them, is pure raw energy and rock-n-roll. This project took a long time in the making and we are extremely proud that it's finally here! Featuring : Icepicks, Murder Weapon, Antiseptic, Radiator Rattlers, Caught Flies and Grubs. (Chickpea Records)
-Compilation "La Rennes du Garage"
Bienvenue à Rennes, capitale de la déglingue, où depuis quelques temps dejà on assiste à un renouveau de la musique du diable, qu'on appelle aussi le Rock Garage. Bikini Gorge, RIGG, Black Jack Davy et les fameux Kaviar Special balancent un titre chacun sur ce joli 45 tours. Découvrez quoi, mais découvrez! (Open Art Surgery)
-ATTENTAT SONORE «Social headache»
Huit titres Punk Rock aux accents hardcore chanté en français par ces limougeaux. (Guerilla Vinyl)
-BROWN BROGUES "Zoloto"
More Fuzz-Trash mayhem by Manchester Garage duo Brown Brogues, first side of the 10" features two tracks recorded by Ross Orton and two more by long time collaborator Eaglenose, the second side features two previously unreleased live tracks (recorded in Manchester) and two demos. (Stolen Body Records)
-DRAGSTER "s/t" NEW!!
Depuis à peu près trois ans qu'ils existent, Dragster a déjà tourné dans une bonne partie de l'Europe, et surtout en Suisse qu'ils ont fait en long en large et en travers. Et pourtant le duo originaire de Rennes mais expatrié à Bruxelles depuis peu n'avait jusqu'alors sorti qu'une cassette 7 titres (dont un mémorable « Lou l'Enfer chasseur de dragons » qui est aussi leur premier clip, très réussi, visionnable sur youtube), cassette sortie sur Six tonnes de chair en juin 2014. Les voici qui reviennent avec une nouvelle fournée plus consistante : 8 nouveaux titres de Garage Punk plus trash que le Trash lui-même enregistrés comme il se doit au donjon du Maître Spider à Toulouse, gravés sur un 25 cms classieusement emballé par leur pote expat' Lou l'Enfer. Avec ces couches de Fuzz, ce chant satureverbé, ces guitares évidemment toujours parfaitement accordées et cette batterie bien primitive, ça fait fort penser aux early-Magnetix tout ça… Co-produit avec Retard Records mec. (Frantic City)
-SKEPTICS "Open Sea"
De retour avec un nouveau disque, Skeptics nous proposent cette fois-ci un élégant vinyl 25 cms (artwork de Guillaume Sport Lukçe oblige) contenant 7 nouveaux titres de nos fervents disciples de la Fuzz. « Black lonely & blue », leur second album, est sorti sur le label lisboète Groovie Records fin 2013, depuis le trio rochelais est devenu quatuor avec l'arrivée d'une seconde guitare et a parcouru les routes de France et d'Europe en long en large et en travers, s'arrêtant régulièrement à Toulouse dans l'antre du sorcier Lo'Spider pour y enregistrer leurs dernières divagations sonores. Certains de ces enregistrements ont déjà filtré puisque deux splits sont sortis courant 2014, un split 45 tours avec les camarades canadiens de Dead Ghosts sur Frantic City d'abord, puis une cassette partagée avec les party-boys mancusiens de Brown Brogues chez Ultra Cool Records ensuite, cassette sur laquelle on a pu découvrir le titre « TV Wizard ». C'est sur un « TV Wizard » remanié que s'ouvre ce nouveau 25 cms, véritable déluge de Fuzz, mais que l'on ne s'y trompe pas, il ne s'agit pas là simplement d'un énième disque de Garage ; avec leur musique sombre et sauvage, et à force de riffs grinçants et d'incantations lugubres, Skeptics nous entraînent avec eux dans une épopée dantesque, invoquant ce faisant de vieux démons oubliés. Cet « Open Sea » est très probablement le disque à prescrire à tous ceux qui se plaignent de ce que le Garage soit devenu ennuyeux à mourir. (Frantic City)
-SMUT PEDDLERS "Ten Inch"
Groupe US devenu culte, 8 titres Snot Punk bien rentre-dedans genre Stitches, the Ends etc. (Dead Beat Records)
-THE TOYOTAS "For Sale"
The Toyotas put all their small gems into one handy piece of a record that looks and sounds... hell, even smells good!! So if you never caught their P.Trash 7''s, here is your chance again : you get all the songs from their ''Radio Off'', ''We can't dance'' and ''Run-down Cities'' 7''s, plus the original ''Zombies'', the Reducers cover ''Small talk'', plus a fast and ripping cover version of Ed Cobb's ''Tainted Love'' (better known by Soft Cell) that fits the Toyotas' personal style. 14 songs in a beautiful jacket with a 60s design that was stolen from some old dinner tray. Colored inlay shows all the original artwork. If the Toyotas are selling - you better be buying! (P.Trash)
-200 "Das Stockholm Syndrom"
200 est le premier et unique groupe de Punk des îles Féroé! Ceci est leur premier album et c'est un chef-d'œuvre, à l'origine sorti en 2009 sur le CD, les allemands de John Steam Records l'ont sorti en vinyl pour la première fois en 2012, mélange furieux de Punk à la Minutemen et de Garage Rock avec une légère touche Post-Punk - paroles chantées dans leur langue maternelle. (John Steam Records)
-THE ABOUT:BLANKS "Ignore this product"
Your favourite loudest and snottiest bullshitters are finally bugging around again. It's been three years that their debut LP "12 Boring Blasts" was taken on by the specialized punkrock press with a bombastic lack of interest and consequently made the record to an "almost classic". However that's old news! Finally you will get the chance to ignore the next genius effusion of the weirdos from Europe's melting point of oddness but you shouldn't! "12 Boring Blasts" is completely sold out and as of now 10 is the new 12! 10 new songs representing the now-sound of yesterday! 10 new songs recorded in the old fashioned way on a big 3 inch tape which proves that analogue truly is the new betamax! 10 new songs revealing the banalities of any situation in life. Soundwise? Think Modern Pets, Stitches and Briefs meet The Professionals & Buzzcocks meet a roadkill squirrel. Nuff said! (P.Trash)
-ASHTONES "Let us be the legends..."
Here is the last, ultimate and best Ashtones record! And it comes on Beast and Turborock Records, hell yeah! 10 titres dont une reprise de Turbonegro. (Beast / Turborock Records)
-BIRTH "s/t"
Devastatingly punishing debut here from Chicago dirtbags BIRTH! Bathed in the same filth as Brainbombs, Drunks With Guns, Flipper and Big Black; Birth take cro-magnon riffs and shred 'em to bits as the sky collapses around 'em and they're buried in a pile of smoldering barbed wire. Think heavy, sludgey as fuck, proto punk that sounds like the Electric Eeels covering the Stooges using Sabbath's gear if it were stolen from a scrap yard and made out of knives. (Dead Beat Records)
-BLACK BUG "Reflecting the light"
Black Bug are a synth punk duo based in Bordeaux. On its face, the album features a handful of songs that definitely bring to mind the skate punk of the Spits or the sci-fi garage punch of Mind Spiders. But as "Threads" proves, they can also venture far outside the grips of punk music and straight into the territory of bleak synthesizers. This song sounds like the jittery, minimal, nihilistic descendent of Giorgio Moroder's "Metropolis" arrangements. It's a sound these two do well, especially because with "Reflecting the Light", their dark future world is usually tempered by a barrage of fuzz-smothered punk music. (XVIII Records)
-BOHEMIAN BEDROCKS "s/t"
Ten long lost nuggets of classic Teen-Cavemen Garage Punk mayhem recorded in 1984 in NYC by members of the Fuzztones, Purple Onion, Outta Place and Optic Nerve! Never heard before!! (Screaming Apple Records)
-BRAIN TUMORS "s/t"
Minneapolis degenerates Brain Tumorsspit back with another angry ripper. Pure menacing HC barked over punishing barbaric thrash. Rippin' Guitar work all over this fucker hammering out some of the most raw and uncompromising music you'll ever hear. Mean music that's meant to hurt. And it does. If you dig shit like Negative Approach, Gauze, Lip Cream, or Clevo scums like, 9 Shocks Terror and The Inmates, this ones pretty much essential. (Dead Beat Records)
-BRAT FARRAR "2"
Our Melbourne mate is taking a break from being the frontman of Digger & the Pussycats, Kamikaze Trio and Russian Roulettes in order to get a more important job done, namely to give his newborn a welcoming, warm and good start into this world. Nonetheless, his own world still rotates around a sun that unceasingly shoots down hot rays of Garage-Punk. To prevent his world from exploding, Brat recorded these songs with a little help from his current friends fatigue, confusion and dopamine all by himself in his bedroom in the wee hours of the morning. It comes as no surprise that the 11 songs on his second solo record range from the Digger styled Garage-Punk sound, the driving and melodic Wipers catchiness, to the distorted beauty of "Johnny Sparrow", a song which sounds as if Jay Reatard's ghost would have turned the knobs. No question, Brat Farrar's world has changed. Yet, he remains an all singing and dancing new wave machine with a heart full of noise. (P.Trash)
-BRIMSTONE HOWL "Blowhard Deluxe" NEW!!
Roaring out the gates with a gale force of noisy, feedback-drenched guitars and thunderous pummeling drums, the pride and joy of Lincoln, NE return with a snarling, shambolic vengeance. On 'Blowhard Deluxe', Brimstone Howl continues to exorcise their putrid, grimy Rock & Roll demons by primitively, pounding Blues fucked riffs into gloriously-trashtastic backwoods anthems. The fingerprints of Brimstone Howl's sound is seeped in the rich musical grime of bands like The Gun Club, Billy Childish, Radio Birdman, The Cramps and The Oblivians; and they cathartically spew raw, gritty blasts of Riff & Roll supremacy. Pioneers in the underground Garage scene, Brimstone Howl have come a long ways since their early days working with Jay Reatard and Dan Auerbach (The Black Keys). Another winner from the Howl. Cover art by Ben Lyon. (Dead Beat Records)
-BROWN BROGUES "Born to lose"
The shy and retiring Brown Brogues finally unveil their debut album Born To Lose, after a stint of gigs around Europe, playing on a boat in Sweden and a, ummm, "dungeon" in Manchester. If you're not au fait with the loud duo, they're kinda like every great, rough-around-the-edges US garage rock outfit... except they're from Wigan and you wouldn't be intimidated by them at the pub. Like, it's prob not an album you can let play through while you're doing some gentle housekeeping, but if you're into melodic yet unashamed scuzz that you can get whiplash dancing to, these guys should be your new favs. (Ultra Cool Records)
-BROWN BROGUES "Triflin'"
Double trouble garage rock twosome Brown Brogues are back with their new album 'Triflin'' alongside a truck load of tour dates. It would seem that the boys are all grown up, having moved to the bright lights of Manchester where they locked themselves in a disused mill and set about making their most mature sounding record to date. Keeping their DIY principles and love of analogue gear, 'Triflin'' was recorded at Graceland Studios on a reel-to-reel tape machine. Last year Brown Brogues brought us their brilliant noise infused debut album 'Born to Lose' and lovers of fuzz and distortion need not be disappointed, 'Triflin'' still has plenty of that, but this time with a healthy dose of control and a steady finger on the volume button. This time round, the songs are measured and delivered with precision. The biggest difference displayed on album two is the vocals. Having stripping away the screech of the radio mic, Vernon's voice is laid bare only to be complimented by the impressive falsetto harmonies provided by drummer Ben Mather. (Stolen Body Records)
-CANYON SPREE "Garden of Evil"
Berlin-based four piece sometimes referred to as psychedelic, occult garage, western movie soundtrack or, interestingly enough, medieval surf. Their music thrives on myths and images, a closed-eyed cinematic escape from the dry plains of Terrence Malick's Badlands to the Transylvanian mountains, burrowing through hostile forests and cyclops' cave. The band's sound combines melodic hooks, raw and bright guitar tones drenched with reverb and echo. The twelve songs on the album were captured in fall 2014 on an ancient 24-track tape recorder at the Hit Fountain studio in Berlin. The soft and surfy sounds of the guitars occasionally turns into a fuzz roar, as they howl alongside the almost tribal beats of the drums. The sound of an organ calls for the gathering of witches, mesmerizing, both mournful and lighthearted. From the depths of the canyon, reverberates the communion of the spree. (Azbin Records)
-CELLOS "Bomb Shelter"
Stewing in the same sludgey, riff infected cesspool as mid to late 90's heavy hitters like Karp, Unwound, Godheadsilo and Unsane; this Windsor, Ontario three-piece write some of the most punishingly awesome tunes you'll ever hear. This is harsh, destructive music where warm, fuzzy riffs are king and loud, noisy feedback is lauded as they melt, slice, and demolish each song into acute ear fucking precision. Nods to the Melvins and Black Sabbath are pretty much essential as foundational purveyors in the genre. And Cellos fit right in with the above mentioned artists as a band that's pushing the boundaries of extremely heavy music, one crudely bashed low-end hit at a time. (Dead Beat Records)
-CHIMIKS "Modern Storm"
Après l'aventure Fatals, Vince Posadzki, ex-Vipères, Aqua Nebula Oscillator, Bop Pop Killers et plein d'autres, originaire du Québec, s'installe à Paris où il monte les Chimiks avec Louie Louie (Happy Burger) à la basse et Ronnie Rollo (Weak, de Fétilly, La Rochelle!!) à la batterie. Ils sortent rapidement un premier single limité à 250 exemplaires sur Élégances Records puis c'est Slovenly qui sort un mini-LP 8 titres. Ce mini-LP enregistré à la maison au son super crade dégoulinant de fuzz nous ramène tout droit dans la période "Free Cocaine" des Dwarves, c'est trash, irrévérencieux, ça balance et ça se pose pas de questions. Leur nouvel album, "Modern Storm", a cette fois été enregistré à Toulouse chez Lo'Spider bien sûr, mais avec Mike Mariconda (qui a joué dans les Raunch Hands, Devil Dogs... et enregistré pas mal de disques pour Crypt dont ceux des New Bomb Turks!) aux manettes en plus du Lo'! Et bien sûr, les deux ensemble ça fait des étincelles, le son est terrible. Dix nouveaux titres qui puent toujours le Dwarves d'époque à plein nez et rappellent également les Dirtys, Reatards ou Motards. En gros ça envoie du lourd et c'est la meilleure bande-son pour la fin du monde, dépêchons-nous il ne nous reste que quelques mois!! Coproduit avec Barbarella Club Records, nouveau label dont le siège social sied au 37 quai Valin à La Rochelle... (Frantic City Records)
-COMBOMATIX "Combomatix"
Le duo Garage trash rennais Combomatix a choisi Frantic city pour sortir leur premier 45 tours "Cocktail Scandinavie" en 2010, et c'est toujours Frantic City qui sort leur premier album éponyme 2 ans plus tard, après avoir sorti un split 45 tours avec les Bruxellois de White Fangs en 2011! Dix nouveaux titres enregistrés chez Lo'Spider à Toulouse, meilleure production donc, plus de travail sur les guitares notamment, et c'est de loin la meilleure chose qu'ils nous aient pondu pour l'instant! Les premiers enregistrements évoquaient indubitablement les Oblivians ou autres Gories, ces nouveaux titres au son plein de reverb et bourrés de cocottes bien placées lorgnent plus du côté des Oh-Sees, sans pour autant délaisser le côté trash et débraillé qui fait le charme du duo. 33 tours limité à 500 exemplaires dont 100 copies sur vinyl jaune transparent du plus bel effet! (Frantic City Records)
-CREEPING IVIES "Stay Wild"
Any band that matters has a career defining record and for Scotland's The Creeping Ivies, 'Stay Wild' is that record. 'Stay Wild' is a monumental opus of face-melting, fuzz bathed in the primal libations of Rock & Rolls past. Cut from the same treble-tattered cloth as greats like the Cramps, Gene Vincent, Thee Headcoats and The Oblivians; The Creeping Ivies seamlessly mesh stripped down 50's Rock & Roll, Swampy Blues, R&B and raw, unbridled Garage Punk into their own depraved, cauldron of Riff N Roll supremacy. With torn-toms, shredded guitars, and hauntingly carnal Blues howled vox, The Creeping Ivies dish out a primitive dose of mutated Rock & Roll that works. Cathartic, hot-wired, fuzz heavy filth from this feisty, ferocious two-some. Cover Art by Idonmine. (Dead Beat Records)
-DC SNIPERS "Missile Sunset"
The DC Snipers from NYC bring something different to the table with each of the 11 tracks on this album; and it's hard to do that and actually end up with a record that's good! But the Snipers have proven it's not impossible. This album is not only good it's great!! Taking cues from other musical pioneers like the Screamers, Gang of Four, Urinals and the Electric Eels. Avec Mike Sniper, Pre-Blank Dogs. Sorti en 2006. (Dead Beat Records)
-DEAD POP CLUB «Autopilot Off»
Treize titres, Pop Rock Frenchy bien branlé! (Slow Death)
-DECHEMAN & GARDENER "Coup fourré" NEW!!
New album from ex-Dèche Dans Face "Decheman" from Bordeaux, now playing along with a young drummer (who also played in the Wonky Monkees), 13 tracks a great lo-fi but super groovy Garage Blues. Very nice! (Kizmiaz)
-DEPARTURE KIDS "On the go"
Departure Kids are a 4-piece power pop outfit from Marseilles, south of France. After a split cassette with Kaviar Special and a fantastic debut EP on RatPop records, we've decided to co-release their debut album « On The Go », with Requiem pour un Twister records. If you love The Nerves, The Real Kids, The Raspberries or '76 era Flamin Groovies, then this LP is for you. These 4 twenty-something kids sure figured out how to write catchy, high energy, instant-classic pop songs, and this striking « hits only » debut album undoubtedly makes them one of France's finest power pop band! (Howlin' Banana Records)
-THE ELECTRIC MORMONS "Ainsi soient-ils"
Après le split 45 tours sur Weekend records et la chanson culte "Motard Lose", les Electric Mormons (emmenés par Arsène Obscène des Veines et Flaschen) viennent enfin de sortir leur premier album en vinyle : 10 titres punk 77, rock'n'roll, garage des bas-fonds! (Mormons Records)
-THE FADEAWAYS "Raw, Wild & Wretched"
Mentored by Fifi and Fink of Teengenerate and raised on bands like the The Mummies, Supercharger, Spaceshits and the Rip Offs; The Fadeaways were pretty much destined to be a garage punk hit machine. Tokyo's The Fadeaways inject brash, punk attitude into stripped-down, dirty Rock & Roll to create raw, raunchy rippers that just seethe uber-rockin' coolness. This is crude, sweaty, speaker cracklin' trash that has Budget Rock smeared all over it. If the above mention bands mean anything to ya, this one is pretty much essential. Rad lookin' cover art by Ben Lyon. (Dead Beat Records)
-THE FEELING OF LOVE "Petite tu es un hit"
The Feeling of Love's first official LP from a few year's back on Yakisakana Records in France. This one is a bit more punk, a bit more volatile and bit less polished than most of their later recordings. If you were into the 12″ on HSBX2 that was full of noise and mud, than you can imagine how this sounds if I say it's somewhere between that "SOUL SUCK PORN" and "OK Judge Revival". It's still a great album, and is perfect for fans of JSBX, Cheater Slicks and Velvet Underground. Highly recommended to complete your FOL collection. (Yakisakana)
-LA FLINGUE "Adhésif Scotch Zéro Trois"
Here comes part three of the maxi series and it's again a stunning 6-song-ammo from Marseille's 77-punk-gun La Flingue. The first shot, the german sung "360°" is a killing pogo dervish for all ya sissies to get stalwart enough to crash a beer can against ya head. Strike by strike it goes on with that razor-sharp guitar salvos, hard hitting punky backbeats and cranky vocals in their catchy and unique French/English mixed style. Snotty ten minutes and it's over. This platter will take no prisoners, you'll hear no cry for mercy, but you'll be left in an adrenaline rush begging for more - so now it's on you to kick someone's ass. Packed in a mono-chrome-atic duct tape cover defacing again one of The Beatles' top ten hits of the "Rolling Stone's 500 Greatest Albums of All Time". Recorded by Rudy and the band at the studio Cimetierre Saint-Pierre in Marseille during last turn of the year. (P.Trash)
-LA FLINGUE "Kleb-Stoff Zéro-Deux"
Awesome new Frenchmen combo with guys from Aggravation, Irritones, Les Jolis and Hatepinks. You know, the common morons we all know and love! They play a wild mixture of naughty, fucked up and catchy as hell '77 Punk Rock. While they mainly puke out their lyrics in English and French, the opener "Hass Hass Hass" is a totally weirdo-hit sung in lovely, half wrong German. It's just one of those very rare and special lyrical climaxes which will some day be named besides poets like Goethe, Schiller and this hobo I met a while ago in our local trash-park. There's also a pretty great cover of 999's "Homicide" on this little 12" jewel, played a little faster and dirtier as the original version. Comes with inlay and a (pretty in) pink cover-art. (P.Trash Records)
-GENITAL HOSPITAL "Street Mummy" NEW!!
The second album by one of Montreal's finest weirdos Genital Hospital takes no prisoners. You get 10 catchy forceful & rousing KBD-garage-punk tunes being mired in psychedelic intoxication. A bit like Carbonas cover Modern Pets or way around including gang-vocals, great busy riffs, thirsty pogo beat and sprinkles of CPC Gangbangs and The B-Sides. A few tracks have a slightly southern touch owing to harmonica fills while others get driven by a simple but relentless organ vibe and cocksure all tracks kick ass. The whole damn thing is an all in all unique sounded smasher to burst any party - a really total boozy mess! Recorded & mixed by Jean-Michel Coutu, mastered by Ian of Dagger Eyes & perfectly illustrated by Darren Merinuk – a killer cover, one he says may be his best ever!! (P.Trash)
-GENITAL HOSPITAL "Eyes Full of Terror" NEW!!
Another great band from Montreal that is made up of the psyched out minds that brought you Demon's Claws, Primitive Hands, Scat Rag Boosters, Royal Routes and who the hell knows how many more bands and projects they have born and buried in the time I'm writing this. How is that possible that there is not a single lame project of anybody ever played in that band…? Genital Hospital just put out one great LP, that makes sense as an LP because it is good from beginning to end. Every one of the short 12 songs is a hit! No weak parts or psychedelic feedback indulgence here, this one goes all the way up-tempo. It's not so much a swamp Blues or weird Country thing but rather real Punk. Also think of The Original Three and the Sinks in their best moments. (P.Trash)
-GO!ZILLA "Magic Weird Jack" NEW!!
Fiorentini band Go!Zilla are bringing their very own dirty, psychedelic acid to the forefront of underground music, corrupting many minds with their wondrous interchangeable sound. Hailing from italy, this three-piece has notoriously become one of a kind, completing a whopping 200 (or more) shows just in their short time together! New 6 track 12", only 300 made! (Beast Records)
-GO!ZILLA "Sinking in your sea" NEW!!
After the mini-LP "Magic Weird Jack" Fiorentini band Go!Zilla are back on Beast Records with their very own dirty, psychedelic acid sounds for a 10 track LP "Sinking in the Sea". Hailing from Italy, this three-piece band is about to spread the world! (Beast Records)
-THE GOLDEN BOYS "Scorpion Stomp #2"
Réédition du premier album du groupe Texan monté par James Arthur des Fireworks, Necessary Evils..., duo super trashos, 11 morceaux enregistrés et mixés en 9 heures aux studios Sweatbox à Austin! (Perpetrator Records)
-THE GORGONS "Stuffed Delice"
Le nouvel album enregistré en juillet 2009, 13 nouveaux titres (pas de reprise) des Gorgons, groupe Garage parisien formé en 1989, dont quelques instrumentaux bien sentis. (Demolition Derby)
-GREEDY GUTS "Songs & Bullets"
Cinquième album des toulousains, 13 titres Surf Punk mélo qu'envoit toujours autant! Pochette de Ray des Hard-Ons! (Kicking Records)
-GREGOR MACKENZIE & THE MISANTHROPES "Torture that Girl"
Finally available the definitve anthology of Minnesota's Misanthropes! The band released four great and rare singles on the cult label Break'er Records between 1978-81. Some of these tracks appeared on various 'Killed by Death' and 'Hyped by Death' compilations during these last years. Their crude and weird music is a mix of influences that reminds The Gizmos, Residents and... Frank Zappa! Absolutely non conventional sound! The album includes also many unreleased tracks. All studio material! (Rave Up Records)
-HAVENOTS "Rock & Roll Weekend" NEW!!
Japan was a fertile Rock & Roll breeding ground during the mid 90s Garage Rock boom that spawned some of the best Punk Rock bands on the planet. Bands like Teengenerate, Registrators, Guitar Wolf and Yokohma's own The Havenots, not only stood out as Japan's imperial leaders in grimy, fuzz-fucked Rock & Roll but were also seen as bands that just seemed to get it right. The Havenots S/T LP released on Mike Lucas' Repent Records still stands as one of Garage Punk's crown jewels from that time period and their newest offering 'Rock & Roll Weekend' shows they just get better with age. With jangly riffs, swirling guitars, and a firey arsenal of pop injected Punk Rock hits, The Havenots cram so much raw, unbridled energy into these 12 fantastic cuts. 'Rock & Roll Weekend' is a bouncy, upbeat guitar-heavy album that echoes surges of The The Boys, Hollywood Brats, Buzzcocks and The Nerves with punchy Power Pop hooks and bawdy Rock & Roll charm. The production on this LP is monstrous and light years ahead of any of their previous recordings which really helps bring these timeless songs to life. Top notch song writing at work here from ex members of The Raydios. (Dead Beat Records)
-HEARTBEEPS "My bones are tattooed" NEW!!
Theirs no denying the impact that Bordeaux's TV Killers had on the international underground garage punk scene. They began in 1992 long before the hey day of the mid to late 90s garage punk boom and saw it through to it's perpetual demise. Out of the ashes of the TV Killers come Heartbeeps who quickly re-ignite the flame that their raggedly, rockin band once had. TV Killers fans will rejoince in the fact that not much has changed with time. The basic TV Killers blue-print is still intact. An adrenaline charged, dual guitar, smash n crash where steam roller riffs drill through frantic garage based punk tunes. Raw primitive Rock 'n' Roll that tips its cap to The Real Kids, Saints, DMZ, Pagans and the Zeros. Hell ya. (Dead Beat Records)
-HIGH BEAMS "Hallucination"
The High Beams play the kind of stripped-down rock 'n' roll that probably would've been called "punk rock" had it come out in '77 because punk was the only thing resembling real rock 'n roll music then. This is one of those rare CDs that immediately struck me on the first play, the songs are so good. Led by former Mullens/Vultures guitarist Matt Mayo - who also handles the lead vox - the trio pounds out great mid-tempo tunes with echos of the Heartbreakers, Dead Boys, Lurkers, and even some early '70s Stones type action goin' on. This is the kind of stuff that really gets the foot tappin' and makes ya wanna dance around like a maniac. "Look At Her Run," "Lori Looker," "Sleep Over," and the very Radio Birdman-esque "Tell Somebody" all get me moving. Yeah, this is really good. Alan Wright - 2003 (Dead Beat Records)
-HIPBONE SLIM & THE KNEETREMBLERS "Ugly Mobile" NEW!!
Hipbone Slim and the Kneetremblers take rock'n'roll, rhythm'n'blues – whatever you want to call it – and give it their own unique stamp and energy. They have somehow captured the true essence of rock 'n' roll, in a way that very few have been able to do, in a very long time. After 4 LPs out on Voodoo Rhythm Records, here's the 2nd Hipbone Slim & The Kneetremblers LP out on Beast! (Beast Records)
-HORNY WACKERS "They are savage!"
Boasting a band name that's pure Rock & Roll idiocy personified, the Horny Wackers fuck your ears with this festering, trashtastic take on raw, primitive music. This hedonistic three piece spew an aural arsenal of Rock & Roll perfection as they pound, thud and strum their merciless instruments into submission. Think raw, passionate riffery baptized in Pussy Galore, The Cramps and the Oblivians then bathed in the rotting bones of Eddie Cochran. Seedy, back woods, Rock & Roll filth played fucked up, fuzzed out and straight from the heart. This is the real deal, mutants. (Dead Beat Records)
-HUFF STUFF MAGAZINE "Sugar Mountain"
Check out this Punk Rock, Snot Rocket shot straight outta the back alleys of Oakland. Total Bay Area rager featuring members of Neon Piss, Knifey Spooney and the Ringers. This things got early East Bay, Pop Punk smeared all over it. If Lookout Records were still in it's hey day, Huff Stuff Magazine would be one of those bands that Livermore would put out and people would freak the fuck out over. The riffs are tuff, the hooks are bouncy and the tunes are a lil rough around the edges, but sooooo damn good. If bands like Pinhead Gunpowder, Crimpshrine, Cringer and early Green Day mean anything to ya, Huff STuff Magazine are swimming in that same Punk infected cesspool of awesomeness. Total banger for the wet brains. (Dead Beat Records)
-THE IMPOSTERS "Animal Magnetism"
So many modern bands have has been described as surf punk, but almost all of them fall short. The one band that comes to mind that truly fits that description is Hermosa Beach's The Imposters. Raised on bands like Agent Orange, the Adolescents, the Gears and JFA, The Imposters impecably revive a sound that hasn't been done justice in many many years. Through snarling bouncy riffs and shredded wasted nights, they carve out 13 nasty anthems of surf infected punk rock. If bands like the Simpletones, Sick Pleasure, Agent Orange, Red Kross or Negative Trend mean anything to ya, then this one's definately right up yer alley. (Dead Beat Records)
-THE INTELLECTUALS "In the middle of darkwhere"
The fourth LP by one of the longest-living punk bands in Rome. This one is the darkest, as the title suggests; an ode to the political and cultural decadence currently swallowing the Mediterranean. Here, our post-post-modern troubadours sing our dark times through nine tunes and five interludes that range from Black Flaggish brutality to Jonathan Richman melancolic playfulness. The little apartment punk interludes fill in the gaps between different states of mind and the result is like a half hour of non-stop descending in a creepy/fun Intellectuals theme park. As usual, the now stably four piece band (with the addition of Strasbourg little legend Cheb Samir, also in Jeetkune' fame artists Bobsleigh Baby and Caputtini 'I Lignu) delivers a milkshake of different sounds and atmospheres, although still dwelling in their tradition of loud punk attitude which peaks in short, fast, and wild anthems. (Jeetkune)
-JAROMIL SABOR "III" NEW!!
S'il n'a pas encore l'aura de ses idoles de jeunesse Slash et Bruce Springsteen, Jaromil Sabor s'est tout de même taillé une solide réputation dans les arcanes du Rock français. Son histoire prend racine à Bordeaux, d'abord avec les soyeux Artyfacts puis au sein d'Arthur Pym And The Gordons où il s'excite davantage. Mais c'est en débutant ce projet solo que Jaromil Sabor trouve un terrain d'expression privilégié. En 2012, « Marmalade Sculpture » défrichait son obsession pour la Pop poétique finement arrangée. Deux ans plus tard, son successeur, le magnifique « La Santa Roja », réaffirmait sa soif d'aventure. Pour cette troisième sortie, Jaromil Sabor continue donc à n'en faire qu'à sa tête et livre un disque plus frénétique, où ses réflexes Pop rencontrent régulièrement une énergie Garage Rock primitive. Sobrement intitulé « III », le disque sortira cet hiver chez Frantic City Records qui avait déjà publié plus tôt dans l'année la cassette réunissant Jaromil Sabor et Prêcheur Loup, elle aussi animée d'une énergie débordante. Pour présenter son nouvel album, Jaromil Sabor sera en tournée courant février 2016, accompagné d'un groupe qui prend la forme d'une dream team réunissant, entre autres, des musiciens ayant traîné leurs guêtres au sein des Fatals, Skeptics, Bad For Bugs ou encore Prêcheur Loup. (Frantic City)
-JIMI WAS GAIN "Weapon of Woman Destruction"
Pure juice garage from Nord-Pas-de-Calais, France. Jimmi Was Gain performs their special blend of blues punk with a brand of showmanship and energy that makes their live shows headed toward legendary status. (Hover Craft Records)
-LAST NIGHT "s/t"
Last Night is not really new in the game, having been in the surf band The Cavaliers, taking someone from the garage punk band Fix-It too. They first put out their album on Le Turc Mecanique, in the format of a cassette, a sturdy ten-tracked release. Now they've released a physical edition on vinyl featuring both tracks from their first 7" as well, making it a 12 track 12" record and a really interesting blend of garage rock and the best of post-punk, a screamer of an album that should've been listened to until the ears were bleeding, kicking it out with a punk attitude. Fortunately enough, you can do that now. (Manic Depression)
-LOOSE LIPS "Talkin' Trash"
Après les Infections, Shane White (Rip Offs) s'est fait plaisir avec les Loose Lips, 3 des Infections + un autre bassiste, plan moins rapide et plus posé que les Infections tout en restant dans le même style Punk Rock & Roll crado. Reprise des Hollywood Brats. (TKO)
LOS DOS HERMANOS "Bourbon, blood and sea-foods"
Los Dos Hermanos are a garage duo formed by ex Sunmakers' Billy Dorados on white Stratocaster and Carole Tweedlady on drums who create summery atmospheres through echoey vocals, surf music stylings, catchy guitar lines and pop melodies, with punk attitude and raw energy on top, all mixed into one explosive and unique formula. Though influenced by both '60s legends and new acts such as Thee Oh Sees or Ty Segall, the duo designed their very own vision of the genre, an exotic brand of garage rock filled with unexpected historical references, due to their shared passion for History, hence song titles such as « Robespierre » or « Louis XVI » and the revolution-inspired artwork by Victor Marco. (Howlin' Banana Records)
-MADCAPS "s/t" NEW!!
Unhinged, deranged, completely mad garage savages, The Madcaps, from Rennes, in western France, are pedlars of fast-paced adolescent punk, held together with tight beats and wrapped up in fuzzy guitar. But more than this, they know how to be suave - side-stepping comfortably, these assured groovologists know how to ladle up the smooth mid-tempo, the warm round bass lines having one sole and unique purpose: inducing longitudinal motion in the listeners' hips. (Beast / Howlin' Banana)
-MAKEOUTS "Back to sleep" NEW!!
Makeouts are a Stockholm, Sweden based Garage Punk band. Three years after the release of their critically well acclaimed debut album they are back with their opus magnum, "Back To Sleep", a true masterpiece that will make waves and stand out of the tons of crappy "garage rock" records that get shoved into your ears each and every week... This full lenght contains noise, chaos and beauty, inspired by lots of cool music, but without sounding either retro or like a carbon copy. Europe now got their own brilliant garage punk band, the Makeouts. (Bachelor)
-MARIA GORETTI QUARTET "s/t"
Weird Noisy Garage Punk du sud de la Belgique (vers Tournai), 14 titres genre Le Face ou Venereans! (Tandori)
-LES MARINELLIS "Île de Rêve" NEW!!
Third album for Montreal's French-Canadian psychedelic party animals! Tune in, turn on, drop out!! Cassette on Burger. (P.Trash)
-LES MARINELLIS "s/t"
Listening to the first track one thing falls into place: Le Kid is only absorbed in Les Marinellis and not blown away, as your mind will do. You're right there where the great debut left you – deep in a sweeping frisky 60s garage pop huddle. The second song "Le Ciel" comes kinda like a lost gem from the Demon's Claws songbook – pure country psychedelica. Clappin' hands and shamblin' through "Deux Pour Trois" then inhalin' the hazy musing of "Seul" these dudes will bring you to the light of "La Vie" at the end of side A. The flip side features even five more super catchy tracks in the vein of Jacques Dutronc and Demon's Claws, but the last dance "Mes Yeux" is a goddamned hit! All performed in a sloppy Black Lips and Le Chelsea Beat parlance and at some moments the band reminds me a little of Los Growlers with balls. (P.Trash)
-MILE ME DEAF "Eat Skull"
Here's the debut LP by Wolfgang Möstl's Mile Me Deaf. For this record MMD teamed up (in parts) with the Maximum Miracle Center, which is the Sex Jams rhythm section. The 10 songs on Eat Skull are a fuzzy dream pop mixture, that never seize to bore me. (Fettkakao)
-MISCALCULATIONS "s/t"
Ambitious effort from these London pukes. Miscalculations bash out 12 snotty, bruising Punk Rock hits spat in yer face by a couple a fucks from The Gaggers. Top tier, rapid-fire, Snot Punk that's got The Dickies, Buzzcocks and The Boys spastic, hyperactive charm smeared all over it - but with a very seething, morose, outlook that works well with the ferocious, poppy grit of the music. Jittery, razor-sharp Wire/Gang of Four/Wipers guitar tangents weave in and out of the songs that are all held together by snarling, bouncy First-Wave lunacy, bristling with fresh ideas and a poetic, melodic bite. Clever, creative song writing reigns supreme on this snearing, fuck-tastic ripper that's one of the gnarliest examples of modern day Punk Rock done right. File under "Good Shit". (Dead Beat Records)
-MODERN PETS "Sorry. Thanks"
Berlin fuck-ups stab out their own little corner of cool with their newest Ritalin-rampant rager 'Sorry. Thanks'. Mixing the best elements of late-'70s/ early '80s Punk and adding their own little sparkling dash of now! Germany's finest unleash a dynamic album with fervent hooks, scratchy, cork-screwed guitar solos with a manic hyperactive personality that really sounds like no other band than the Modern Pets. By taking the snot-filled humor of the Dickies, a smear of street grime from the Adverts, and a kiss of pop seduction from the Buzzcocks and Generation X; the Modern Pets create a timeless arsenal of degenerate-mutated Punk Rock hits. Contagiously, catchy tunes from the newest heirs to the Deutstchpunk throne. (P.Trash Records)
-MORALENS VAKTARE "s/t"
Frickin' A-Bomb dropped from the south side of Sweden. After a couplea pretty bad ass singles, Moralens Vaktare lose their kiddie shoes and check into the big leagues with this tough Rockin, back alley ripper. With their feet firmly planted in the Rock-ier side of Punk Rock, namely bands like the Real Kids, Gizmos and Heartbreakers; MV's continue their guitar slinging, Riff-N-Roll onslaught. You can tell these fuckers've given ample turntable time to their old musty Kids, Hubble Bubble and The Pack records. As this scuzzy mid-fi, diamond in the rough is like a punk rock-snot rocket shot straight outta 1978. Messy mangled riffs splattered in beer, Cheetos and fun. Tasty. (Dead Beat Records)
-NEW SWEARS "Junkfood forever, bedtime whatever" NEW!!
Best thing in Canada right now, and Canada's full of brilliant bands these days. New Swears are back with their new album "Junkfood Forever, Bedtime Whenever" only about one year after the release of their debut album "Funny Isn't Real" (Bachelor / Dirt Cult) which got raaaaving reviews all over the world. The sound of the first album was a bit crummy / lo-fi in some way, this has changed totally here, but still they ride the rollercoaster in the theme park called "Rock & Roll all night and party every day"! (Bachelor Records)
-NEW SWEARS "Funny isn't real" NEW!!
Imagine Mean Jeans partying with the Black Lips! Jangly garage punk from these Ottawa party animals. The perfect soundtrack to getting drunk and jumping off the roof of a two story house into the shallow end and having to be carted off to the emergency room for a couple broken bones. (Bachelor Records)
-OVERCHARGE "Accelerate"
Iron fist Rock & Roll reigns supreme on Overcharge's debut. 'Accelerate' hits hard with a bludgeoning, blur of roaring riffs forged in the fiery ashes of proto-Metal, Punk Rock and Thrash. A brutally devastating concoction steeped in anger, drenched in distortion and brimming with an aggro onslaught of ear-shatteringly awesome tunes. Overcharge's music has a nice pounding, trebbley low-end rumble that's really hammered home by the crisp, beefy production that accentuates the punishingly-brutal, guitar solos that interweave themselves through each and every song. Burly fuckin' riffs for days on this record that spews an unrelenting whiplash of Punk-inflected Metal painting a grim, bleak picture across 10 finely crafted anti-hits. Raw, guttural power and skull-crushing Rock & Roll never sounded so good. Fans of The Hookers, Nashville Pussy, Motorhead, Entombed or Midnight will be all over this. Fuckin' killer debut. (Dead Beat Records)
-OWEN TEMPLE QUARTET "Rot in the Sun" NEW!!
It shoudn't be too hard to talk about an album. But now that Owen Temple Quartet has entrusted us with the release of "Rot in the Sun", it appears that we have our work cut out for us. However thrilled we could have been by the band members' other activities (No Guts No Glory, Bad Chickens, Rodéo Massacre...), it soon became obvious that "Rot in the Sun" was a mysterious record, one with a powerful identity. This last album spits out a thick richness and contagious darkness, with urges reminiscent of the Gun Club and Chrome Cranks, a Movie Star Junkies-esque fever with Nick Cave's ceremonial tone. "Rot in the Sun" is one of those albums whose theme and atmosphere just won't go away. (Casbah Records)
-PAUL COLLINS' BEAT "1979"
We are beyond honored to present to you an amazing live show from 1979 by The Beat, feat. Paul Collins of The Nerves and The Breakaways, Mike Ruiz (drummer for Milk n Cookies), Steven Huff and Larry Whitman. Classic powerpop songs (includes classics "Rock & Roll Girl" and "Walking out on love"), played to perfection by The Beat at an exciting period in their career, when they were first starting! The show was played at the Palladium on December 13, 1979. One side only! 500 Handnumbered copies. (Rockin' Bones)
-PUSRAD "Erarre Humanum Est"
Phenomenal LP here from Sweden's finest, Pusrad, who feature two former members of the almighty Raped Teenagers. Creative mutants Pusrad continue to redefine the boundaries of Punk/HC with fresh ideas and blistering songs. Pusrad take cues from classic US HC bands like Deep Wound, FU's, Jerry's Kids, and Koro; but throw in really weird off kilter riffs and unsuspecting, stop-start tempo changes to really make their songs stick. The crisp, clean production really captures their ferocious, manic energy and for a HC band their musicianship is impeccably tight. 'Erarre Humanum Est' is as relentless as it is creative, and the unpredictable, uniqueness of each song is really what makes Pusrad's music stand out. Flawless Swedish HC here from a band that continues to impress. (Dead Beat Records)
-REGAL "Two cycles and a little more" NEW!!
Régal est probablement le seul groupe de Garage français dont les membres se sont rencontrés sur World of Warcraft ! Très vite confrontés à leurs propres limites en matière de banjo, Xavier (batteur des Last Rapes et du Pécheur) et Caelan (Toulousain et Néo-zélandais) remisent un temps leurs aspirations folkloristes et font appel à Maxime à la basse. Le trio recrute Antoine Marchalot, le « dieu de la bande dessinée drôle » encore inconnu à l'époque. Son sens du rythme, à l'image de son sens de l'humour — personnel et inattendu — n'empêche pas le groupe de réaliser plusieurs tournées en Europe, et de sortir deux albums, "Possible Endings" en 2012 ( Frantic City/Azbin) et "Misery, Redemption & Love" (Azbin) en 2013, Azbin Records étant le label créé par Xavier en 2012. C'est pendant les fêtes de la fin de l'année 2013 que Maxime se sépare de Régal et de son ampli basse pour s'adonner à une autre de ses passions : l'observation du cosmos. Le groupe se tourne alors vers Fadi, un métallurgiste Syro-Lillois qui fréquente « La Barrière », l'épaisse bâtisse vieillissante de la ville fantôme de Chercq (Belgique) où vivent Xavier et Caelan. Après une tournée européenne mi-figue, mi-raisin de près de 30 dates en 31 jours, Caelan et Xavier retournent en studio pour enregistrer le troisième album du groupe "Two Cycles & A Little More'. (Born Bad)
-THE ROUTES "Skeletons" NEW!!
The Routes are one of, if not THE best garage outfit out there today, and their new album just confirms it. So forget about the bands hiding their inadequacies behind tons of effects and divert your attention with their flashy costumes. Forget about the bands who claim to be garage bands, but play a wimpy mix of shoegaze and light pop. You can even forget about the multitude of garage bands who got the right idea and gear but fail to deliver. This is the real deal! Eleven songs that only rely on raw talent, raw power, and raw production (and the scuzziest fuzz guitar sound you've ever heard) to deliver some of the best garage punk tunes this side of '66. Yet, unlike many of their 60s counterparts, the Routes managed more than a one hit wonder, as you'll rapidly realise listening to Skeletons. The album is simply full of memorable tunes, bursting with pissed-off energy and earworm melodies, and the Routes' highly distinguishable sound. So play that record already, and get ready to blow the cobwebs off your speakers with the stompin', grindin' sound of the Routes! (Groovie)
-SAPIN "Wrong Way"
Sapin is a three piece garage-country-surf-pop band formed in Rennes, France. Influenced by the American scene, from the Black Lips, Dead Ghosts to Demon's Claws as well as european bands such as Regal or Movie Star Junkies and others, their shows are always driven by a lot of fun and energy. The bouncing bass, the country rhythms sometimes surf beat and the wicked singing will surely make dance girls ! If you are not one, don't worry, you'll probably shake your ass too. Their first LP « Wrong Way » follows an excellent EP out in april 2013 on AzBin too. Twelve songs recorded in november 2013 between cool country as the hit « Wrong Way » and Garage, sometimes nearly pop as in « Diamonds and pearls ». Those three dudes are good in wanker slow cool songs too as « Lost beach » or « Rock around the topic ». Such fun as immediate! (AzBin Records)
-SHARK TOYS "s/t"
Inner city mutations reign supreme on this shambolic, scuzz-pop ripper from bowels of Los Angeles. Throbbing bass, jagged guitars, and dreary vocals anchor each tune with grimy proto punk toughness and clangy, post punk grit. And the poetry-as-lyrics vocals are smattered with splashes of Keys and a Moog that have a real rhythmic, almost mechanical, feel to them that kinda comes off a little like Devo. But don't take that as them sounding like a Wave band, because they're far from it. Shark Toys' music is carved out of the ramshackle, pop-fused, punk of bands like the Modern Lovers and Television Personalities. Intimate and shambolic, gutter-pop, slop polished in Swell Maps, Raincoats and Gang of Four decadence. Recorded and mixed by Monty Buckles of the Lamps/Wounded Lion. (Dead Beat Records)
-SICK THOUGHTS "Terminal Teenage" NEW!!
Baltimore scumfucs Sick Thoughts come blaring outta the wasteland with 'Terminal Teen Age' and boasts an actual Teenager that blasts awesomely trash-tastic stabs of crude n cruddy Rock N Roll. Seething with nihilism, anger and a ridiculous amount of energy, this is sloppy, shambolic Garage Punk at its best and threatens to explode into three different directions on each and every song. The string-bashing guitar work alone throws surprisingly agile Blues, Garage and Rock N Roll riffs straight against the crumbling wall to create pessimistic, volatile Teen Age anthems with angst-ridden hooks and catchy, scream-along choruses. 13 bristling tracks of barbaric Rock N Roll trash with an obvious nod to greats like the Oblivians, Reatards, Teengenerate and the Gories. (Dead Beat)
-SICK THOUGHTS "My mess my life" NEW!!
De-gen Scumfucs Sick Thoughts continue to pick their Garage Punk scabs and stab their way through this atrociously, awesome ripper. 'My Mess My Life' fully lives up to it's pessimistically, seething name by spewing an undeniable arsenal of grimy, scumtastic hits. Echoes of the Pagans, Reatards, Oblivians and GG Allin are screamin' outta this nihilistic, fuzz-fucked, riff fest where Sick Thoughts effortlessly find their cathartic sweet spot lodged somewhere between hatred, intoxication and ineptitude. The burly, brazen riffs are splattered with snarling, bleeding guitar solos that just ooze Teen misanthropy through shredded, mangled chords and venomous, biting vox. (Dead Beat)
-SIR BALD'S HAIRY GUITAR!
Compilation d'inédits de 3 des groupes du Sir Bald Diddley, 7 titres de Hipbone Slim and the Kneetrembles (quatre albums chez Voodoo Rhythm) sur la première face, les Kneetremblers c'est Bruce Brand (Milkshakes, Headcoats, Kravin A's, Masonics...) à la batterie et John Gibbs (Kaisers, Wildebeests, Masonics) à la contre-basse, deux pointures de la Medway Scene qui se font un plan Garage / Rockabilly / Rock & Roll avec le Sir Bald Diddley, Louie & The Louies ouvrent la seconde face avec 5 titres de Surf / Frat et on términe avec 2 morceaux Garage de The Legs, groupe éphémère monté en Espagne avec Mr Pibli (Cynics) à la batterie et Jorge Explosion (Dr. Explosion) à la basse, qui a également enregistré plus de la moitié de ces 14 morceaux dans son fameux studio "Circo Perrotti" à Gijon. De la bonne musique bien enregistrée! (Beast Records)
-SKIP JENSEN "Abscond"
Montreal is way up there. There are several one man type bands from up that way right now. Something strange and unique is going on up in the French-speaking city. Blues. I would think there might be some more connection to Cajun music. It's interesting; I'm not sure what the driving force behind all this is, and that doesn't matter. What does matter, is if this is something that you should get your hands on? The answer is yes. Skip has another band that I know of, and that's the Demons Claws. Freakin' great stuff with that band as well. (Demolition Derby)
-SPACE RAFT "s/t"
Formed in 2012 by ex-Mystery Girls guitarist Jordan Davis, former Temper Temper keyboardist TJay Christenson, Father Phoenix drummer Tyler Chicorel (who currently handles bass duties for the equally awesome Call Me Lightning) and Goodnight Loving bassist Colin Swinney, the band currently includes bassist Srini Radhakrishna (Circles, Football, France Has The Bomb), following Swinney's departure to California. Healthy helpings of melody, rhythmic diversity, and intriguing instrumentation make their self-titled debut LP a constantly shifting, magical entity. There's an almost science-fiction element to many of their songs, such as "Jupiter Calling" and "Anything is Possible" which is completely in line with the effects-laden guitar lines and washes of keyboard. However, Space Raft can abruptly shift gears into songs such as "We Are Not Alone" or "Rescue Mission" which are pop at its finest. Diversity is the key to Space Raft, a quality which, unfortunately, is sadly lacking in many modern bands. Recorded in late 2013 at Milwaukee's justly famous Howl Street Studios by Shane Hochstetler, and released jointly by Bachelor Records and Dusty Medical Records (USA) in May of 2014, Space Raft will no doubt convince even the most jaded listeners that Rock music is still alive and well. Do yourself a favor and check it out. (Bachelor Records)
-STRANGE HANDS "Children shouldn't play with dead things"
Co-released by AzBin and Ayo Silver! in July 2014 and also available on Burger Records on cassette. Listening to the opening track of the Strange Hands's second long awaited LP, you will be able to notice a turn from the songs you've heard in their debut album "Dead Flowers". Almost two years after their first release, Strange Hands are coming back louder and maturer than before. Songs like "Tombs of Walkyries" or "Realm of Dawn" have a sense of epicness where I can clearly picture some kind of barbarian swarming through the enemy and beating them furiously against his shiny axe. A lot of powerful fuzzy melodies that could evoke bands like Fuzz or the latest Thee Oh Sees albums are to be heard on this (c.f the barbarian). Don't get me wrong, it still sounds like Strange Hands and has their imprint deep-rooted into this album. It may also feel that the band has given more importance to the instrumental parts, as a result : 6 tracks longer and less "garage" structured. An epic and comfortable listen. (AzBin Records)
-SUGAR KID "s/t"
Membre de 455 SD et Easy Aces (deux groupes High-Octane Rock & Roll de Grenoble) depuis 2008, le Sugar Kid se lance en solo en décembre 2010. Après des débuts difficiles et douloureux, il trouve finalement la formule qui lui convient et enregistre sa première démo un an plus tard en décembre 2011. Voici réunis sur ce 33 tours les deux premiers EP du Sugar Kid, 9 titres en tout avec une jolie pochette de Van Gogo! (Electric Men Records)
-THE SWINDLERS "First issue"
L'album des Swindlers, sorti sur Dig! Records en 97, 14 titres total Supercharger, early-Statics, Billy Childish et tout ça! Les mecs sont ensuite allé jouer dans les Bikini Men et Pneumonias. (Dig! Records)
-TRMRS "Sea Things"
'Sea Things' is a buzzing battery of rhythm and beat that effortlessly pushes fuzzed 60/70's garage punk through a jangly, trash pop filter. Kinda like Rocket From The Tombs covering the Sonics with Dick Dale shreddin' some wacked out, feel good surfy jams at an all night rager on the beach. 'Sea Things'delivers that same kinda primal garage-scuzz depravity throwing in more than enough shambolic, fuzzed out twists and turns to keep you on your toes. If yer diggin' on stuff like Gestapo Khazi, Audacity, Le Face, Black Lips or Brimstone Howl, this ones a must have! (Dead Beat Records)
-THE TUBS "Rag"
The Tubs might just be Ghent's hardest working band. After releasing a full-length album on vinyl in 2010, disbanding in 2013, nevertheless releasing the 'Birds Don't Sink' tape on Gnar Tapes and subsequently re-uniting in 2014, The Tubs are back with their third full-length album "Rag". The band has made a trademark of their seemingly effortless ability to whip out catchy, slightly off-beat garage pop songs and injecting them with the urgency of your favourite punk tracks. "Rag" by The Tubs is also available on cassette on Gnar Tapes. (Azbin Records)
-USELESS EATERS "Zulu" NEW!!
After essential singles on Shattered, Goner, Goodbye Boozy... and a great first LP on TicTacTotally, the Useless Eaters are back with the third strike : A new 9 song LP. This is timeless unique music, catching the spirit and energy and rage of the first generation of so called punk bands to the deconstruction and nihilism of weird post-punk sound like Joy Division to KBD fucking punk sound aka Lewd, Urinals or Bobby Soxx. Fans of fellow Memphis Punk bands like Final Solutions, Jay Reatard or Destruction Unit will love them. (P.Trash)
-UZI RASH "Whyte Rash Time"
Sounding like a stripped down garage band diving head first into a bottle of cough syrup, Uzi Rash blast irresistibly, unpredictive tunes from the outer viscera of the garage scene. It's all bottom heavy, gutted, swamp-fuzz slathered in their own shimmering, oddball charm that helps Uzi Rash carve out there own little pantheon of coolness in weirdsville. Sloppy, shambolic cave man thud that'll sidle up nicely against your Cramps, Swell Maps, Cheater Slicks, and Pussy Galore records. (Dead Beat Records)
-VEINES "Bourgeois Standard"
Killer French Punk trio with a wild, raw sound that's reminiscent of some old French Punk bands like the Olivensteins or Strychnine. On their second LP Veines play fast and feral Punk that's got addictive melodies that are fierce and unpredictable. And their's no denying the underlying pure Punk structure running through these grooves of bands like Stalag, The Gears and even the Sick Things. It's just really great and I thoroughly recommend this one! (Demolition Derby)
-VEINES "Perdus dans la ville"
Awesome retro-sounding Punk Rock influenced by bands like The Trend, Les Olivensteins, Stalag, Calcinator, The Sick Things and The Gears. Take bands like The Lurkers and The Kids, mix them with some early Raw Records sounds, put them in France et voilà - the album of the year. Ex-members of The Electric Mormons, Flaschen and Arsene Obscene. (Demolition Derby)
-WAISTCOATS "We are the Doctors"
Finally the new Waistcoats album is with us! Highest fidelity and beautifully packaged in a limited edition gatefold sleeve from the masters of Nederbiet. 'We Are The Doctors' is a vital record, trying to capture the timeless qualities of all good rock'n'roll while paying the dues both to the original 50's/60's Beat and Garage Rock and to the member's who own roots in the first 80's garage wave. They are as powerfull as the Who. They are as groovy as the Creeps and they're as trashy as the Milkshakes. Definately their best album to date and limited to a mere 500 copies and packed in a slick looking gatefold jacket! (Larsen Records)
-WEAK "Back from the Gooch!"
Dernier album des Rochelais, 12 titres, c'est toujours du bon gros Rock & Roll Punk graisseux, très belle épitaphe! (Turborock Records)
-WHITE ASS "White Ass"
Vous avez fort probablement découvert White Ass avec leurs premiers enregistrements disponibles sur une split cassette avec les Skeptics sur Frantic City et Inch Allah records, vous vous êtes ensuite très certainement repus de leur hit "Stencil" qui ouvre la compilation "Hamburger Saignant" de Frantic City sortie il y a quelques mois, voici maintenant leur premier album, co-produit par Frantic City, Kizmiaz, Pouet! et Inch Allah! 12 titres enregistrés par Sashtrash et masterisés par Seb Normal joliment emballés dans une pochette dépliante. Pour ceux qui ne les connaissent pas encore, White Ass c'est un peu un "All-star band" du Garage Punk parisien puisque formé par d'ex ou actuels Teenage Moonlight Borderliners, Viscous Brothers, Crash Normal, Pierre et Bastien, T.I.T.S., Feeling of Love et probablement bien d'autres encore! S'ils ont décidé de monter ce nouveau groupe c'est parce qu'aucun des autres précédemment cités ne s'est autant frotté à ce son Garage Punk super trash et hyper-réverbé. Attendez un peu d'écouter ces 12 titres et vous aussi vous les remercierez comme il se doit! (Frantic City)
-Compilation HAMBURGER SAIGNANT
Printemps 2014, Frantic City sort une compilation au format 33 tours pour sa 27ème sortie! Quinze titres inédits par autant de groupes 'Garage' de France et de Belgique. Certains sonnent plus Punk, d'autres plus Psychédéliques, d'autres encore plus je ne sais quoi, ce qui est sûr c'est qu'ils méritent tous leur place sur ce vinyl! Avec Pierre et Bastien, Regal, Forever Pavot, Chimiks, Mountain Bike, Angry Dead Pirates, Le Pécheur, Skeptics, Combomatix, Kaviar Special, Dusty Mush, White Ass, Bikini Gorge, Dragster et Forever Skeptics. Masterisé par Lo'Spider, artwork d'Antoine Marchalot. (Frantic City)
-Compilation BLOOD VISIONS BY RETARD RECORDS & FRIENDS
Blood Visions tribute by Retard Records and Friends. Limited to 300. All songs are covers from the album "Blood Visions" by Jay Reatard. Tracklist: 1–Bazooka "Blood Visions (Aimatochysia)", 2–Wolf Mountains "Greed, Money, Useless Children", 3–Dusty Mush "It's So Easy", 4–White Mystery "My Shadow", 5–Combomatix "My Family", 6–Lou & Les Garcons "Death Is Forming", 7–Qúetzal Snåkes "Oh It's Such A Shame" , 8–Babes "Not A Substitute", 9 –Los Reatardos "Nightmares", 10–Kaviar Special "I See You Standing There", 11–Sick Hyenas "We Who Wait", 12–Sapin "Fading All Away", 13–Dragster "Turning Blue", 14–Go!Zilla "Puppet Man", 15–Volage "Waiting For Something". (Retard Records)
-THE CHRONICS "On tape it sounds different"
The first Mooster release on cassette from the Chronics is here! "On Tape I Sounds Different" is 14 blistering tracks of power pop/rock & roll from these Italian masters of rock! This cassette is the first time on tape for the Chronics and compiles the best hits from their previous releases "It's Too Late" and "Suggested For Mature Audiences" out on Demolition Derby Records and the full sessions from the classic "First Time, Best Time" 7" on Rip Off Records. Including the never before released tracks "Let Me Know", "The Sun Aint Gonna Shine" and a cover of the Rolling Stones gem "Connection"! This cassette is a piece of power pop and rock & roll history that we are honored to press up along with a digital download of the full release. Break out your tape player, and sunglasses, and crank this baby up!! (Mooster Records)
-THEE ICEPICKS "Hypothermiaddicts"
Debut release by Maine Surf-Punkers 'Thee Icepicks', think Phantom Surfers go skiing! 8 tracks, limited to 100 copies. (Chickpea Records)
-JAROMIL SABOR & PRECHEUR LOUP "You shall use your time... And your mama's too"
Loïk (Jaromil Sabor) et Antoine (Prêcheur Loup) se sont rencontré en 2007 à Bordeaux, ils ont joué dans plusieurs groupes ensemble comme The Magical Jumblies Club et Captain Kidd & the Dreamers, et à l'hiver 2010 ils commencent à jouer tous les deux. Pendant les vacances de Noël ils se donnent comme mission d'enregistrer un morceau par jour. Ils écrivent et enregistrent sur le canapé de l'appart de Loïk avec dans les oreilles le 'Mind Games' de John Lennon, les Fresh & Onlys, Mr David Viner, Wilson Pickett… à la fin des vacances, avec tous les morceaux qu'ils ont enregistrés, ils commencent à faire des concerts, dont les premières parties de Rita Braga, The Oscillation et d'autres trucs à Bordeaux. Les deux acolytes passent ensuite deux années éloignés l'un de l'autre, à l'étranger, et lorsqu'ils se retrouvent l'été dernier ils décident de réenregistrer tous leurs morceaux avec un son plus travaillé. Ils font ça dans une pièce au fond du jardin d'Antoine cette fois-ci, en invitant des copains pour faire la batterie, le clavier, une guitare supplémentaire… Ce qui donne les 10 titres de ce 'You shall use your time… and your Mama's too' qui zigzague entre ballades folk « Regaliennes » à la gratte sèche ('Nicole') et passages Punk Trash avec clavier interstellaire à la Spits ('Calcomatraque'). Masterisé par The Rest of Alfredo Garcia. Coupon de téléchargement inclus. (Frantic City)
-KAROVAS MILKSHAKE "Low-Cow-Motion"
Early recordings of these Russian wildmen, five stompers that could easily be taken as a forgotten '66 jam. 100 hand-dubbed copies only! (Chickpea Records)
-KEPI GHOULIE "13 for '13"
Kepi Ghoulie's very first time on cassette tape! Mooster Records presents "13 for '13" a greatest hits, if you will, of Kepi Ghoulie. One side of Rockers and one side of Ballads includes all of your favorites from Kepi's solo albums! Limited to 250! Grab em while you can! (Mooster Records)
-KIT WHARTON "High, nice to meet you"
Comprised of two EPs (one new and one from last year), High, Nice to Meet You provides a look at the Brighton-based duo's origins and how they've refined their powerful variety of garage psych-punk. The b-side tracks are remastered versions of their first studio recordings, and while they have a rougher edge and subtly naive gleam, they still hold their own when compared to the somewhat brighter, new tracks. "Scream Out" features slinky, surf-tinged guitar licks and drums that could drive through a mountain. Perhaps my favorite, the tape's title track stands out with an immediately catchy opening riff and deftly staggering, cymbal-heavy drums; lurching between harsh, grungy choruses and sparser, jangling areas, the song is over before you know it and you've got to hit play again. (Cheap Trash Tapes)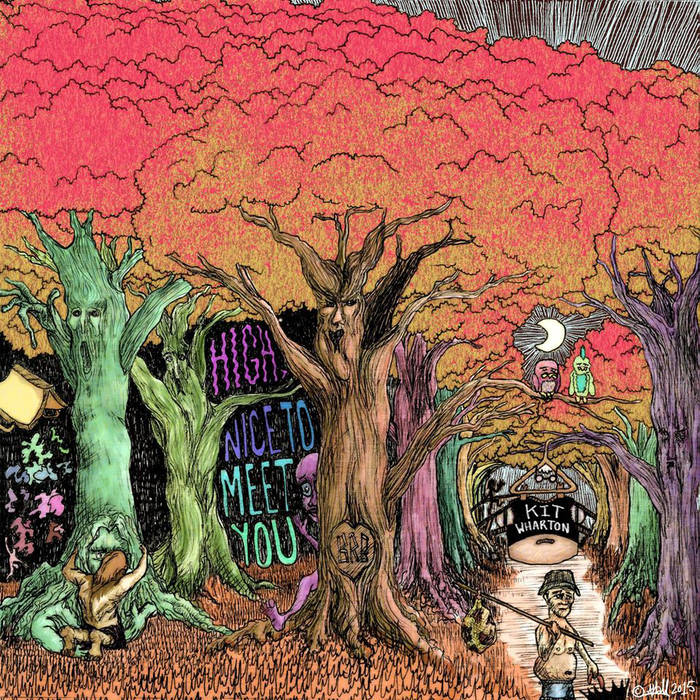 -LADY BANANA "Wall of Cheese"
Le duo Garage Punk super trash suédois Lady Banana (formé il y a quelques années sur les cendres encore toutes chaudes des fameux Tundra Fucks) est venu jouer en France deux fois, et à chaque fois ils se sont débrouillés pour passer quelques days-off à Swampland, Toulouse. La première session (dont deux morceaux se sont retrouvés sur le split 45 tours avec Skeptics sur Frantic City et deux autres sur leur 45 tours 'I'm not you' sorti sur Beaver Milk Records) s'est faite pendant leur Tour De France avec les Skeptics en Octobre 2012, la deuxième session s'est faite à l'été 2013 pendant leur petite tournée avec Destination Lonely dans le sud de la France. Ils ont enregistré onze titres en tout avec Lo'Spider, probablement le meilleur génie du son qu'ils auraient pu trouver pour enregistrer leur mélange fort particulier de Garage, Punk et Raw Blues. Et c'est bien ça que vous allez trouver sur cette cassette, l'ensemble des sessions Swampland de Lady Banana, onze titres dont plus de la moitié inédits ! Tous les fans de Cheater Slicks et Oblivians feraient donc bien de se dépêcher à choper cette petite bombe avant qu'il ne soit trop tard, on en n'a fait que 150 copies… Coupon de téléchargement inclus. (Frantic City)
-MVPs "First two years"
Collection of MVPs' songs recorded in various spaces, with different line-ups over the past two years, since the band begun as a stomping kick drum Hasil Adkins rip-off boogie consisting of just Charlie. 14 songs all in all from the English band who's just put out its first 7" out on Slovenly. (Cheap Trash Tapes)
-PIERRE ET BASTIEN "Greatest Hits"
Leur (génial) second album vient de paraître sur Polly Maggoo Records (Volt, Intelligence, Brainbombs, TITS...) et il était grand temps de réunir pour la première fois sur un même support les premiers émois du trio parisien Pierre et Bastien. Du Punk boîte-à-rythmes des débuts ('No Sex') aux morceaux plus aboutis avec Trux à la batterie ('Stress et Paillettes'), tout y est, même deux morceaux live enregistrés au Café Pompier à Bordeaux et un inédit qui date du tout début, quand Paul bricolait encore ses morceaux tout seul dans son coin ! Seize titres en tout, sortis auparavant chez SDZ, Killedbyanaxe, Les Disques Flow, Pouet !, Born Bad et plus encore sur une jolie cassette (édition limitée à 150 exemplaires) qui vient avec son coupon de téléchargement. Que du bonheur. (Frantic City)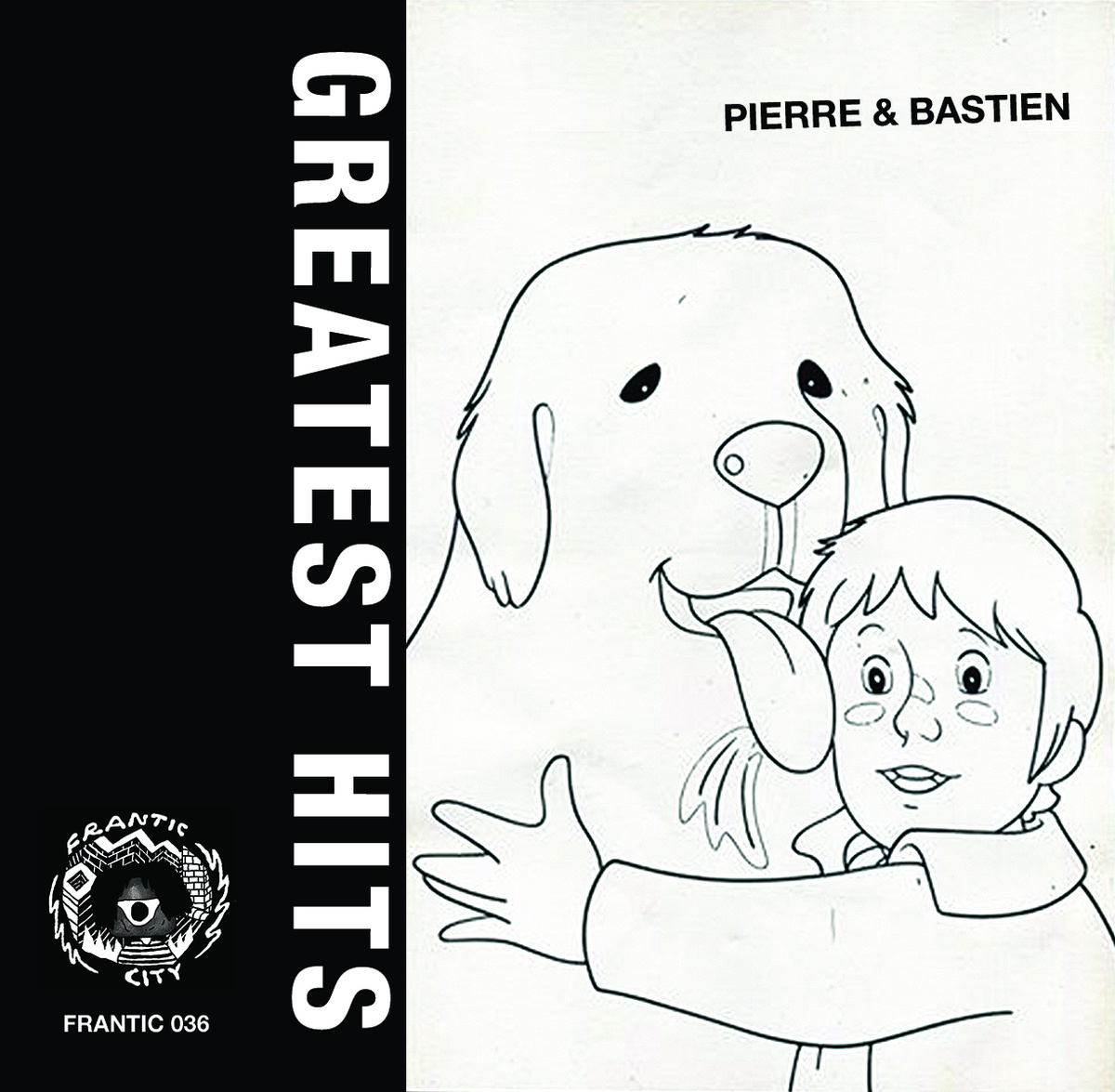 -POWLERS "Little girl will revenge for her daddy"
Deuxième album de ce groupe Russe, 16 titres Punk/Grunge à la Wipers. 100 exemplaires. (Chickpea Records)
-SKEPTICS "Open Sea Extended" NEW!!
Contains the 7 tracks from the "Open Sea" 10" + 6 more songs - "Misty Night" from the split 7" with Dead Ghosts, "Everyday Knight" from the split tape with Brown Brogues and 4 never released before!! All songs are from the same session done at Lo'Spider's Swampland studios. (Retard Records)
-THE STROKE BAND "Green and Yellow"
Green And Yellow is the collected recordings of legendary lost 1970s Deep South freaksters, The Stroke Band. Seen and heard, until now, by only a few South Georgia pot heads, rednecks, sheriffs, strippers, and intoxicated U.S. Marines. Fronted by Bruce Joyner – a swamp rat synthesis of Buddy Holly, Bryan Ferry and Jerry Lee Lewis – The Stroke Band were an art-punk aberration to anything else happening in South Georgia in 1978, 79. Joyner then signed to Sire Records with The Unknowns in 1981 and has released several acclaimed solo albums since 1983. (Gone with the weed)
-YAK "Hello from Downtown"
Debut album of Yak, solo project of Caelan, singer of Regal. 15 songs recorded all alone at home. (AzBin Records)
-Compilation ORCASTALKER
Compilation with every band on Azbin, including Kaviar Special, Mountain Bike, White Fangs, Le Pécheur, JC Satan, Regal, Strange Hands, Sapin... Artwork by Lou L'Enfer, only a 100 copies made! (AzBin Records)
-Compilation WORLD WAR III NEW!!
Troisième compilation cassette de chez Retard Records avec Useless Eaters, Ausmuteants, Brain Traps, The Staches, Küken, Warm Toy Machine, Rigg, Yak, Druggy Pizza, Babes... Une petite vingtaine de morceaux en tout! (Retard Records)
-BEAT BEAT BEAT "Living in the Future"
12 titres revival Punk/Power Pop 77 à la Carbonas, reprise de Radio Birdman, cool! (Dirtnap)
-BILLY BULLOCK AND THE BROKEN TEETH "Back to Business"
13 nouveaux titres du groupe Garage Rock breton. (Turborock Records)
-THE BLACK KNOTS "Guitarmageddon"
Heavy Glam Punk pour les fans de Turbonegro, Candy Snatchers, Jerry Spider Gang etc. Gros son de malade! (Dead Beat Records)
-DEFENESTRORS "Gutter City Playboys"
Garage Punk trash parisien, 7 titres
-DISCO LEPERS "The Girls of Cholera"
Punk Hardcore anglais, 22 titres avec des noms comme "Hepatitis Holiday Inn", "She's an Ulcer", "Starvation Beach", "Amputate me"... Genre les Briefs version super trash! (No Front Teeth Records)
-THE DONTCARES «Ugly... but well hung!»
Super Speed Motörpunk, 14 titres (Mass Prod)
-DRUGSTOP "Riot in the Jail House"
16 morceaux de Hardcore & Roll entre Zeke et The Hookers avec une petite touche Punk Hardcore 80! (P.Trash)
-EXPLODING HEARTS "Shattered"
Fameux groupe Glam Punk Power Pop, 16 titres (Dirtnap)
-FEELERS "Learn to hate the Feelers"
Punk Rock ricain déjanté, entre Cramps et Bad Brains! (Dead Beat Records)
-FORBIDDEN TIGERS "Magnetic Problems"
Debut album 12 titres de ce groupe US avec des membres de Brimstone Howl, entre Garage et Punk, son crado et super morceaux, ça sonne un peu comme un mélange de LiveFastDie et des Black Lips... Si si, c'est aussi bien que ça! (Dead Beat Records)
-THE FOUR SLICKS «17 Wild Tunes...»
Hot Rod Punk parisien, 17 morceaux dont tous leurs 45 (Slick Records)
-GEE-STRINGS "Arrest Me"
Premier album des Allemands sur dead Beat, Punk Rock total 77! 12 titres (Dead Beat Records)
-GEE-STRINGS "A bunch of bugs"
Punk Rock à la 77 allemand qu'envoit sévère avec une nana au chant, 11 titres (Dead Beat Records)
-GOBBLINZ "s/t"
Power Pop 77 de l'UK avec un synthé réédité par ces japonais, 13 morceaux enregistrés entre 76 et 77 dont les fameux "London" et "Communiqué". Cool! (Nat Records)
-THE GREATEST HITS "Saved my life"
Deuxième album pour ces ricains qui font un bon Punk/Power Pop entre les New York Dolls et Milk N Cookies! 12 titres (No Front Teeth)
-HEARTATTACKS "Here comes the Heartattacks"
13 morceaux de Garage Punk à la Teengenerate de Suède, chaudement recommandé à tous fans des Rip Offs, Supercharger, Jet Boys etc! (P.Trash)
-HUBBLE BUBBLE "s/t"
Punk 77 belge mythique! C'est le premier album du premier groupe Roger Junior alias Plastic Bertrand, il est à la batterie! Killed By Death Punk de première bourre! (Nat Records)
-HUBBLE BUBBLE "Faking"
Le deuxième album du mythique groupe Punk belge! Toujours aussi génial! (Nat Records)
-THE INDIGENTS "No cerveza no trabajo"
Rockin' Punk ricain, une dizaine de titres style 77 à la Stitches ou Spent Idols, premier album! (No Front Teeth Records)
-JAROMIL SABOR "III" NEW!!
S'il n'a pas encore l'aura de ses idoles de jeunesse Slash et Bruce Springsteen, Jaromil Sabor s'est tout de même taillé une solide réputation dans les arcanes du Rock français. Son histoire prend racine à Bordeaux, d'abord avec les soyeux Artyfacts puis au sein d'Arthur Pym And The Gordons où il s'excite davantage. Mais c'est en débutant ce projet solo que Jaromil Sabor trouve un terrain d'expression privilégié. En 2012, « Marmalade Sculpture » défrichait son obsession pour la Pop poétique finement arrangée. Deux ans plus tard, son successeur, le magnifique « La Santa Roja », réaffirmait sa soif d'aventure. Pour cette troisième sortie, Jaromil Sabor continue donc à n'en faire qu'à sa tête et livre un disque plus frénétique, où ses réflexes Pop rencontrent régulièrement une énergie Garage Rock primitive. Sobrement intitulé « III », le disque sortira cet hiver chez Frantic City Records qui avait déjà publié plus tôt dans l'année la cassette réunissant Jaromil Sabor et Prêcheur Loup, elle aussi animée d'une énergie débordante. Pour présenter son nouvel album, Jaromil Sabor sera en tournée courant février 2016, accompagné d'un groupe qui prend la forme d'une dream team réunissant, entre autres, des musiciens ayant traîné leurs guêtres au sein des Fatals, Skeptics, Bad For Bugs ou encore Prêcheur Loup. (Frantic City)
-JUANITA Y LOS FEOS "s/t"
Garagy Punk chanté en espagnol, fuzz, orgue et batterie primitive, cool! (Dead Beat Records)
-KNOCKOUT PILLS "s/t"
Premier album de ce super groupe Punk Rock US, 13 morceaux très inspirés. (Dead Beat Records)
-LAST CHORDZ "s/t"
Premier album pour ce jeune groupe US, Punk Rock influence 77 énergique et mélodique, entre Radio Reelers et Flip Tops, à écouter! (Pelado Records)
-LE FACE "Isolation"
Génial premier album du groupe de Los Angeles, 13 titres de Punk Rock bizarrement branlé mais super jouissif, ça me rappelle beaucoup The Urinals et d'autres plans KBD dans le style, plus récemment The Feelers, Spits, Jay Reatard... Recommandé par la maison. (Dead Beat Records)
-LIGHTS OUT! "Destroy / Create"
Super premier album pour ce groupe de Stuttgart, 14 titres de Punk Hardcore 80 qui rappelent à fond les Circle Jerks ou Reagan Youth. De la très bonne daube. (Dead Beat Records)
-LIVE FAST DIE "Bandana Thrash Record"
L'un des meilleurs albums Punk super-trashos de ces dernières années de retour en stock! Si tu l'as pas déjà tu loupes un truc énorme! Genre GG Allin meets the Spits mec!! (Dead Beat Records)
-THE MAGGOTS "Monkey Time"
Quatrième album de ce groupe suédois fromé par un ex Crimson Shadows, plus influencé Soul/Frat que son groupe précédent, 12 superbes morceaux! (Screaming Apple Records)
-THE MANIKINS "Crocodiles"
12 nouveaux morceaux des rois du Garage/Power Pop suédois, encore meilleurs qu'avant! (P.Trash)
-THE MANIKINS "Lie, Cheat and Steal"
Troisième album des Suédois, Garage Punk carton entre Hives et Devil Dogs! (P.Trash)
-MOTORAMA "Psychotronic is the beat!"
Dernier album des deux italiennes, real primitive garage punk!! (Dead Beat Records)
-NAZI DOGS "Good Vibrations & Vicious Transmissions"
8 titres live + 3 videos du groupe Punk allemand, le son est bon et si vous aimez le PUNK ROCK, vous adorerez cette galette! (No Front Teeth Records)
-NEON MANIACS "Bambina Trapiantata"
11 titres pour ces ricains, Punk speed et bien barré entre Aggravation et Catholic Boys. (Gonna Puke Records)
-PVC "Wall City Rock"
Fantastique groupe de Punk Rock allemand qui a commencé à la fin des années 70, les mecs jouent toujours mais là ce sont des enregistrements d'époque, 26 morceaux total KBD Punk, à chopper! Ils sont de Berlin mais chantent an anglais! (Incognito)
-RADIO REELERS "Shakin' at the party"
Leur second album, cool rockin' punk à la Devil Dogs, Infections etc. 10 titres (Dead Beat Records)
-RADIO REELERS "The Next Best Thing"
Leur troisième, toujours aussi cool! 10 titres(Dead Beat Records)
-REGAL "Two cycles and a little more" NEW!!
Régal est probablement le seul groupe de Garage français dont les membres se sont rencontrés sur World of Warcraft ! Très vite confrontés à leurs propres limites en matière de banjo, Xavier (batteur des Last Rapes et du Pécheur) et Caelan (Toulousain et Néo-zélandais) remisent un temps leurs aspirations folkloristes et font appel à Maxime à la basse. Le trio recrute Antoine Marchalot, le « dieu de la bande dessinée drôle » encore inconnu à l'époque. Son sens du rythme, à l'image de son sens de l'humour — personnel et inattendu — n'empêche pas le groupe de réaliser plusieurs tournées en Europe, et de sortir deux albums, "Possible Endings" en 2012 ( Frantic City/Azbin) et "Misery, Redemption & Love" (Azbin) en 2013, Azbin Records étant le label créé par Xavier en 2012. C'est pendant les fêtes de la fin de l'année 2013 que Maxime se sépare de Régal et de son ampli basse pour s'adonner à une autre de ses passions : l'observation du cosmos. Le groupe se tourne alors vers Fadi, un métallurgiste Syro-Lillois qui fréquente « La Barrière », l'épaisse bâtisse vieillissante de la ville fantôme de Chercq (Belgique) où vivent Xavier et Caelan. Après une tournée européenne mi-figue, mi-raisin de près de 30 dates en 31 jours, Caelan et Xavier retournent en studio pour enregistrer le troisième album du groupe "Two Cycles & A Little More'. (Born Bad)
-THE REPEATERS "A sudden rise in the mercury"
Premier album 12 titres des Repeaters, groupe Garage Punk de Caen, bien fait bien emballé, co-produit par Banana Juice et Turborock.
-SNAZZY BOYS "s/t"
11 titres sur le premier album des Snazzy Boys, super groupe Punk/Power Pop 77 d'Italie, genre Boys, Eater, Briefs etc, de la très bonne dope! (No Front Teeth Records)
-SOMETHING FIERCE "There are no answers"
Premier album de ce terrible groupe Punk/Power Pop texan, super morceaux, super son, original, 12 titres qui me rappellent les Marked Men. Version vinyle chez Dirtnap! (No Front Teeth Records)
-THE STATUES "New people make us nervous"
"Let this Canadian trio take you on a non-stop power-chord ride through 13 brilliant songs that lean on English Mod-Punk as well as taking straight Canadian Power-Pop and stirring it up with slightly dissonant and sweeping guitar lines." Deuxième album de ces canadiens, plutôt pas mal effectivement! (Pelado Records)
-TAXI "Like a Dog"
Premier album du combo Punk Rock italien, 11 titres qui sonnent très Electric Frankenstein, Pleasure Fuckers... (Dead Beat Records)
-TV MEN «Electric eye on you»
13 titres, Punk & Roll (Mass Prod)
-WEAK "Supertramp"
Le premier album de Weak, Rock & Roll Punk complètement barré avec un son de malade, genre Cosmic Psychos, Bored! etc en plus speed et plus fou! Avec le celèbre Ronnie Rollo à la batterie. (Total Heaven)
-WEAK "Speed Freaks, Speed Weak"
Le deuxième, Punk Garage timbré, super morceaux (inclus "Seethrough" et "Bonneville"), toujours avec Ronnie Rollo à la batterie. (Total Heaven)
-THE WONKY MONKEES «Blood save your Soul»
Premier album du gang bordelais, 12 titres Garage Punk Soul. (Sharkattack)
-Compilation LIMOGES PUNX
11 groupes, 22 titres, avec les Bushmen, Attentat Sonore, Deadlocks, Gabba Heys... (DIY/Undersounds)
-ZODIAC KILLERS "Society's Offenders" (5 Euros)
DVD maison gravé par Greg Lowery himself, contient toutes les vidéos enregistrées par les Zodiac Killers (période "Have a Blast" et "Society's Offenders")!! Plans super-débilos à la Rip Off!! 10 clips en tout + plein de trucs en plus. Des heures de Fun garanties à un prix vraiment très, très bas, à ne pas rater!! (Rip Off Records)
-HIGH HEELS SLUT #11 (2 Euros)
Fanzine Belge écrit en anglais, 64 pages avec les interviews des Spider babies, Spivs, Tundrafucks, Rocket Reducers, Sharp Objects, Modern Action, Sunpower et plein plein plein de chroniques de disques!
-HIGH HEELS SLUT #9 (2 Euros)
Toujours écrit en anglais, interviews des Heartattacks, Guilty Hearts, Pillz, Digger and the Pussycat...
-LOST IN TYME #6 (7 euros)
Garage-zine Grec "de luxe" écrit tout en anglais, 70 pages imprimées format A4, couverture en couleurs. Au sommaire : Remains, Standells, Lyres, Gravedigger V, Wylde Mammoths, Higher State, Paul Messis, Basements, Mongrels... + compilation CD 29 titres avec tous les groupes dont ils parlent dans le fanzine!
-LOST IN TYME #5 (7 euros)
Garage-zine Grec "de luxe" écrit tout en anglais, 50 pages imprimées format A4, couverture en couleurs. Au sommaire : Downliners Sect, Fourgiven, Losin' Streaks, Kliek, Garage Gods, Crushers, Revellions, Keefmen, Skeptics... + compilation CD 18 titres avec tous les groupes dont ils parlent dans le fanzine!
-LOST IN TYME #4 (7 euros)
Garage-zine Grec "de luxe" écrit tout en anglais, 54 pages imprimées format A4, couverture en couleurs. Au sommaire : Rising Storm, Holly Golightly, Cynics, Thanes, Brood, Cheepskates, Mean Things, Urges, Gitanes, Los Peyotes, Os Haxixins... + compilation CD 25 titres avec tous les groupes dont ils parlent dans le fanzine!
-LOST IN TYME #3 (7 euros)
Garage-zine Grec "de luxe" écrit tout en anglais, 50 pages imprimées format A4, couverture en couleurs. Au sommaire : ? & the Mysterians, Vipers, Sick Rose, Way-Outs, Higher State, Movements, Fleshtones, Phantom Keys, Waistcoats, Purple Merkins... + compilation CD 30 titres avec tous les groupes dont ils parlent dans le fanzine!
-ROCK HARDI #46 (7 euros)
Interviews : New Christs, Crusaders of Love, Los Saicos, Fuzzy Vox, Dragster, Head On, Beast Records... + CD 18 titres avec Los Saicos, Crusaders of Love, Fuzzy Vox, Dragster, Double Cheese...
-ROCK HARDI #45 (7 euros)
Interviews : Liminanas, Lady Banana, Paul Messis, Bijou, Tony Truant, Closer Records... + CD 18 titres avec Liminanas, Forever Pavot, Lady Banana, Asphalt, Paul Messis, Barracudas, Nervous Shakes, The Space Agency...
-ROCK HARDI #44 (7 euros)
Interviews : Bruce Joyner (Unknowns) suite, Dogs, La Flingue, Frank Margerin, Oberkampf, The Skeptics, Mystery Machine... + CD 18 titres avec Tony Truant, Bruce Joyner, La Flingue, The Skeptics...
-ROCK HARDI #43 (7 euros)
Interviews : Bruce Joyner (Unknowns), Chris Wilson (Flamin' Groovies), Fleshtones, Regal, Hangee V, Didier Wampa... + CD 16 titres avec Chris Wilson, The Hangee V, Regal, Slim Wild Boar & His Forsaken Shadow...
-ROCK HARDI #42 (7 Euros)
Interviews : Cramps, Dogs, LSD, Sunmakers, Dirty Fonzy, Warm Toy Machine, Chicken Diamond... + CD 17 titres avec Sunmakers, Warm Toy Machine, Dirty Fonzy, Chicken Diamond...
-ROCK HARDI #41 (7 Euros)
Interviews : OTH, Marvin Gays, Dead Horse Problem, Devilish Piranhas, The Silly Things... + CD 19 titres avec Dead Horse Problèmes, Devilish Piranhas, Gil Rose et les Hydropathes, Marvin Gays, White Fangs...
-ROCK HARDI #40 (7 Euros)
Interviews : Jeremy Gluck (Barracudas), Chrome Cranks, Arsène Obscène/Veines, Combomatix, Lord Fester Combo... + CD 21 titres avec The Barracudas, Chrome Cranks, Veines, Arsène Obscène, Combomatix, Lord Fester Combo...
-ROCK HARDI #39 (7 Euros)
Interviews : Cowboys from Outerspace, Strychnine, Heartbeeps, Dimi Dero, Ashtones, Philippe Marcadé, Christophe... + CD 21 titres avec Strychnine, Cowboys from Outerspace, Dimi Dero, Tex Napalm, Ashtones, Heartbeeps...
-ROCK HARDI #36 (7 Euros)
Interviews : Fleshtones, Strychnine, Sonic Angels, Mean Things, Ashtones... + CD 16 titres avec Flestones, Whodunit, Sonic Angels, Wayward Gentlemen...
-ROCK HARDI #33 (7 euros)
Interviews : Metal Urbain, Lucas Trouble, Hatepinks, Ramonettes, Starshooter + CD 10 titres avec Lucas Trouble, Hatepinks, Nervous Shakes...
-RUMBLE SKUNK #2 (7 Euros)
Fanzine Garage/Punk/Psych grec bien cool imprimé noir et blanc et écrit en anglais, interviews de The Ultra 5, Lords of Gravity, Purple Merkins, the Way-Outs, Miracle Men et plein d'autres, livré avec une compilation CD 27 titres (Ultra 5, Purple Merkins, Way-Outs, Miracle Men, Slow slushy Boys, Lords of Gravity, Liquid Visions...).
-60 SECOND SWINGERS - derniers exemplaires!!
Logo imprimé en blanc sur tee-shirt noir (Fruit of the Loom), disponible en S uniquement
-FRANTIC CITY
Logo d'Antoine Marchalot imprimé en blanc sur tee-shirt noir (Gildan), disponible en S, M et L
-THE MEAN THINGS - derniers exemplaires!!
Logo de Merinuk imprimé en noir sur tee-shirt blanc (Fruit of the Loom), disponible en M uniquement
-THE SWINDLERS - derniers exemplaires!!
Logo imprimé en noir sur tee-shirt blanc, disponible en XL uniquement
-THE LOCHNESS MONSTERS
Logo imprimé en blanc sur tee-shirt noir, disponible en S-M-L-XL