Frantic City records are distributed by Kuroneko (France), Clear-Spot International (The Netherlands) and also Dead Beat Records (USA), P.Trash Records (Germany), Bachelor Records (Austria), Goodbye Boozy Records (Italy), Stolen Body Records (UK), Groovie Records (Portugal), Born Bad Record Shop (Paris), Total Heaven Record Shop (Bordeaux), Rockin' Bones Record Shop (Rennes) and more!
Free-stream all our records on Bandcamp!
Make your own Frantic City compilation with Vinyl It!!
Any question : frantic-city@hotmail.fr
-----
-FRANTIC 041
DOUBLE CHEESE "Double Cheese"
7" Vinyl - 300 copies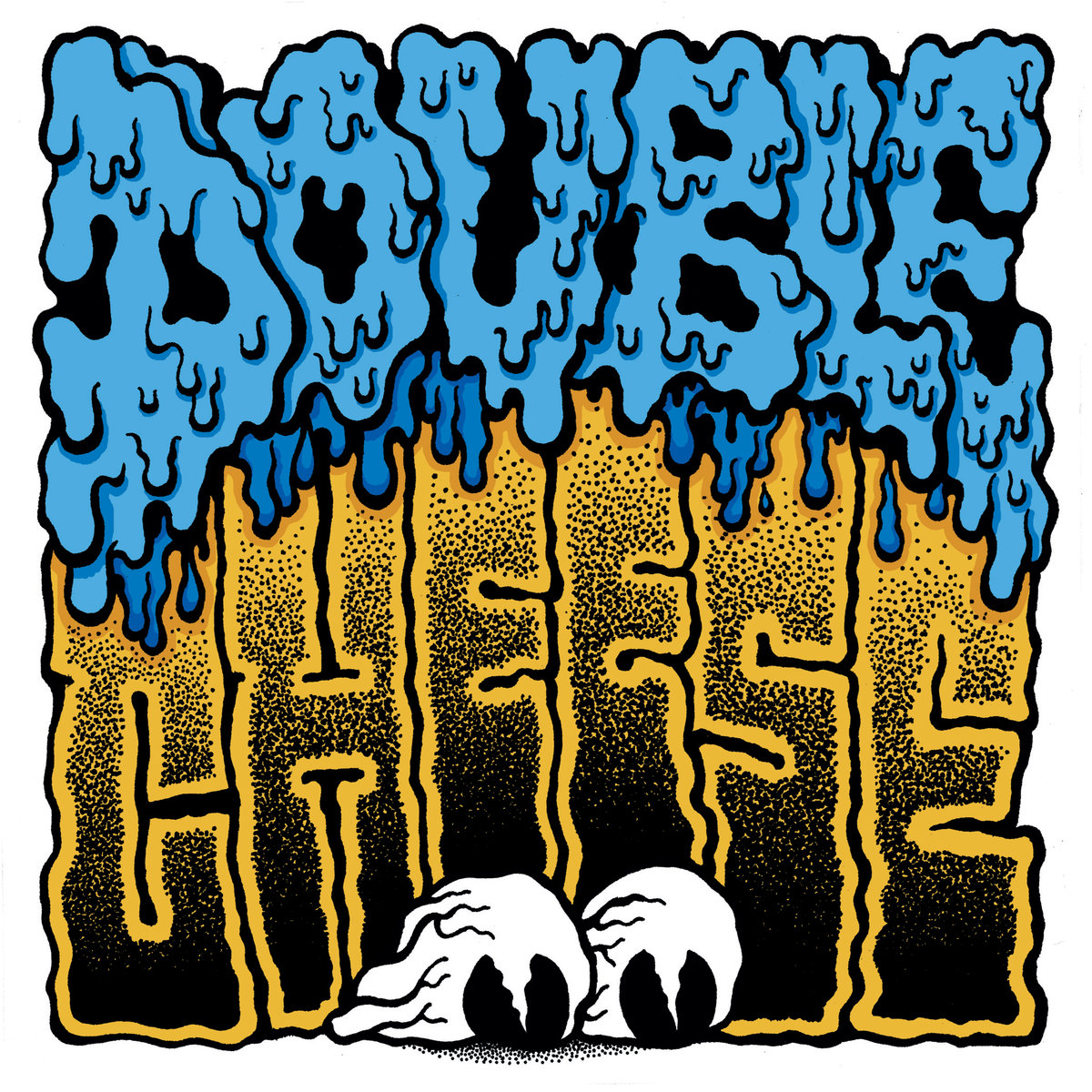 Formed in La Rochelle in early-2014 by Ugo (Charles Howl) and Bart (Skeptics, Pneumonias, White Fangs…), Double Cheese recorded their first 8-track tape - out on Ugo's label Cheap Trash Tapes in April the same year - as a duo before Aline aka Kristal Suiker from Skeptics joined them on bass. A split tape with Coffee Saucers followed on Désobéissance Records in October bearing the band's first recordings as a three-piece. Their sound evolved from Super Trash Garage Punk to something more consistent, and though it's still Garage and it's still Punk with lots of Fuzz and Reverb, they tried somewhat different things during their recording session at Lo'Spider's in Toulouse in Spring 2015, adding touches of Pop colors here and there. The 4-track 7'' does come with some pretty neat and colorful artwork by Brussels artist Robin Renard who was already responsible for their first tape's artwork. This record will be available on the Double Cheese / Proto Idiot tour which will bring both bands high in the Netherlands, and will officially come out on January 19, 2016.
Get it for 6 euros + shipping - Mailorder
Listen on Bandcamp : https://franticcity.bandcamp.com/album/frantic-041
Reviews :
Bananas Mag (USA) : "After having to munch on sloppy seconds for a while, the wait for Double Cheese's next release is finally over as they commit to plastic another catchy batch of songs. Freshly lyrical with their recipe, vocal harmonies, sharpened guitars, sing-along riffs and compacted solos make this EP a feast. Of course they can't resist the musical calories as the grease from the fuzz is poured all over the course of the EP. Fattening the sound out, a Danelectro longhorn bass makes its recording entrée with the king of gusto that'll knock you in tune. It'll leave you wheezing and panting from all the dancing with that warm gut feeling. The opening song alone, "I hate the sixties", will entice the most lactose intolerant of vegans to eat his own cheesy crap."
City Trash (Holland) : "Amazing new release by this band from the capital of Garage Punk in France : La Rochelle. It helps I have been a big fan from the start and I just came down from two show nights with this band. So the 4 songs on here already were heard the way you should, live. If you don't care for the sound of Double Cheese which is pretty much impossible if you like your Garage wild and fuzzed, you still need to buy this as the amazing sleeve was made by the always brilliant Robin Renard."
Ox Fanzine (Germany) : "Double Cheese aus Frankreich sind mittlerweile vom Duo zum Trio angewachsen und der Trash-Faktor wurde minimal heruntergeschraubt. Ansonsten machen sie aber genau da weiter, wo sie mit ihrem 2014er Demotape aufgehört haben und schrammeln sich hier mit Bravour sowie eingebauter Ohrwurmgarantie durch die LoFi-Garage. Poppig, authentisch, eingängig und mit der nötigen Prise Dreck sorgen die vier Songs in der Summe dann für hochzufriedene Rezensentenohren und eine klare Empfehlung!"
-----
-FRANTIC 040
JAROMIL SABOR "III"
12" Vinyl - 300 copies / CD - 500 copies
Though he might still be a few steps away from his teen idols Slash and Bruce Springsteen, Jaromil Sabor managed to build himself a solid reputation among the French Rock scene during the last ten years. Growing-up in Bordeaux, he played silk-soft Pop songs with The Artyfacts before getting a little angrier, howling in Garage Punk band Arthur Pym & the Gordons. But it seems like it is only since he started his solo project that he was able to fully express himself… Back in 2012, « Marmalade Sculpture » gave a first insight into his obsession with well-wrought poetical Pop. Two years later the amazing « La Santa Roja » confirmed his lust for adventure. With this third record, Jaromil Sabor keeps doing whatever he likes without seemingly caring about anything around him – including current music trends. This truely is a frantic record and the sounds coming out of this piece of plastic picture a permanent battle between elaborate Pop melancholy and primitive Garage Rock energy.
Soberly named « III », this record is announced on Frantic City Records - who already released a tape by Jaromil Sabor & Prêcheur Loup earlier this year - and to celebrate the release of his new record, Jaromil Sabor will be touring France, Switzerland and Belgium in February 2016 with a bunch of guys picked from bands such as The Fatals, Skeptics, Bad for Bugs and Prêcheur Loup.
Get the LP for 12 euros + shipping and the CD for 10 euros + shipping - Mailorder
Listen on Bandcamp : http://franticcity.bandcamp.com/album/frantic-040
Reviews :
The Sound of Confusion (UK) : "It takes a particular competency to create a record like this and I think Jaromil Sabor definitely possesses the qualities to pull it off. The makeshift sound of the recordings add to the retro feel, giving the music a warm sense of nostalgia. It has an obvious punk appeal with catchy rebellion attached to the songs, reminiscent of classics from the '60s and '70s. I found this most obvious in 'Becky Was a Carrion Siren'. But despite this, it isn't at all a typical concoction; the vocals are strong enough and musicianship accomplished enough to ease you through the album. Each song is well structured with some bizarre elements, and that puts them a level above many bands attempting to emulate bygone eras. The songs are varied and this keeps the record interesting throughout. For example, the fourth track, 'Story of Lisa', demonstrated the band's ability to rely purely on a wistful melody and this was immediately followed by a heavier track 'What I'm Saying'. The record wraps up with the brilliant 'Oracle Stone', which combines strange lyrics with beautiful instrumental elements to create a sinister combination that does not lack appeal. This album kept growing on me throughout and makes for a very enjoyable listen."
Bananas Mag (USA) : "Summer eve's gone solo with III. Feel good and happy-go-lucky, you'll bask in the saturated sunlight of saccharine chimes. Sugary hooks that'll fill all the cavities you've been searching for. You got an orgy of instruments sharing each other's bodies with dreamy, kaleidoscopic undertones that fill this record. Even if you hate all his influences, you'll still find much to like. Though it's got some shoegazing tendencies it will far from keep you staring at your feet. Its surfy reverb won't roll your eyes. Familiar chord progressions are tweaked tight and just right. Your ears won't jump off your head in search for less boring signals. Good nonest pop is hard to come by, we've got Sabor to make up for the lackluster."
Ox Fanzine (Germany) : "Sorgsam durchdachte Pop-Melancholie une primitiv-okkultes Garage-Gefrickel sind das Steckenpferd von Jaromil Sabor, dessen drittes Album ihm nun endgültig einen Platz in der Riege von den retrofuturistischen Soundscapes von YUSSUF JERUSALEM oder LA SECTE DU FUTUR sichert. Es erfordert schon ein gewisses Maß an Können, stilistischem Sachverstand und Repertoire-Kenntnissen, um so ein ungewöhnliches Album zu erschaffen. Jaromil Sabor hat definitiv die entsprechenden Qualitäten und das musikalischen Rüstzeug, um ein ganzes Album voller kleiner Silk-Pop-Perlen zu bestreiten, die die aktuelle Musiklandschaft vollständig ausblenden und deren behelfsmäßige Produktion dem grundlegenden Vintage-Kolorit einen nostalgischen Rekurs auf jede noch so schlecht ausgeleuchtete Ecke des Sixties Sounds ermöglicht. Jeder einzelne Song ist mit bizarren Komponenten gespickt, die das Album auf ein weit höheres Level heben als jenes, auf dem so viele Copycats versuchen, eine vergangene Ära nachzubilden, während ein durchsetzungskräftiger Punk-Appeal die atypische Klanggestaltung davor bewahrt, ins Groteske abzudriften. "III" ist eine jener Platten, die mit jeden Durchlauf neue Zwischentöne und Nuancen offenbart und einen damit wirklich hellhörig werden lässt - und das bei jeder Umdrehung aufs Neue."
Rumore (Italy) : "Malinconia diagonal pop e weird garage primitivo senza soluzione di continuità. Loïk Maille di Bordeaux ottimizza unendo in un unico progetto quanto fatto con i suoi precedenti gruppi : i poppettari Artyfacts e i punkers Arthur Pym and the Gordons. Questo terzo album è scritto e suonato davvero bene. Ed è meravigliosamente bipolare come ci mostrano le seducenti 'Becky was a Carrion Siren (Part I)' e '(Part II)'."
-----
-FRANTIC 039
DRAGSTER "Dragster"
10" Vinyl - 300 copies
They've been around for some three years now and they've been touring over Europe quite a lot already – especially in Switzerland they seem to particularly enjoy – but they only released a 7-track cassette on French label Six tonnes de chair so far… Now the duo known as Dragster, formed in Rennes but recently exiled in Brussels, is finally back with something more consistent. It's a 10'' vinyl featuring 8 new Trashier-than-Trash Garage Punk songs recorded with Master Spider in his dungeon down in Toulouse, wrapped-up in a nice sleeve by fellow expat' Lou l'Enfer (who was the hero of their first video « Lou l'Enfer chasseur de dragons » you should check out on Youtube !). Thick layers of Fuzz, over-reverbed vocals, acutely tuned guitars and heavy, primitive drumming, this all could sound like some early-Magnetix stuff to me… Co-released with Retard Records, dude.
Get it for 10 euros + shipping - Mailorder
Listen on Bandcamp : http://franticcity.bandcamp.com/album/frantic-039
Reviews :
Bananas Mag (USA) : "Look both ways before buying this record, Lo'Spider rummaged through his sonic garbage can to produce this thrash; molded entirely out of interference patterns and static noise, the 10" disc that this record comes on must be made out of a material that is capable of bankrolling a wide range of temperatures, pressures, and spontaneous combustion. You might refuse to believe they're a duo because these road hogs are roaring out an incalculable number of Watts. True to their namesake, the songs compiled here are fast and greasy, spilling the melted wax of the vinyl as they leave you behind in their exhaust. Sometimes the guitar will rear its mashed-in head to cough up the main riff of a song in twang; rarely will the drums halt its full-throttled pulse. Never does the engine stop its purr. There is no air in between the songs, just pure gasoline and high tension voltage. Make sure you can do without the breaks. And check your rear view mirror."
Ox Fanzine (Germany) : "Ultrafuzziger Garagen-Thrash, der vor allem durch seine primitive Rohheit besticht. Brutalst verzerrte Gitarre, die immer wieder durch die Soundwand aus Schlagzeug und extrem verhallten Vocals hindurchsticht, um alles zu vernichten, was sich ihr in den Weg stellt, spätestens dann, wenn die Feedbacks einsetzen, wächst da nichts mehr. Nichts für Schöngeister, die Wert auf Filigranität oder Melodie legen. Als hätte der Beat-Man sich eine Band geklont, um seinen Monsters in Sachen Brachialität eine gehörige Lektion zu erteilen. Herrlich stumpfes Teil, dazu extrem wirksam."
-----
-FRANTIC 038
REGAL "Layer World"
7" Vinyl - 300 copies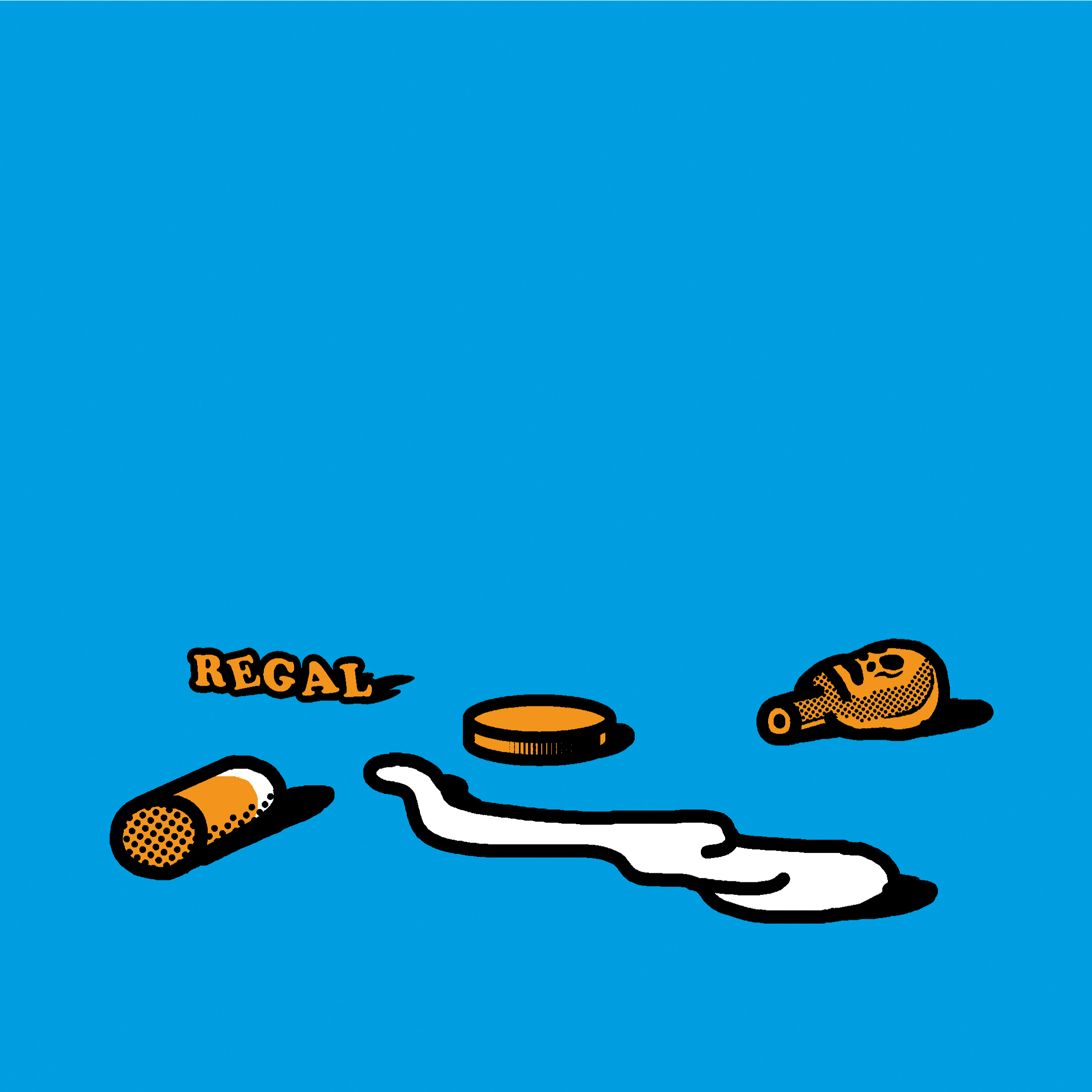 Their landmark debut album « Possible endings » came out at the very end of 2011 as a co-release on Frantic City and Azbin, then their equally enjoyable sophomore « Misery, redemption & love » came out a year after on the band's own prolific record label Azbin Records. Their third, « Two cycles and a little more », which is also quite something, was just released a few months ago on Born Bad Records. Now the first two albums were recorded as they could with the entire band but for the third album's session - from which are taken the three tracks on this new record - they were only two members in the studio and took more time to work on their songs. And you do hear it.
They may have met on World Of Warcraft, as has been stressed before, but this is far from showcasing their sensibility and songwriting ability which made Regal - originally formed in Lyon, France, but now located in Tournai, Belgium - one of the top bands in the contemporary Euro-Garage scene. But this is still quite reducing, just listen to any song from Regal and you'll hear Garage music alright but also pinches of Pop, Folk, even Country, music styles that the two comrades probably dig as much as Garage itself.
On their first 7 incher they're offering us three songs they coudn't fit on the third album wrapped in a nice Antoine Marchalot cover as usual. This one will officially be coming out on August 1st, at the band's first appearance at the Binic Folk Blues Festival.
Get it for 6 euros + shipping - Mailorder
Listen on Bandcamp : http://franticcity.bandcamp.com/album/frantic-038
Reviews :
Razorcake (USA) : "Slightly damaged pop from this French outfit. Imagine Gordon Gano meets Dan Melchior for an espresso at a Parisian café and they form a band out of spite. It's upbeat, offbeat, and tremendously enjoyable. – Daryl Gussin"
Bananas Mag (USA) : "More from Regal. A few months after the release of their 3rd album comes this 7" featuring songs recorded during the same session as the album. The opener, "Layer World", is your typical Regal song (and my favourite of the lot). Mid-tempo, dissonant chords, trembling vocals, and Regal's very peculiar and unique atmosphere, bordering on a menacing psychedelic tone. "Groove Lock" navigates in the same waters, yet sounds a bit more heavy, although not reaching the intensity of some songs from Regal's second album. "Desintegration" is somewhat different. Hazy vocals, lazy instrumentations that dissolve away, clearly fitting its title."
-----
-FRANTIC 037
SKEPTICS "Open Sea"
10" Vinyl - 500 copies
Skeptics are back with a new record and this time it's a classy 10'' vinyl (just look at Guillaume Sport Lukçe's neat artwork) featuring 7 new tracks from the French disciples of Fuzz. « Black lonely & blue », their sophomore LP, came out on Lisbon's Groovie Records at the very end of 2013, and since then the La Rochelle-based trio have been adding a fourth member, second guitar in the band, and relentlessly touring and recording new material at their favourite recording shack, Lo'Spider's Swampland studio down in Toulouse. Songs from these sessions already filtered as two different splits came out in 2014, first one being a split 7'' with Canadian crime-pals Dead Ghosts on Frantic City Records, second one being a split tape with Manchester party-boys Brown Brogues on Ultra Cool Records, which featured the song « TV Wizard » in it. A revised version of « TV Wizard » opens this new 10'' and it's a deluge of Heavy Fuzz straight from the beginning. But don't get it wrong, this here is not just another Garage record... With their dark and savage music and by means of grinding riffs and brooding chants, Skeptics bring us on an end-of-time Roller-Coaster ride summoning forgotten demons along the way. Now this « Open Sea » is most certainly a record to be prescribed to those complaining about Garage music becoming dull and boring nowadays!
Get it for 10 euros + shipping - Mailorder
Listen on Bandcamp : http://franticcity.bandcamp.com/album/frantic-037
Reviews :
Razorcake (USA) : "More scrawly psych/garage from a French outfit I've always suspected of being soft on Surrealistic Pillow. I prefer the faster-paced, punker stuff like "Stone City" to the slower, heavier numbers like "T.V. Wizard," but I haven't taken acid since 1990 so consider the source. BEST SONG: "Hole in the Ground" BEST SONG TITLE: "Mole People" FANTASTIC AMAZING TRIVIA FACT: The matrix number "037" has the little cross-bar in the "7." – Rev. Norb"
City Trash (Holland) : "Yours truly is the number one fan of the Skeptics which as you have been reading this magazine isn't a very well kept secret. So you might be surprised that at first I had some struggles with this new record from La Rochelle's finest hitmakers. In some way it's different to their predecessors, but gradually I realized this might be their best record to date. Buy it and if you don't like it I will refund you."
-----
-FRANTIC 036
PIERRE ET BASTIEN "Greatest Hits"
Cassette - 150 copies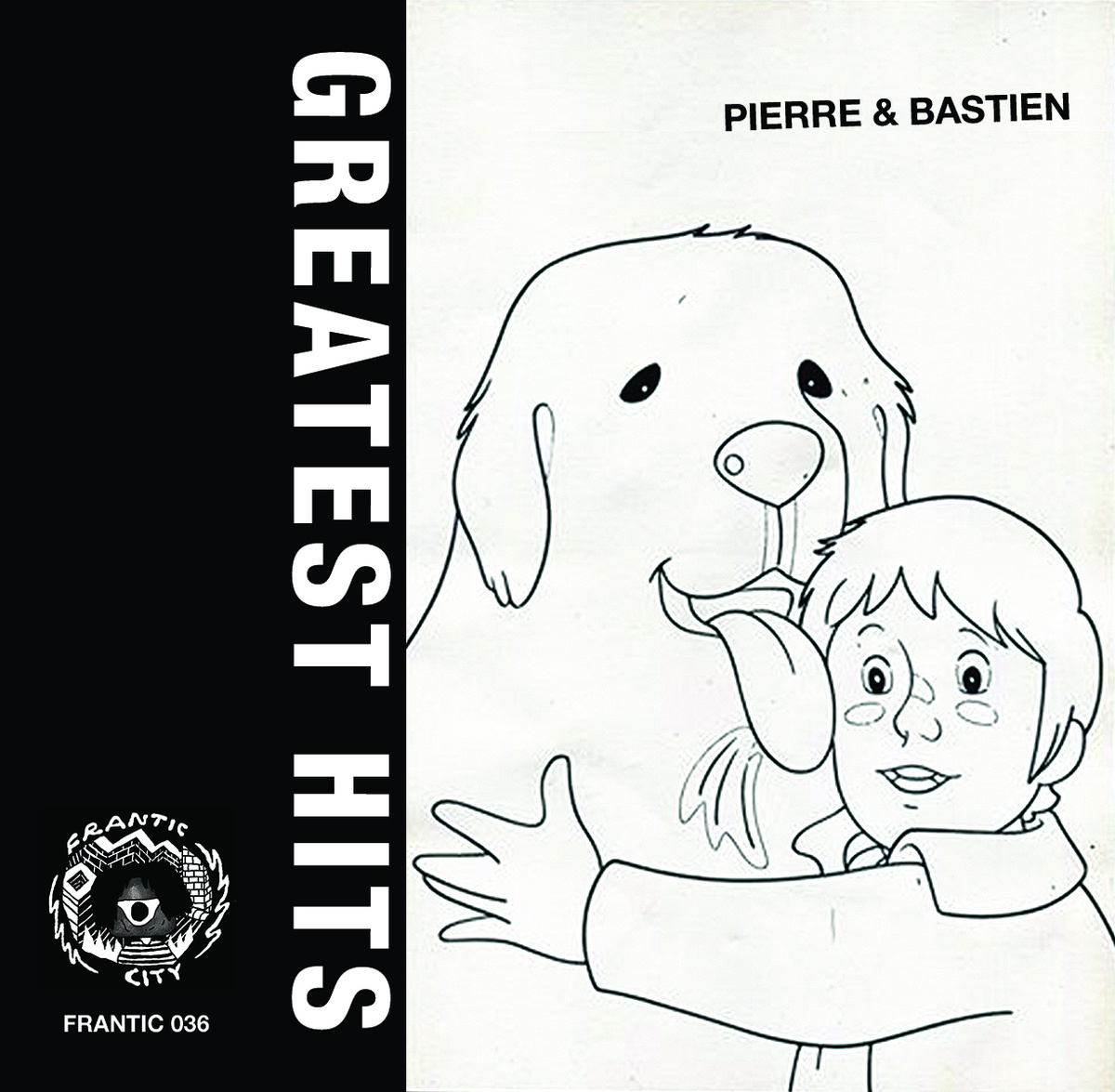 Their (fantastic) sophomore LP is just out on Polly Maggoo Records (Volt, Intelligence, Brainbombs, TITS...) and it was high time we put out a compilation of all of Pierre et Bastien's earlier material. From their first Drum Machine Punk songs ('No Sex') to their more recent and more sophisticated numbers with Trux on drums ('Stress et Paillettes'), everything's in there, even two live tracks recorded in Bordeaux and an unreleased track dating back to the very early days when Paul was still tinkering around in his bedroom ! Sixteen tracks all in all, which were previously released on labels such as SDZ, Killedbyanaxe, Les Disques Flow, Pouet !, Born Bad and more, on a pretty little tape. Limited to 150 copies only, comes with a download coupon.
Get it for 6 euros + shipping - Mailorder
Listen on Bandcamp : http://franticcity.bandcamp.com/album/frantic-036
Reviews :
Bananas Mag (USA) : "From their humble origins with a drum machine to its replacement by Fred, the "Greatest Hits" tape covers all the ground spat on by Pierre et Bastien. For some reason you get the impression that this is a release of new material, though these songs have been released before. Pierre et Bastien never give you the same thing twice, there is always some wacky version of a song unearthed in the attic. Their most beloved song, "Guitare, basse, batterie" is on there in an extended version, rare songs like "Deglingo" and "Stress et Paillettes" as well as live versions of "Démocratie" and "No Sex". If you've never heard of Pierre et Bastien, I envy the first feeling you're gonna get when you switch this on. Don't worry that's all in French, you get a good taste of the bad taste they got in their mouths."
City Trash (Holland) : "A duo or three piece from Paris, France, who knows the internet seems as clueless as me most of the time. They already had their share of releases so due time for a 'Great Hits'. 16 songs that got released over the years, on all sorts of labels, all with the common denominator being basic, loud, weird punk. Last City Trash you could have read me already being enthusiastic about their song 'Guitare, basse, batterie' on the French comp 'Hamburger Saignant' and apparently the rest of the songs are close or even better than that CT office classic."
Ox Fanzine (Germany) : "Das Pariser Punkrock-trio Pierre et Bastien lässt noch mal die bisherige Diskografie Revue passieren und Präsentiert uns hier 16 Tracks aus allen Phasen der Bandgeschichte. Während die älteren Songs noch mit Drumcomputer auskommen müssen und teilweise ziemlicher Krach sind, zeigen die neueren Stücke dann aber hingegen recht schnell, wo der Hammer hängt. Schöne, schrammelige Garage-Nummern, die zudem noch auf Französisch vorgetragen werden. Eine Sprache, die ich ja echt mag, auch wenn ich kaum noch was davon verstehe. Alles in allem gefällt mir das hier ziemlich gut und das knallpinke Tape macht auch optisch echt einiges her."
-----
-FRANTIC 035 - SOLD OUT!
FROTH "Bleak"
12" Vinyl - 500 copies
Hailing from Echo Park, CA, Froth combines a forward-thinking Garage Rock sound with elements of Shoegaze and Psych-Pop washed in the dreamy textures of omnichord and jangly 12-string guitar. Getting their start in 2012, Froth has quickly risen through the ranks of the Los Angeles DIY music scene, playing with the likes of The Growlers, Cosmonauts, La Luz, Mr. Elevator & the Brain Hotel, Mystic Braves and many more in popular local events like The Growlers' annual Beach Goth Party and Burgerama. After releasing their highly acclaimed - and extremely recommendable - debut album 'Patterns' via Burger Records and Lolipop! Records in the fall of 2013, Froth continues to attract new fans with their strong hooks and high-energy live show, and remains dedicated to exploring the sonic possibilities of their expansive Psychedelic sound. New album 'Bleak' will be out in Europe in February on Azbin and Frantic City Records and in America in April on Burger Records.
Listen on Bandcamp : http://franticcity.bandcamp.com/album/frantic-035
Reviews :
The Girls at the Rock Show (USA) : "Since forming in Echo Park in 2012, the California-based quartet known as Froth has been generating a lot of buzz both here and abroad. Currently in the midst of a European tour, they are bringing their unique fusion of lo-fi and garage rock to audiences in the UK and beyond. The follow-up to their July 2013 debut is called Bleak, and was released on February 2nd, 2015. The 9 track album stays true to their west coast sound; melodic and breezy with deep riffs that are perfect for cruising an open highway. One of standout tracks on Bleak is the third song, titled Nothing Baby. It's a slow burning lament that alludes to a possibly soon to be lost lover. The somber tone evokes echoes of the Jesus and Mary Chain, with a melodic guitar solo situated toward the end; a perfect transition into quicker tempo of the fourth track. The band overall not only excels at the fast paced aspects of garage rock, but the closing track, Sleep Alone is stripped down and centered on an acoustic sound and although slower paced than the surrounding tracks, it maintains a very melodic overtone with minimalist keyboard parts and crooning vocals. Froth has already established themselves as a Los Angeles area buzz band, and their sound perfectly captures the breezy summertime vibes of the west coast. Garage rock can sometimes be overthought and easily overproduced, but Froth stays true to the sound, keeping each song strong from the first track to the last."
Ox Fanzine (Germany) : "Aus Echo Park im Großraum Los Angeles kommen die 2012 gegründeten Froth, die nun via Azbin und Frantic City (in den USA Burger Records) mit "Bleak" den Nachfolger ihres im Herbst 2013 erschienenen Debüts "Patterns" veröffentlicht haben. Bei "Nothing baby" klingen sie wie eine etwas mehr auf technische Details achtende, weniger kaputte Version von The Jesus and Mary Chain, und diese schleichende Nummer ist eigentlich stellvertretend für das ganze Album. Garagerock wird hier mit Psychedelic-Pop, wie er Anfang/Mitte der Achtziger aus jener Region kam, sowie Shoegaze-Elementen gekreuzt. Das Ergebnis ist noisiger, druckvoller Psychedelic-Rock mit gesanglich starken Anleihen bei den schottischen Helden und repetitivem Schlagzeugspiel, aber auch Anklängen an die frühen Black Rebel Motorcycle Club ("Turn it off"). Besonders gut gefällt mir der hallige Sound der Kalifornier immer dann, wenn sie wie bei "Richard likes grey sky" etwas aus sich herauskommen und überschwänglicher werden, die Gitarre jangly und latent surfig wird und es mir vorkommt, als könnte sich hier auch noch eine Spur GUN CLUB verbergen. Ein wirklich feines Album!"
-----
-FRANTIC 034
LADY BANANA "Wall of Cheese"
Cassette - 150 copies
Swedish Trash Garage duo Lady Banana - formed a few years ago in Göteborg on the warm ashes of the mighty Tundra Fucks - came to France twice and managed to get some days off to spend in Toulouse's Swampland Studios each time. First session (off which two songs ended up on the split 7'' with Skeptics on Frantic City and two more made up their 'I'm not you' 7'' on Beaver Milk Records) was during their Tour De France with Skeptics in October 2012, second session occured in Summer 2013 during the small tour they did in the South of France with Destination Lonely. Eleven songs where thusly recorded with Swampland wizard Lo'Spider, probably the best recording master they could've found to record their very unique blend of Garage, Punk and Raw Blues. So this is what you'll get on this tape, the complete Swampland sessions from Lady Banana, eleven songs and more than half of them unreleased ! So all of you Cheater Slicks and Oblivians fans, don't be foolish and get this little gem of a tape before it's too late, only 150 copies were made… Download Coupon included.
Get it for 6 euros + shipping - Mailorder
Listen on Bandcamp : http://franticcity.bandcamp.com/album/frantic-034
Reviews :
The Styrofoam Drone (USA) : "The folks at Frantic City Records have been on a tear this far through 2015. Wall of Cheese from Lady Banana, a trio based in Göteborg, Sweden, is their third most-recent release, delivering a blend of bluesy garage and punk in a blistering 20-minute tantrum. As promised, fans of the Cheater Slicks or the Oblivians will not be let down by the bad ass little tape. Wall of Cheese comes with eleven tracks that average out to about 2-minutes a piece, combining gritty blues and aggressive punk into an invigorating mixture that will give you no other choice but to stomp along to the disheveled rhythm. Searing layers of fuzz call the shots, driving you straight into the ground by pounding away relentlessly with each buzzing punk monstrosity and they couldn't care less about any damage they cause en route. They even toss in a cover of the Velvet Underground classic "Run Run Run," complete with a bruising, tom-heavy beat that's buried under a filthy beam of nasty guitar racket. It's followed by standout track "A Place to Go," wherein you can feel the relentless, electrifying pummel that drives this entire cassette. "I'm Not You" follows along in similarly destructive fashion, unfolding as a sub-2 minute banger that grounds you straight into dust. "The Girl Who Lives on Heaven Hill" wraps up the tape with a blistering beam of blown-out guitar, complete with frontman Pontus Westman's raspy, pent-up shouting."
Bananas Mag (USA) : "The Swedish duo continues to mistreat your eardrums by exposing them to their lo-fi trashed-up sound. Playing as fast as humanly possible, pummelling those drums like there's no tomorrow, cranking the fuzz all the way to the max, and keeping the melodies as simple as possible while maintaining the faintest of pop sensibility to make those songs memorable. Surprisingly, their pop sensibility even goes as far as being almost Ramones-ish on songs like 'So Low'. No need to go in a breakdown of the songs here tough. Suffice to say they're (almost) all under the two minutes mark, relentless, and perfect for one of those days when you wanna punch every face in sight. Pair it with Bikini Gorge's new LP, Fuzztration, reviewed somewhere else in this rag."
Ox Fanzine (Germany) : "Die schwedischen Garage-Radaubrüder haben einige Restbestände aus den Aufnahmen zur Split-Single mit Skeptics und der folgenden 7" auf Beaver Milk Records sowie aus späteren Recordings in die Hande von Frantic City gelegt, um ihren rabiaten Boogiepunk auf Magnetband zu bannen. Da beide Sessions jedoch in den Swampland Studios unter Regie Lo' Spider eingespielt wurden, wirken die Songs wie aus einem Guss und klingt das Album nicht nach Altwarensammlung. Wer Cheater Slicks, Jon Spencer oder Oblivians schätzt, wird den Swampland Sessions von Lady Banana einiges an Reiz abgewinnen können – primitiver, garagiger Bluespunk, der jedoch nicht öde vor sich rumpelt, sondern in kompakten Eineinhalbminütern ganz anständige Hits zurechtzimmert, von einem Zuschnitt, der sich für eine längere Zeit fies im Ohr festsetzt. Keine Nuancen, kein Schnickschnack, sondern Fuzzgesäge mit kraftvollen Vocals und explosiven Melodiebögen, die genau an den Stellen zünden, an denen andere Bands in Monotonie versacken würden."
-----
-FRANTIC 033
JAROMIL SABOR & PRECHEUR LOUP "You shall use your time​.​.​. And your mama's too"
Cassette - 150 copies
Loïk (Jaromil Sabor) and Antoine (Prêcheur Loup) met in Bordeaux in 2007. They played together in different bands such as The Magical Jumblies Club and Captain Kidd & the Dreamers, and then, in Winter 2010, the two of them started working on new stuff together. During Christmas holidays, their mission was to record a new song everyday. They were writing and recording on the couch in Loïk's flat while spinning records - John Lennon's "Mind Games", the Fresh & Onlys, Mr David Viner, Wilson Pickett… At the end of the holidays they had enough songs to start playing them live, and opened for bands such as Rita Braga, The Oscillation and more with this new band they had together. Then both of them went abroad for a couple of years, not seeing each other, and when they met again last summer they decided to re-record all their songs with a better sound. They did it in Antoine's garden shack this time, bringing-in various friends for additional drums, synth or guitar parts… And this is how they came up with the ten songs making up this "You shall use your time… and your Mama's too" cassette, alterning Folky ballads like fellow Frantic City band Regal knows how to cook ('Nicole') with straight-forward Spits-like space Synth-Punk songs ('Calcomatraque'). Mastered by The Rest of Alfredo Garcia. Download Coupon included.
Get it for 6 euros + shipping - Mailorder
Listen on Bandcamp : http://franticcity.bandcamp.com/album/frantic-033
Reviews :
Fuzz Drench (USA) : "The first order of business in mending the damage I've done to my readership and all of the bands I should have been telling about you since my last post, is to peddle some noise you may have missed from around the time I abandoned you all. Jaromil Sabor & Prêcheur Loup is a breath of fresh air. The somewhat stale state garage has fallen into could be seen as dissapointing to some (though sometimes I can still get into it). Unwavering amp presets played at invariable speeds make up entire discographies of bands that could have been something so much more. Huffing paint, pounding this swill you call PBR and the idea of simply not giving any fucks have seemlingly taken over garage rock culture to a point that the music itself isn't important anymore. There is also no doubt that many bands have become known or respected by copying an established sound, knowing people would eat it up (there are too many Oh Sees copycats to count). I really am sorry if you've been caught up in all that menial tomfoolery (yep, I said it), but you should know that you don't have to be a slave to it. There still exist bands that are strapping on their songwriting hats and making music that more than just satisfies, it seduces and suckerpunches right in the gut. It induces raw emotions in it's listeners. Jaromil Sabor & Prêcheur Loup is one such group. Of course there are clear influences, but they have carved these tracks out of something very unique. Each one sets itself apart from the others with just a dab of Elmers to keep it all together. Alternating between hard-driven beats living underneath crudely knarled vocals and balmy sun soakers that make you wishful of calm summer days made complete with endless opportunities to just sit and soak in the world around you. You may be thinking, "wow, this sounds like a bit of a rollercoaster", but I can assure you the finished package actually flows quite well. I think these guys are more than fitting for my first post back from the dead so check the stream below. However, if you are still worried that you might be drowning in bullshit, I got plenty more coming up for you soon (for real)."
City Trash (Holland) : "If there is a typical French Sound this might be it. I of course mean garage punk with that jangly hint of country sounds, the bonfire feeling, and the always expected diversity as suddenly a song as 'Calcomatraque' or 'Sir Angel Ender' pops up which are fast uptempo songs and stand out from this cassette for all the right reasons. It's just all kinda weird just like most of the French I met. This is a band from Bordeaux you know that place where R'n'R comes out of the tab. Weird little enjoyable CS on Frantic City."
Ox Fanzine (Germany) : "Ohne Zweifel trifft man dieser Tage auf Bands aus dem Garage-Sektor, deren Soundfindung zu großen Teil auf der Gewissheit beruhte, dass die Leute den Scheiß schon schlucken würden, unabhängig von der tatsächlichen Qualität (der Thee Oh Sees -Copycats-Effekt). Bei diesem Tape ist das nicht der Fall und dennoch ließe sich der Sound sicher der entsprechenden Hörerschaft schmackhaft machen. Grobschlächtige Punkripper mit knochigen Drumcomputer-Beats und warme Sunshine-Pop-Nummern geben sich die Klinke in die Hand. Dazwischen trifft man immer wieder auf SynthGefrickel, Group-Shouts und Gitarrenlicks, die garantiert nicht aus Peter Burschs Gitarrenschule stammen. Folkloristische Untertöne schwingen dabei mit, ähnlich den archaischen Tonfolgen und Harmonien beim Okkult-Psych von Yussuf Jerusalem und La Secte du Futur. Wer da denkt, das sei ein nur schwerlich zu verdauender Brocken, kann beruhigt sein: im Gesamtpaket geht das ziemlich gut runter."
-----
-FRANTIC 032
THE STACHES "NYC"
7" Vinyl - 300 copies
The Staches are two girls and two guys from Geneva, Switzerland, who've been sticking together for years now and relentlessly working on blending together Garage, Girl Punk, Lo-Fi Pop and Psychedelic music. Pushed by the enthusiasm of their youth, they've been roaming the roads of Europe and already totalize a fair amount of about 100 gigs. Their first album « Machine » (Burning Sound Records, La Chaux-de-Fonds) came out in May 2014, quickly followed by their first 7'' « There's Something in Between » (La Suisse Primitive Records, Saint Gallen) in October 2014. Now the two songs making up this new 7'' co-released by Azbin and Frantic City Records were recorded by Seth Sutton from Useless Eaters in San Francisco in August 2014.
Get it for 6 euros + shipping - Mailorder
Listen on Bandcamp : http://franticcity.bandcamp.com/album/frantic-032
Reviews :
The Styrofoam Drone (USA) : "The Staches consist of two girls and two guys from Geneva, Switzerland. Their new NYC 7" is their third record, released by both Frantic City and Azbin Records in France. The 4-piece dropped their first full-length last year, Machine, along with their first 7" There's Something In Between. NYC is their first offering of 2015 and the two tracks were recorded by Seth Sutton (of Useless Eaters) in San Francisco back in August. "NYC" unfolds slowly with glowing guitar speckles and a stretchy bass line. A shaky drum rhythm holds everything in place while guitars simulate colorful brush strokes on a canvas. Breathy vocals float out over the harp-like guitars, together creating a soothing, rippling effect. Toward the end they flip on the punk switch and suddenly change momentum with a searing beam of fuzz guitars. B-side "The Girl Who's Been Told" has an immediately heavier tone stemming from the crunch of the guitar. It's doused with spacey keyboards, creating that cosmic, drone-worthy buzz. It all begins to progess as bass lines swell and drums march forward, wrapping up the track in a crashing wave of energy. You can hear both sides of the 7" right below."
City Trash (Holland) : "Not the typical thing I would expect from the guy who sent it to me but as most things I get from that adress this is good stuff. Instead of the typical Garage stuff he puts out this tends more to the indie shoe gaze idea but still comes close enough for this City Trash boss to like the shit out of it. Two songs 'NYC' a slow starter which evntually settles in nicely, flipside is more melodic and made me look for all the other releases they have and got even more amazed, you go do the same. Frantic City hooked us up to another great band."
Ox Fanzine (Germany) : "Bei den Staches handelt es sich um zwei Jungs und zwei Damen aus Genf, die seit 2014 mit einer atemberaubenden Mischung aus LoFi-Pop, Psychedelia und Girl-GroupSound erfreulich hochwertigen Output veröffentlichten. Und auch mit der neuen 7" bricht der hohe Standard in keiner Weise ab. Zwei ganz hervorragende neonbunte, grelle Psychedelic-Pop-Songs mit knapp fünfminütiger Spielzeit erfreuen auf ganzer Länge, eine charmante Single ohne allzu viel unnötigen Zierrat, aufgenommen in San Francisco von Useless Eaters Gitarrist Seth Sutton."
-----
-FRANTIC 031
DEAD GHOSTS / SKEPTICS
7" Vinyl - 300 copies
Skeptics played thrice with Dead Ghosts, twice in La Rochelle, once in Bordeaux, and that was far enough to understand that Bryan and the boys are but a bunch of jolly good fellows. Been following them from the great "Bad Vibes" 7" they put out on French record label Yakisakana in 2009 (you can find both songs on the "Rarities" LP out this year on Bachelor) up to their second album "Can't get no" out on Burger Records in 2013 and always been much contented with their own special blend of Garage, Folk and whatever's-in-there-too so far. They're definitely one of the best things which came out of Canada in the last few years along with Demon's Claws or Indian Wars. They are working on their third full-length at the moment and gave us this neat cover of "Girl", from Back from the Grave fame's The Keggs for this record. Skeptics, long-time Frantic City favourites since we put out the first 7" in 2009, are also working on their third full-length and the garagesters from La Rochelle - who are now a four-piece band, which means twice as much Fuzz and Reverb!! - came up with a very personal rendition of 60s Dutch band Groep 1850's first A-sider "Misty Night", perfect match for this split 7". So here you go, two 60s covers by two of the most exciting contemporary Garage bands from Canada and France, wrapped-up in a nice full-color cover by Brussels' own Robin Renard and pressed on colored vinyl. Limited to 300 copies so you know you'd better act fast!
Get it for 6 euros + shipping - Mailorder
Listen on Bandcamp : http://franticcity.bandcamp.com/album/frantic-031
Reviews :
Bananas Mag (USA) : "Dead Ghosts from Canada cover the Keggs with 'Girl'. For a band coming from the Black Lips school, whose style consists in playing the sloppy, slightly out of tune, strained type of garage, there probably aren't any better bands to cover than the Keggs. Of course they make a very good job out of it, although a bit more of a personal touch couldn't have hurt. Skeptics on the other hand give a 100% personal take on Groep 1850's Misty Night. As per usual, the band is led by its heavy fuzz guitar riff, Bart's vocals are as tense as ever, and they really manage to insufflate some of their viciousness in an otherwise rather benign psych tune. The Dead Ghosts song make this record a good buy, the Skeptics song make it a mandatory one."
Ox Fanzine (Germany) : "Zwei angesagte, wenngleich stilistisch sehr unterschiedlich ausfallende Garage-Bands haben sich hier nach drei gemeinsamen Gigs während der letztjährigen Dead Ghosts-Tour zusammengetan, um Coverversionen zu Sixties-Teenpunk-Knallern des kauzigen Sorte in passenden Analoglärm zu gießen. Die Scenesters aus Vancouver widmen sich dem folkigen BFTG-Midtempo-Stück "Girl" der kanadischen The Keggs, während die Skeptics mit "Misty Night" der niederländischen Groep 1850 einen etwas unbekannteren Song ausgesucht haben. Beide Tracks sehr düster, aber packend, mit Reverb galore und gelungen umgesetzt."
AckAckAck (Germany) : "Vor einer Weile schon waren die Skeptics eine meiner favorisierten Garagebands, die sich originärerem Sound annahmen. Räudig, laut, creepy und vor Allem live eine Wucht! Generell scheint Garagepunk für Frankreich, was HardcorePunk für Schland. Label wie Born Bad, Azbin, Frantic City, 7Inch Allah, Retard, Howlin Banana und und und lesen sich nicht nur gut, sind was ihren Output angeht auch erste Sahne. Die Skeptics bilden da keine Ausnahme. Beide Bands nehmen sich auf dieser 7" Coverversionen an. Eine schöne Ballade der Dead Ghosts und (mein Favorit) der ausufernde Kettensägen-Song der Skeptics."
-----
-FRANTIC 030 - SOLD OUT!
THE PNEUMONIAS "Still Lurkin'"
10" Vinyl - 300 copies
The Pneumonias were on the first two records out on Frantic City Records, now they are celebrating their 10 years of lurkin' around with this new 10 track 10" and it turns out to be Frantic City's 30th release, co-released with Juvenile Delinquent Records who put their "Cheap Trash Session" tape out last year! Their first gig was opening for The Egos (from Melbourne, featuring Mad Macka from The Onyas... no coincidence! For those who care he is now playing with the mighty Cosmic Psychos) in La Rochelle in May 2004 and since then they've been pulling out some real trashy and messy Garage Punk shit like the Rip Offs going through an Angry Samoans' set-list. Their first 7"es came out on Dutch label High Shool Refuse/Reject Records in 2004 and 2005, then there was the split 7" with the Four Slicks and the "Automatic Pistol" 7" on Frantic City, and finally the "Cheap Trash Rock & Roll" CD on Zodiac Records in 2007, which contained 12 tracks taken from their first recording session with Lo'Spider in Toulouse. They then recruited a second guitar player for more virtuosity, as Tony Pneumonia used to be called "Kptain Swindler" and was the brain-master of the Swindlers, the only French band who ever put a record out on Rip Off Records (does anyone actually remember THE best Punk Rock label ever?), and then Power-Surf trio the Bikini Men. But Tony never got a chance to record with the Pneumonias until January 11, 2014, when the Pneumonias went back to Lo'Spider's recording shack and layed-down 10 tracks in one afternoon. They actually entered the studio with only 9 tracks but made one up on the spot! Virtuosity I tell you. The guys had so much good music hidden in their bellies that one band was not enough and over the course of the last 10 years, all members of the Pneumonia family started or played in different bands such as the Mean Things, Wild Zeros, Bonzers, Creteens, Protokids and many, many more!
Listen on Bandcamp : http://franticcity.bandcamp.com/album/frantic-030
Reviews :
City Trash (Holland) : "One of the truly greats from the good or at least better old days here in Europe. The Pneumonias are back with more of the same brilliance as they used to put to vinyl. Hell in these confusing days of "garage" this sounds and feels even better than back then. Still lurking and basically bringing the same sound back to life on this 10" which is just as or even better than they ever did. Two cover songs that blend in without irritation a fucking awesome sleeve just like back in the days. Don't want to sound old and with this shit I will never!"
Razorcake (USA) : "The Pneumonias - France's awesome response to The Spider Babies - celebrated their ten-year anniversary by recording ten songs for a 10". Obsessed with American culture, violence, and fun, this is the sort of record that's only polarizing in a room full of people who hate fun. There's a delightful viciousness to the vocals, as if you might get hurt if you turn the volume up, down, or go anywhere near your receiver. Recorded right at the beginning of the year to ensure proper 2014 anniversary delivery, this is as kick-ass as anything else I've heard from The Pneumonias. This record will be lurking near my turntable for a long, long time."
Bananas Mag (USA) : "The Pneumonias are a french band that's been around for a good 10 years, and members have been in more bands than I care to list. Anyway, they play loud punk rippers halfway between the 77 punk sound of DMZ and the Pagans and the '90s garage punk of the Rip Offs and the Angry Samoans (minus the humour). The shear energy, coupled with searing guitar, driving rhythm section and hoarse singing will definitely give you an irresistible urge to bob your head like a madman. The production is also spot on and also reminds me of the best the 90s had to offer, so if you like the tough sound of the Crypt catalogue, you can't go wrong with that record."
-----
-FRANTIC 029
WHITE ASS "White Ass"
12" Vinyl - 500 copies
You most likely discovered White Ass with their first recordings available on a split tape with The Skeptics out on Frantic City and Inch Allah records, then you surely must have heard their hit song "Stencil" opening Frantic City's various artist LP "Hamburger Saignant" out a few months ago, now here is finally their first LP, co-released by Frantic City, Kizmiaz, Pouet! and Inch Allah! 12 tracks recorded by Sashtrash and mastered by Seb Normal wrapped in a nice fold-out cover. For those who don't know them yet, White Ass is an all-star four-piece Garage Punk band from Paris formed by current or ex-members of Teenage Moonlight Borderliners, Viscous Brothers, Crash Normal, Pierre et Bastien, T.I.T.S., Feeling of Love and probably a lot more! They decided to bring this new band to life because none of those mentionned above actually went for this super-reverbed, trashed-out Garagey Punk sound that's already synonymous with fair-skinned buttocks in some parts of France, and you certainly won't blame them once you've heard those 12 rockers!
Get it for 12 euros + shipping - Mailorder
Listen on Bandcamp : http://franticcity.bandcamp.com/album/frantic-029
Reviews :
Maximum Rock & Roll (USA) : "Probably not the best choice of a band name. "Cul Blanc" might have been subtler for our English speaking ears. I have been enjoying the bands coming out on Frantic City Records for a while now. White Ass is no exception. Their music is a fuzzy blend of '60s garage rock with some surfy-ness and some pop stylings. As usual I really like the faster ones like "Fox Around." White Ass hail from Paris and feature current or ex-members of Teenage Moonlight Borderliners, Viscous Brothers, Crash Normal, Pierre et Bastien, T.I.T.S. and Feeling of Love. With a pedigree like that it's hard to go wrong."
Razorcake (USA) : "Due to dopey band name and peculiar Warehouse: Songs and Stories-esque packaging, I wouldn't've given this record a second glance had I encountered it in the wild, and this would have been to my life's detriment. These Parisian cellar-dwellers crank out a reverb-demented garage squall of such tangible meatiness that you'll swear you're bathing in guitars and as a result your complexion has improved noticeably. I've also found that this record cannot possibly be turned down to a volume where it won't disturb others nearby, if you try it, the record just turns itself back up again. I guess there's a first time for everything: Earth surrenders to France! BEST SONG: "Fox Around." BEST SONG TITLE: "C'est la Merde." FANTASTIC AMAZING TRIVIA FACT: This album cover uses the Cooper Black font, which I've hated for about thirty-five years."
-----
-FRANTIC 028 - SOLD OUT!
ANGRY DEAD PIRATES "Garage music for mind and body"
12" Vinyl - 500 copies
Second album from Toulouse's Angry Dead Pirates after a split 10" with The Movements from Sweden out on Pariah! Records in 2012, twelve new tracks recorded at Swampland, Toulouse, with none other than Lo'Spider of course. They don't sound like your typical 60s revival band and they don't sound like your typical "à la Black Lips" neo-Garage band but they still dig fuzz and reverb a lot and even have a Farfisa in the band! They clearly found their own special sound mixing Garage, Grunge and Psychedelic elements, and who could have captured this special sound on a tape better than Toulouse's own Lo'Spider? The Spider actually played bass with them for a memorable gig along with Skeptics in the French Basque countries... He plays some organ on this record too. What's more, two members from Australian band Burn In Hell from Melbourne were invited on a couple of tracks, so there's family and friends here! LP co-released with Le Laboratoire and Barbarella Club record, bonus CD version included!
Listen on Bandcamp : http://franticcity.bandcamp.com/album/frantic-028
Reviews :
City Trash (Holland) : "As the title sounds like a cheap add for shampoo this is anything but cheap or to put on your hair or body. And why didn't they put 'brilliant' in front of it : 'Brilliant garage music for body and mind' or any other word to explain the greatness of this record! Fuzz-filled sixties garage, twelve songs in total, all just pretty much perfect songs on their own but as a whole this record needs a whole lot of more attention besides this brilliant review in the only magazine that counts. I am fucking jealous of France and their music scene how bad can it be! Lo'Spider was involved, Frantic City and two other labels are responsible!"
-----
-FRANTIC 027
HAMBURGER SAIGNANT V/A
12" Vinyl - 500 copies
Spring 2014 and Frantic City is putting out a various artist compilation album as its 27th release ! What you get here are 15 exclusive-to-this-release songs by 15 bands from all over France and Belgium playing their own kind of Garage Rock thing. Some may sound more Punk, some may sound more Psychedelic or more whatever… they're all worth a listen ! With Pierre et Bastien, Regal, Forever Pavot, Chimiks, Mountain Bike, Angry Dead Pirates, Le Pécheur, Skeptics, Combomatix, Kaviar Special, Dusty Mush, White Ass, Bikini Gorge, Dragster and Forever Skeptics. Mastered by Lo'Spider, artwork by Antoine Marchalot.
Get it for 12 euros + shipping - Mailorder
Listen on Bandcamp : http://franticcity.bandcamp.com/album/frantic-027
Reviews :
Razorcake (USA) : "The LP showcases fifteen current French and Belgium bands. These tracks range from blazing three-chord punk to ratchety Back From The Grave-style stranglers. Chimiks "Action" is a stand out rocker with snotty vocals and lots of discussion about action. Skeptics' "I Want You" also moves with the wrench. Funny how none of these bands have the definite article "the" in front of them. There are lots of "the" bands on here. Some of the bands rely heavily on the vocal reverb, but that seems to be the fashion these days. The album slows considerably at the end of side two with a nice Spacemen Three style sludger by Mountain Bike followed by a psychedelic epic called "Sweet Analog" by Forever Pavot. Well worth checking out the lesser-known crowd of France and Belgium. I'm going to have to renew my subscription to Maximum Rock et Rouleau."
Bananas Mag (USA) : "Long has it been since I last heard a compilation with that much good stuff on it. 15 great tracks from bands from all over France and Belgium. The A-side seems more focused on lo-fi and noisy garage punk. White Ass' "Stencil" is a perfect example. Tons of reverb, distorted vocals and yet a pretty catchy melody under all that muck. You also get the pissed-off sound of duos Combomatix and Bikini Gorge who should start being familiar with, since we review their stuff in almost every issue, and the buzzsaw punk attack of the Chimiks amongst others. The B-side feels much more psych and pop-oriented with songs by Angry Dead Pirates, Regal, Mountain Bike and Forever Pavot. My favourite track is probably "Don't call me Lucifer" from Forever Skeptics which I assume is a collaboration between Forever Pavot and Skeptics. Yeah, that's the best of both worlds! The creepy psychedelia of Forever Pavot mixed with the angry fuzz punk of Skeptics. My second favourite song would have to be Pierre et Bastien's incredibly stupid and funny "Guitare Basse Batterie" which, in addition to cracking me up, manages to stay effective as a song."
City Trash (Holland) : "A compilation of Garage bands from France and Belgium not sure if the idea came to mind after seeing the Dutch Garage Explosion records but that's something that doesn't really matter. And I won't even begin to compare both Garage comps cause I will have to admit the French will always win. Some known and unknown bands, some good some not that good it's something unavoidable with a comp like this. You know Combomatix, the Skeptics, Chimiks and Regal are going to deliver the trash you want and love but the new bands, at least for me as the guy who couldn't move further away from Belgium and France without leaving Holland, that are most exciting Dragster, White Ass, Angry Dead Pirates and the best song on here "Guitare Basse Batterie" by Pierre & Bastien with one of the best drum solos I've heard as Mr Frantic City also points out in the liner notes. Reading those one can only hope Forever Skeptics will do some more as this is the second best song on here unfortunately from a one off recording and for that only you really need to have this record. One pretty cool overview of the scene in one amazing package. Almost anything Frantic City is CT approved! Let's hope they take this record with a nice package of bands on tour!"
-----
-FRANTIC 026 - SOLD OUT!
WHITE ASS / SKEPTICS
Cassette - 100 copies
This is Frantic City's second co-release with Inch Allah Records from Paris after the Teenage Moonlight Borderliners / White Fangs split tape which came out some time ago (FRANTIC 016). On this new split tape you'll find the very first recordings from White Ass from Paris, Trash Garage band formed by ex or current Viscous Brothers, Teenage Moonlight Borderliners, Crash Normal, Pierre et Bastien, TITS and more, 5 super-trash, highly-reverbed and extremely well-knit songs. Check these dudes out they're sure worth it! On the other side are 6 tracks taken from the very first band-recordings done by the Skeptics in April 2012 in the Netherlands with Robin, the first Skeptics' drummer, on drums. These were recorded one afternoon in a Garage somewhere in Meppel by Peter 'Tapeworm' (No-Goods, Keefmen, Grapefruit Zoo, Low Point Drains...) on his 4-track portable recording device of some sort. Lots of Fuzz and lots of Reverb. What else would you expect from the Skeptics? Primitive, that's how they live. Dig it freaks, but dig it fast because only 100 copies of this nice little tape were made! Art by Etienne Belargent and Alessandra Danelli.
Listen on Bandcamp : http://franticcity.bandcamp.com/album/frantic-026
Reviews :
The Novel Sound (USA) : "Let's start with the heavy sludged guitar of The Skeptics. Why not? It's the first thing that'll come barreling through your speakers and bursting into your eardrums. It's heavy, hooky, and infective. It's built for long slow pans of bad men with bad ideas walking down streets and chewing metal. It's tough music for tough people: The type who wear dark glasses inside darker clubs. The Skeptics side is one solid mix of fuzz punk that was recorded in one afternoon which results in only attempting to restrain a live sound. Despite the rawness of the tracks, nothing blurs together and each songs screams with individuality. "Mean Things' maintains its more punk infused snotty-whined lyrics and the guitar solo is rudimentary and short. 'Green Haze' stomps around with a Detroit urgency knocking over your loved ones and kicking your pets. Each track rolls on with a beautifully controlled aggression that doesn't feel restrained or wussy. Hell, if you're going to race muscle cars, this is your co-pilot. My favorite track, though, is "Black, Lonely & Blue" with its driving guitars, menacing drums, and growled vocals. It's the culmination of all the Skeptics best parts. For all the heaviness of The Skeptics, White Ass seem almost light as the aether. The driving force here is the reverbed guitars and vocals trade lead roles with precision and the grace of a killer. White Ass are made up of ex or current Viscous Brothers, Teenage Moonlight Borderliners, Crash Normal, Pierre et Bastien, and TITS members, and all that talent has created some beautifully psychedelic garage slammers. You can hear it in "Stencil"'s dancing bass, a guitarist willing to be in the scenery, and vocals which work to drive the song's rhythm. "Rien a Faire" incorporates the pogo-centric feel of The Ramone's "Blitzkrieg Bop" with a heavily recoiling echo of snapping vocals over a slamming drums. This is one of those recordings that you'll buy on a whim and wonder how you ever lived without it. The Skeptics and White Ass each share a side of this split cassette. It's two amazing recordings for the price of one. You'd be a fool to ignore it."
-----
-FRANTIC 025 - SOLD OUT!
LADY BANANA / SKEPTICS
7" Vinyl - 300 copies
Göteborg, Sweden's trashiest duo ever Lady Banana (featuring ex-Tundra Fucks' Pontus) and French Fuzz Punk meisters The Skeptics from La Rochelle (members of White Fangs, Mean Things, Wild Zeros and much more) team-up on this split 7". Each band gives us an original and covers one of their favourite songs. Those tracks were all recorded by Lo'Spider at Swampland Studios, Toulouse, where they stopped for a few days during their joint 'Tour De France' - which actually ended up in Germany - in late-October/early-November 2012. After their first 7" out on Frantic City a few months before (FRANTIC 020), Lady Banana goes on building their own 'Wall of Trash' sound and on the flip you'll find the very first 'band recordings' from the Skeptics. All previous material (two 7"es and an LP) was recorded by Bart De Vraantijk only, now on these tracks Bart was playing the guitar and singing along with Kristal on Bass and Etienne from Teenage Moonlight Borderliners, Crash Normal, White Ass (also running Inch Allah Records) on simplified drums. Get ready for the most Primitive Trash Garage Punk sounds you've heard since a very long time!!
Listen on Bandcamp : http://franticcity.bandcamp.com/album/frantic-025
Reviews :
Bananas Magazine (USA) : "We'll start with the lady. Lady Banana, fuck yes! From a city so rockin' they gave it umlauts. These Swedish fuzz buckets drop it with a harshness. 'Aces Boogie', their first track is an quaint appetizer for their drum pummeling rendition of the Velvet's 'Run, Run, Run', slap your gaped jaw now. Nuff said. We go west in Europe and find the French garage munsters, The Skeptics. They lay the fuzz down thick for this staccatic opener to an expertly punk cover of Willie Dixon's 'Hidden Charms' à la Link "Motherfuckin'" Wray. This is a great split and delivers you hellacious and foreboding Rock and Roll that makes you wonder why the kids back in the States even bother. Put in on and shut your jizz gobler."
High Heels Slut (Belgium) : "It seems like both bands really found each other, which is cool! Skeptics have done some touring in Sweden, set up by Lady Banana and in return both bands toured France together. Sometimes there's just a click between bands or people, so this split record ain't a surprise. Lady Banana stomps through a great fuzzed-out original "Aces Boogie" that for sure would be nodded to for approval by Haunted George, early Oblivians or a less stripped-down Gories. Afterwards they give a similar treatment to "Run Run Run" by the Velvet Underground and they delivered a great take! On the flip the Skeptics present their first recordings as a three-piece. Also one original here, "Master of the Hive", and an up-tempo rendition on Howlin' Wolf's "Hidden Charms", giving the song a healthy Cramps feel. It's basic and honest Rock & Roll that will get ya shakin' at the party!"
Ox Fanzine (Germany) : "Die Bandnamen stehen für Teenpunk der trashingsten Sorte, Lo'Spiders Swampland Studios für den wie angegossen sitzenden Sound für derartigen Analoglärm und so wundert es nicht, dass es auf einer Split 7" der Skeptics und Lady Banana mächtig im Karton rappelt. Skeptics master-mind Bart De Vraantijk spielt neuerdings mit Komplettbesetzung, was dem Fuzz Punk-Getöse noch mehr Dringlichkeit verleiht, und Lady Banana weben einen vielschichtigen, selbst als « Wall of sound » betitelten Lo'Fi-Teppich, bei dem Tontechniker resignieren. Das ist wohl der primitivste sound, der in der letzten Dekade des Licht der Garage erblickt hat."
-----
-FRANTIC 024 - 2ND PRESS - SOLD OUT!
FOREVER PAVOT "Christophe Colomb"
7" Vinyl - 600 copies
Forever Pavot is the brain-child of Emile from Arun Tazieff, Psych/Prog band from Paris, who started recording songs by himself. A few months ago he put out a single limited to 50 copies which sold out in a few days, now Frantic City is re-releasing it with 2 extra-songs and limited to 300 copies this time ; four Heavy Psychedelic tracks with a strong 60s influence (« Psychedelic Unknowns », « Acid Visions » or « Beyond the Calico Wall » compilation series come to mind), but not just that, since our little blue boy also digs contemporary bands such as tasty Tame Impala or those Frenchies from Aquaserge. Ad a pinch of Ennio Morricone and here we go, the best soundtrack to a Roger Vadim's Barbarella sequel!
Listen on Bandcamp : http://franticcity.bandcamp.com/album/frantic-024
Reviews :
Bananas Magazine (USA) : "Get ready for something weird. Fuzz guitar, wah wah pedal, weird chorus singing and a psychedelic feel sure make 'Christophe Colomb' an impactful opener. Things get even weirder with 'Palestine' an hypnotic synth-driven bizaroid tune that wouldn't feel outta place in a B-grade 80s sci-fi horror. 'Le Pénitent le passe' is an instrumental lead by the sinister sound of harpsichord. Finally 'Sable Mouvant' sounds like something Jacco Gardner's evil twin could have written, it's dark, eerie and psychedelic. I'll stop here because it's just something you have to listen to. I'll just say that I highly recommend this record. And grab it fast, cause this is already the second printing, after the first one sold out in a second."
Razorcake (USA) : "Frantic City tosses in two bonus tracks on Émile Sornin's reissue of his first 7". The original 2012 7" of space rock voodoo out of Paris cut, "Le penitent le passé" and "Christophe Colomb" - long haired, guitar-heavy tracks dusted with Hindi vocals. A year later, "Palestine" and "Sable Mouvant" are tossed into the mix, spiraling Pavot into the realm of Tame Impala's neo-psychedelic guitar buzz with vocals taking a back seat. One a 60s era hypnotic built to accompany a Mario Bava death scene, the other, a tidal wave of guitars like New Zealand's Kraus laced with violin. Sornin has since laid more vocals on his work, so pick this up for atmospheric soundtracky stuff. Recommended."
Ox Fanzine (Germany) : "Jacco Gardner hat es zu Beginn des Jahres vorgemacht, wie quasi im Alleingang das perfekte Barock-Pop-Psych-Album entstehen kann. Emile Sornin steht Gardner in Wenig nach. Die vier Songs auf seiner ersten EP hat der junge Fransoze allein komponiert und eingespielt. Bass, Gitarren, Piano, Orgel, Mellotron (!) und Schlagzeug spielt Emile meisterlicht, mit viel Liebe zum Detail. Die vier Songs der EP überzeugen allesamt, die Mischung stimmt. Soundmäßig geht es verglichen mit Jacco ein bisschen ruppiger zur Sache, dennoch können Zombies wie Left Banke auch hier als Einflüsse herausgehört werden. Im LP-Kontext könnte von Forever Pavot nun ein Meisterwerk bevorstehen."
-----
-FRANTIC 023
WARM TOY MACHINE / WHITE FANGS
7" Vinyl - 300 copies
Both bands are from Brussels, Belgium, and they share their bass player, so that's basically a "kissing cousins" kind of split! Frantic City home-band White Fangs goes heavier than usual with "Shit Happens", recorded during the same sessions as the LP, kind of a tribute song to the mighty Cosmic Psychos. On the flip the guys from Warm Toy Machine who put out a great debut last year and are working on their second LP finish us off with their dirty, raunchy, extra-fuzzy mix of Garage, Punk and Blues. Both songs were recorded by Lo'Spider at Swampland so you know it's going to blow your stereo!! Limited to 300 hand-numbered copies with 2 different covers.
Get it for 6 euros + shipping - Mailorder
Listen on Bandcamp : http://franticcity.bandcamp.com/album/frantic-023
Reviews :
High Heels Slut (Belgique) : "When hooking up bands for a split release they either match like ham and eggs or match like Duvel and strawberry juice. But in this case you're all in for a winner! Warm Toy Machine are a buncha Frenchies that relocated to Brussels and nail down a harsh, loud Rock & Roll hurricane reminiscent of Sonic Chicken 4, Kung Fu Escalator or the Hulks. As nasty as we love it! White Fangs take over on the flip and shove their best track down your throat. "Shit happens" rips you Aussie-style and runs you over like a more garagey Cosmic Psychos. It's all here, that basic, energetic, distorted bass riff, the wah-wah effects on the guitar and just a plain rippin' song! Shit happens for sure, but sometimes it sounds so damn good!!"
Ox Fanzine (Germany) : "Im Toulouser Swampland-Studio geschehen eigenartige Dinge. Dort nimmt Lo'Spider nämlich die brutalsten Garage-Punk-Trash-Noise-Radaub ands weltweif auf. White Fangs, eine der ungezählten Bands von Bart De Vraantijk, Firmenboss und Gitarrenzerstörer, gehören mit ihrem ungezügelten Megafuzz-Sound in diese Kategorie, Feedback und brettharte Kettensägenverzerrungsorgien sind das Alleinstellungsmerkmal. Warm Toy Machine klingen dagegen fast lieblich, jedoch nicht weniger entschlossen, zu einter der schmutzigsten Psychopunk-Singles des Jahres beizutragen. 300 Exemplare dieser kursen, knappen aber hunsgemeinen Split-Single sind im Umlauf, also schnell zugreifen. So etwas presst kein Mensch freiwillig nach."
-----
-FRANTIC 022 - SOLD OUT!
JERRY SPIDER GANG "Back to Life"
7" Vinyl - 300 copies
Notorious Garage Punk Gang from Toulouse returns with a new 7"!! Lo'Spider (guitar + vocals) and alter ego Yo'Spider (bass + killer looks) teamed up with Jé (Greedy Guts) on drums and Reno (Cheap Chaser, Supermarket), guitar as well. All four of them went down to Swampland Studios (of course!) in September 2012 just before leaving for a two-week tour in France and Belgium and recorded these three new tracks (including a Powder Monkeys cover). Stooges Punk with Cosmic Psychos' inspired wah-wah solos, the Jerry Spider Gang sure is back!
Listen on Bandcamp : http://franticcity.bandcamp.com/album/frantic-022
Reviews :
High Heels Slut (Belgium) : "Lo'Spider has gained himself quite a reputation as a recording engineer, by recording a whole bunch of great garage and punk bands at his own Swampland in Toulouse. Cuz there you have it : a guy playing in a band himself, so he actually knows by experience how dirty Rock & Roll needs to be recorded. In the past the Jerry Spider Gang records didn't always thrill me that much, but this new incarnation of the band actually pleases me pretty much. "Sit around" and "Poor" are two nasty kicking blasts that could be running amok along Candy Snatchers, P.R.O.B.L.E.M.S. and the Stooges. "Yin Yang" on the flip is a great rendition of Australia's Powder Monkeys, taken off their debut 7". If these Frenchies continue to deliver shit like this it's actually good they came back to life!"
-----
-FRANTIC 021 - SOLD OUT!
WHITE FANGS "White Fangs"
12" Vinyl - 300 copies
Ten track LP from Brussels' own White Fangs, recorded at Swampland, Toulouse, during their two French tours (July 2011 and January 2012) and featuring Angelo (Warm Toy Machine) on bass, Bart (Skeptics, Wild Zeros, Mean Things, Pneumonias...) playing guitar and singing, Charles (Marvin Gays) on drums and last but not least Benjamin (Creteens, Yussuf Jerusalem...) adding some distorted guitar sounds on more than half of the songs. This is loud-screaming Garage and Punk, Lo'Spider did a great recording job again and is even playing some organ on two songs! Artwork by Guillaume Sport-Lukçe, silk-screened covers printed, cut, folded and numbered by the artist's own hands!! Co-produced with AzBin Records and strictly limited to 300 copies.
Listen on Bandcamp : http://franticcity.bandcamp.com/album/frantic-021
Reviews :
High Heels Slut (Belgium) : "Their split 7" with Combomatix already was a really nice warm up for what was yet to come. This 10 song debut album continues the heavy fuzz-drenched garage punk attack these kids have made their own. White Fangs deliver a raw rumblin' team-up of Cheater Slicks and the Gun Club, switching up-tempo punk blasts like "Midnight Jock" with 60s garage stompers like "Drug War", while delivering a great rendition of the Urinals' "I'm a Bug" on the way. White Fangs fucking rip!"
City Trash (Holland) : "Dark gloomy fuzzed-out Garage Punk from Belgium/France. We already got acquainted with the powerful sound of the White Fangs on a split 7" with Combomatix and a split cassette with Teenage Moonlight Borderliners. We recognize the voice of Bart De Vraantijk who absolutely hasn't got a thing to do with this magazine, which makes me think of the Skeptics and it all got the same and good ingredients as that band but somehow sounds totally different, no sixties touch here and I guess the fact this is a full-blown band is the reason it sounds as one, this is the way I love my trash."
Bananas Magazine (USA) : "Here's another twelve incher from the French Frantic City label. It's got dollops of cool fuzz guitar and heavily treated vocals, which pretty much puts it in the same universe as Bazooka. But I like the vox more on this one... Some of the songs stick in your head a bit too. Bonus : pretty bitchin' garage punked up cover of 'I'm a Bug'."
Ox Fanzine (Germany) : "Bart de Vraantijk, neben den Mean Things auch aktiv bei den Skeptics, haut mal wieder eine neue Scheibe raus. Der super-produktive Franzose veröffentlicht WF auf seinem eigenen Label Frantic City. Im Gegensatz zu den Veröffentlichungen seiner anderen Bands ist hier jedoch deutlich weniger Sixties-Einfluss zu spüren. Insgesamt sind die White Fangs eine hundsgemein dreckige Trash-Combo, laut, schmutzig, gefährlich. Früher klangen die Dwarves so, und ein bis zwei Referenzen an die Cramps sind natürlich auch immer gut. Mit Einem richtig mächtigen, druckvollen Swampland-Studio, klingt die Platte angenehm aggressiv und am besten klingt sie, ist der Laustärkeregler ganz nach rechts gedreht. Das schöne Artwork der handgedruckten, -nummerierten und -verpackten 300er-Auflage hat übrigens der belgische Künstler Guillaume Spot-Lukce gestaltet."
-----
-FRANTIC 020
LADY BANANA "Adult Rock"
7" Vinyl - 300 copies
Louder than the Oblivians and dirtier than Cheater Slicks, here comes Lady Banana, from Göteborg, Sweden! They're two and they're handsome of course, one of them was the master brain of the Tundra Fucks, another duo who turned into a trio and released some of the most atavistic Trash Garage songs out there on a few different 7" releases. Now he's back with a new drummer and four new songs recorded in a laundry-room!! Real primitive drumming, super trash guitar licks and some weird hissing sounds from a tape-recorder, this is what you'll get on Frantic City's twentieth release, limited to 300 copies with very nice fluo-pink covers silk-screened by Lady Banana's drummer himself!
Get it for 6 euros + shipping - Mailorder
Listen on Bandcamp : http://franticcity.bandcamp.com/album/frantic-020
Reviews :
Bananas (USA) : "How could we dish out a band with such a name here at Bananas HQ? Well, fortunately we don't need to think about that cuz they'll only get compliments from us (and NOT only because of their name). This duo from Göteborg, Sweden, plays trashy lo-fi garage punk melodic enough for you to get hooked. This is particularly apparent on the opener "Adult Rock" and the relentless "Not Much of a Man"."
Ack! Ack! Ack! (Germany) : "Zwei Leut aus Schweden, die au der A-​Seite wie die Spits klingen und auf der B-​Seite ultraverrohten Garage­punk spielen, der durch seine elektronischen Spielereien ein wenig an "The Feeling of Love" erinnern. Freu mich schon darauf, wie das wohl live klingen wird (kommen auf Tour mit den Skeptics)!!"
Ox Fanzine (Germany) : "Lady Banana sind ein schwedisches Duo und rackern sich auf dieser Single durch knarzende Bluespunk-Monotonie der Spits- und Oblivians-Schule sowie ultra-unterproduzierten, trashigen Garagepunk mit elektronischen Versatzstücken, der an Cheater Slicks, Jon spencer oder The No-Talents erinnert. Vier noisy Songs mit primitiven Drummings, schlichten Gitarrenlicks und stumpfem Gebelle, die im Waschkeller aufgenommen wurden - unter Zuhilfenahme billigster Aufnahmetechnik und billigsten Tetrapackweins - und damit den LoFi-affinen Veröffentlichungsmaßstäben von Frantic City gerecht werden."
-----
-FRANTIC 019
COMBOMATIX "Combomatix"
12" Vinyl - 500 copies
Back in 2010, Combomatix, the trashy Garage duo from Rennes, Bretagne, chose Frantic City to release their first 7". Now two years later they're still on Frantic City and they're back with their first album after a split 7" with Brussels' own White Fangs which came out in 2011. Ten new tracks recorded in Toulouse with Lo'Spider, great improvement that's for sure, a bit less trash and a bit more crunch! They did a great job with the guitars and this is by far the best thing they produced to this day. Their early recordings most certainly brought to mind bands such as the Oblivians or Gories, now these new tracks drenched in reverb got more of an Oh-Sees feeling. Limited to 500 copies including 100 pressed on clear yellow wax!
Get it for 12 euros + shipping - Mailorder
Listen on Bandcamp : http://franticcity.bandcamp.com/album/frantic-019
Reviews :
Bananas (USA) : "These two blokes from Rennes have released a couple of quality singles on Frantic City in the past and if you've enjoyed those, you should feel at home with their debut album. Think the Oblivians meet the Gories, with reverb all over the place. Here are ten up-tempo tracks drenched in crunch and fuzz, with an underlying feeling of chaos which characterizes their live performances. "Don't let me down" and "Paye ta Chatte" are definitely the highlights on this release to me, but the album is overall really good, provided of course that youd on't mind all that screamin' and loud guitars. Good stuff!"
Razorcake (USA) : "This album is comprised of an enjoyable load of '60s-inspired, three-chord punk riffs. Heavily distorted bass and vocals, tambourines, and naturally distorted guitars are in play for danceable, Back from the Grave phrasing with a hint of Reatards influence. They meld the "about to fall apart" feel with solid playing moving in and out of full-on, driving beats and jumpier fare. Well done."
Ox Fanzine (Germany) : "Das junge Duo aus der Bretagne-Metropole Rennes langt nach der ersten Veröffenlichung, ihrer Split-7" mit White Fangs, nun richtig zu. Der erste richtige Longplayer der beiden klingt in der Summe weniger trashig, die Songs sind klarer ausformuliert, man spürt schon, dass sie "erwachsenere" Musik produzieren sollen. Sofern das überhaupt möglich ist in einem Genre, in dem Gories, Oblivians oder Supercharger die großen Vorbilder sind. Ein gelegentlicher Devo-Sprenkel hie und da, Cramps-Zitate und juveniler Testosteron-Überschuss ergeben hier eine feine, aber ungemein schmutzige, kurze und laute LP, die im weiten Feld der unbegaten Zwei-Mann-Bands für Furore sorgen könnte."
-----
-FRANTIC 018
THE CHIMIKS "Modern Storm"
12" Vinyl - 500 copies
When the Fatals broke-up, Vince Posadzki, ex-Vipères, Aqua Nebula Oscillator, Bop Pop Killers and many others, originally from Quebec, moved to Paris where he started the Chimiks along with Louie Louie (Happy Burger) on bass and Ronnie Rollo (originally from La Rochelle, he played in a local cult Punk Rock band called Weak!!) on drums. It took them little time to record and put out a first 7" single limited to 250 copies on Élégances Records and then Slovenly put out their first 8-track eponymous mini-LP. This one was recorded at home, was super trash and fuzzy and sounded a lot like the "Free Cocaine" Dwarves : dirty, straight-in-your-face type of shit! Now the new LP, "Modern Strom", has been recorded in Toulouse, France, with Lo'Spider and Mike Mariconda (who played in the Raunch Hands, Devil Dogs... and recorded a number of records for Crypt including the New Bomb Turks' first LPs!) who came up from Spain to help Mister Spider capture the wild and savage sounds of the Chimiks. Of course their collaboration was explosive and the sound on this record is fantastic! 10 new tracks that still reek of the good old bloody Dwarves but also bring to mind uncompromising bands such as the Dirtys, Reatards and Motards. Most certainly the best sound-track to the end of the world that's actually coming in a few months now they say!! This one is co-produced with Barbarella Club Records, new record label in la Rochelle...
Get it for 12 euros + shipping - Mailorder
Listen on Bandcamp : http://franticcity.bandcamp.com/album/frantic-018
Reviews :
White Trash Soul (Greece) : "You know summer's not a good season for taking care things. At least for me cause I'm already late a month on this (sorry man!)... And I tell you my fault's became bigger when yesterday gave it the listen! Bart sent me another fuckin' dynamite, keeping up high the standards Frantic City Records habituated us for years now (The Wild Zeros, The Pneumonias, Atomic Suplex, The Skeptics, The Beavers, Heartbeeps, etc). The press info says something for the Dwarves subsequent obvious influences, BUT these guys here for sure were good students in class for the '60s Punk' lessons and especially those chapters for 'Back From The Grave' volumes. The guitar shaves and slash throughout long play's existence by squinting the one eye on the Stooges tradition and the other on every single creepy garage riff came outta the States during the early sixties. I haven't heard Chimiks earlier stuff but I'm definitely sure with this piece of plastic they entered today's global punk rock major league! The fact that WTS's favorite engineer Mike Mariconda, put hands upon is another safeguard for "Modern Storm" 's wild and savage sound. I assuredly can tell that Tim Warren's gonna envy Frantic City for this! Now where the fuck did I placed those Dirtys and Los Ass-Draggers CDs, cause my appetite's open?!"
Razorcake (USA) : "This album conveniently and forcefully answers a number of pressing musical questions which had cut into my sleeping over the course of the last few decades, ergo and to wit: "What would Greg Ginn's early '90s solo albums have sounded like if he liked garage, was half his age, and didn't care if the drums kept speeding up?", "What would Los Ass-Draggers have sounded like if they weren't obsessed with the concept of playing really, really fast?" and "What would the Statics have sounded like if they were kinda mean?" This album does not conveniently and forcefully answer the question of what the cover art depicting a wispy, spooky skull cloud hovering over a electric substation has to do with anything however. Either way, i got hearing damage after just the first side. Nicely played. BEST SONG: "Hole of the Black Kids" BEST SONG TITLE: I cannot tell a lie. "Hole of the Black Kids" FANTASTIC AMAZING TRIVIA FACT: I decided the cover art reminds me of the original art of Scream's "Still Screaming" album. Bet you didn't see THAT one coming. –Rev. Norb"
High Heels Slut (Belgium) : "After a rippin' self-released debut 7" and an album on Slovenly, France's most raw Rock & Roll band returns on Frantic City with a brand new smasher, and knowing this label's taste in wild and fucked-up Rock & Roll I can only come up with the conclusion it's a perfect fit. "Modern Storm" is one hell of a rude and harsh ride of loud, obnoxious and nitro-fuelled Rock & Roll that spits and kicks you right in the eye. If the Fatals would have ever recorded a session with Jay Reatard as special guest they could sure have come up with onslaughts like "She sleeps tonight", "The Valley of Broken Hearts" or "Hole of the Black Kids". All of these ten tracks were laid down by former Raunch Hands Mike Mariconda, the guy responsible for recording so many great Crypt Records bands and his recording skills fit the Chimiks dawn well, transferring all of their live anger and energy onto this great piece o' black wax!"
Bananas (USA) : "Listening to the high whistle feedback of distorted guitars along with thwack after relentless thwack of ape-armed drums mixed with aggressive vocals, I can assure you high energy rock & roll still exists in Paris. There's something about these guys that remind me of the 90s. Maybe it's how the guitar tones remind me of early Butthole Surfers or maybe the fact that it's hard to find good underground harsh rock & roll these days. These guys serve up a raw hamburger Happy Meal and eat the fries before handing it to you. Le Big Mac!"
City Trash (Holland) : "I was looking forward for this to come out with great anticipation, crazy French people and one of the very best bands to come out of France after the Fatals. Including vince from the Fatals and with a similar sound you kinda know what to expect. All the songs were written by Vince and with Louie Louie and Ronnie Rollo they turned it into some powerful shit. In a total in the red trash sound they stomp their way through 10 songs on this new album with the appropriate title "Modern Storm", not exactly modern but one hell of a storm for sure!"
Ox Fanzine (Germany) : "Aaah, was vermisse ich die Fatals, von denen immerhin ein Überlebender bei den Chimiks gelandet ist. Bei wenigstens zwei Songs kann man das fiese Feedback des Vorläufers heraushören, ansonsten gibt es einen Sack voll rohem Garagepunk, der vor einigen Jahren bei keinem anderen Labels als Crypt hätte erscheinen können. Sixties-Punk-Einflüsse treffen auf die Könige dieser Disziplin wie die New Bomb Turks, Dirtys, Dwarves, Monsters, Devil Dogs, Mummies und die mächtigen Stooges (für mehr Namedropping reicht der Platz leider nicht), alles mit viel Pfeffer im Arsch und einem Händchen für großartige Riffs, die hängenbleiben. Gekonnt in Szene gesetzt, Verzeihung: "produziert" von jemandem, der es wissen muss. Live mindestens das pure Gemetzel mit viel Schweiß und wenig Kleidung. Aus allen genannten Zutaten wird nur das Beste und Feinste verwendet, alles gut gemischt, sorgfältig zerlegt und zerkaut, um es abschließend als reine Essenz wieder auszuspucken. Seit Jahren keinen so quicklebendigen und satten Garagenkiller mehr wie diesen auf dem Teller gehabt!"
-----
-FRANTIC 017 - SOLD OUT!
REGAL "Possible Endings"
12" Vinyl - 500 copies
Second LP out on Frantic City, first record from Regal, French band formed in Lyon by ex members of Last Rapes of Mr Teach and current members of Le Pêcheur. The four youngsters from Regal, who look like they just came out of a book by Jack Kerouac, play Garage music. Their primal influences are definitely rooted in the sixties, Back From The Grave and Garage Punk Unknowns compilation series come to mind first, but Regal is far from being a Revival Garage band. The guys have been listening to the Black Lips a lot, that's for sure, and two of the twelve tracks on this LP are nice Folk or Americana songs on which acoustic guitar meets Irish fiddle. Not really surprising when you know that Regal's main singer, Caelan O'Flaherty, also playing the guitar in the band, is of Irish origins. Certain tracks on "Possible Endings" might lead us to fields freshly cultivated by bands like the Indian Wars but the four black sheeps from Regal still feast on that good old grass originally planted by the Seeds and then cultivated by the Black Lips or the Weakends (...and a sip of red wine!). Twelve "home-recorded" tracks on a nice piece of wax, artwork by Antoine, Regal's drummer, and co-produced with AzBin Records, brand-new record label created by Xavier, the other guitar in the band (who was the drummer in Last Rapes).
Listen on Bandcamp : http://franticcity.bandcamp.com/album/frantic-017
Reviews :
Get Bent! (USA) : "I studied many years of Continental French growing up (K to Grade 11 if you're wondering); though I never learned anything about French new wave, punk or garage music. I didn't get a grasp on any killer French tunes until the 90s - Gasoline, Splash 4, The No-Talents, Plastic Bertrand - and so on… It's nice to see that in 2012 there is substantial life in the French underground. Regal are the latest rock 'n' rollers from France to be kicking up a stink alongside fellow countrymen Jack of Heart and Yussuf Jerusalem. Regal, musically, have more in common with Montreal native Demon's Claws. Psychedelic and occasionally poppy, they are excellent players. "Am I in Hell", the LP's opener is a reverb-soaked ditty stopping off on the 13th floor. Cue the fire engine siren. "Toi Toi" is 60s garage at its finest. Grab your lady and shake your ass. "Do As I Say" should be retitled "Do As I Say - Grab Your Lady and Shake Your Ass (Slight Return)". I love the minor chord changes. This is the garage revivalism that first enamored me to the genre. "Industrial King"—Some Marksultanism™ happening here, but he's le cool and so are these guys. "Heaven Will Be Fun" and "I'll Go Someday"—here come the Stones. Fuck yeah. Any acoustic rock a la Beggars Banquet-era Stones is badass. All the tracks on Possible Endings are pretty excellent. Mixing gritty 90s psych punk and fuzz folk of the late 60s Stones makes for some uneasy listening."
Bananas Magazine (USA) : "Now that's the kind of stuff I like to hear. This is labeled as Garage but it has so much more to offer. Sure, there's some reverb and fuzz in abundance, but you'll also get some jangly guitar that gives the album its folk-punk feeling. The melodies also take from American folk music, mixed with the right dose of Psych, raw energy and a deliberate clunkiness and dissonant style that once again leads me to compare the band to the Black Lips (them again!). You won't find straight Garage stuff though on this platter. No Sir, Regal is way too sophisticated for that kinda shit. They like to write a good song and mix up their influences. The singer is what really makes it for me. He sings in this quivering voice, that far from making him sound weak, make him sound vicious. Something about him reminds me of the singer of the Subsonics - listen to "Lonesome Jeanne" or "Industrial King" to see what I mean - although admittedly, the two bands have very little in common. When needed though, the singer can tone down his aggressiveness to fit with the more laidback/end of the summer kinda feel of certain songs, particularly the two acoustic numbers, which really display more of their folk/blues influences, along with some Irish ones. This is a record to put along Indian Wars debut LP, although I prefer Regal's record by a long shot."
Terminal Boredom (USA) : ""Ahhhh…The French!" (Apply my best Orson Welles impersonation here.) They love their off-kilter garage, don't they? So why change? It's been damn near 20 years. Sonically, Regal reminds me of the countrified era-Teasers having a hoedown barn burner with the more rural US TermBo acts. Bands that got a lot of wax product pressed on Boom Chick and such a few years back. The slip n' slide guitar play and the blessed dry vocals are the hi-lites within. Tracks such as "Palestine" and "Fox" bring the Golden Boys or Demons Claws to the forefront of my lobes, but decks 'em out with a bit of that Glue Wave weirdness the Frogs know so well. Lyrically they're pretty pissed off at someone/anyone, juxtaposing bad vibes and threats of ass fucking against acoustic strum and porch fiddle play. Hellshovel? Sure. Something like that. "Do As I Say" has a Deadly Snakes tone, before they went all Bad Seeds on us, and I'm digging this tune a ton. A pleasant spin overall, even if their influences are blatantly stamped to the plates, stitched to their sleeves and possibly even tattooed to the entire ensemble's foreheads. Less head scratching than most of their fellow freedom fries… give 'er a go."
Rough Trade (UK) : "'Possible endings' is Regal's debut long player, a record packed to the brim full of trashed up Garage Pop nuggets, drawled vocals not shy of bursts of melody and enough drunken chaos to make the whole affair red hot with fun. Hailing from France, a murky clime responsible for much great, weird Garage fuzz in the last couple of years, Regal are a joyride car-crash mix of the Fall, Gun Club, Damaged Goods era Garage supremity and a myriad of teenage mutants stomping out a beat in worldwide garages from anytime since the mid 60s to the present day."
-----
-FRANTIC 016 - SOLD OUT!
WHITE FANGS / TEENAGE MOONLIGHT BORDERLINERS
Cassette - 150 copies
Second tape out on Frantic City, White Fangs (Garage Punk trio from Brussels formed by guys from thee Marvin Gays, Warm Toy Machine, Wild Zeros, Mean Things, Skeptics, Pneumonias etc) put 8 tracks from the same recording session as the split 7" with Combomatix (recorded in April 2011 by Benjamin Daures from the Creteens and Yussuf Jerusalem in his basement/bedroom in St Ouen), they end up with a neat cover version of Devo's "Mongoloid". This is for side A, on side B the duo from Paris Teenage Moonlight Borderliners put 8 tracks as well, recorded on a portable recorder (!), Bluesy Garage Trash with lots of reverb! Artwork by Henry Death. Co-produced with Inch Allah Records.
-----
-FRANTIC 015 - SOLD OUT!
THEE MARVIN GAYS "Thee Marvin Gays"
12" Vinyl - 300 copies
First LP out on sur Frantic City Records and it's the first record by Thee Marvin Gays, Psyched-out Garage Punk band from Tournai, south of Belgium. Ten tracks recorded in Toulouse, France, by Lo'Spider, the guys have been heavily listening to 60s (13th Floor Elevators, Seeds...), 70s (late 70s Punk) and more contemporary stuff (Black Lips, Demon's Claws...), the two guitars are fighting their way through the songs, Lulu and Yann are singing most of the songs together, Lo'Spider actually lays out a nice bass part on one of the songs, reeal coool! Artwork by Robin Renard, silk-screened cover cut, folded, glued and hand-numbered by the band members themselves! It took them hours and they're still working on it! Co-produced with Love Mazout Records.
Reviews :
Bachelor Records (Austria) : "Fantastic record - Fantastic artwork!"
City Trash (Holland) : "Within the package from Frantic City was the first record from Thee Marvin Gays a Belgian band that really plays some insane-like Rhythm & Blues, it really blew me away and hasn't left my record player yet. They have some real classic sounding killers like "Hunter", "Get married" or "Desperatly Ill" so if you can get passed the slightly stupid band name, believe me this is fucking good!"
Ox Fanzine (Germany) : "Vom Thee Marvin Gays-Debütalbum bin ich in allen Belangen angenehm angetan. Bei einer rundum gelungenen musikalischen Darbietung, charmantem Coverartwork und einem sympatischen Label gibt es eigentlich nur beim Geruch der Plattenhülle Abstriche zu machen. Tatsächlich, eben diese müffelt etwas nach diesem grausigem Odeur (zumeist eine Mischung aus altem Löschpapier- und Trinpäckchenrückständen), der einem zu Grundschulzeiten immer nach den Sommerferien aus dem Ranzen in die Nase stieg. Abgesehen von der nasalen Herausforderung ist diese Platte allerdings ein wahres Juwel. Thee Marvin Gays schreiben Pop-Songs, ohne sich auch nur ansatzweise in Pop-Gefilden zu bewegen. Stattdessen prügeln sie ihr Repertoire mit der Tightness der Standells, der Blues-Kante der Gories, der Blasiertheit der Kinks und der Aggression der Punkbands der späten Siebziger einmal quer durch die Garage und gebären dabei einen Sound, wie ihn The Mojomatics salonfähig gemacht haben und der mit Fug und Recht van bands wie The Midwest Beat, Indian Wars, Wheels on Fire oder eben auch Thee Marvin Gays zelebriert wird. Die spätsommerliche Melancholie, die Songs wie « No Carpenter » oder « Hunter » zugrunde liegt, rundet das Gesamtbild einer hervorragenden Garage-Platte ab."
-----
-FRANTIC 014 - SOLD OUT!
COMBOMATIX / WHITE FANGS
7" Vinyl - 300 copies
The first 7" from the trashy Garage Punk duo from Rennes Combomatix, "Cocktail Scandinavie", came out just a few months ago and now they're back with two brand new tracks recorded by Alexander Bunch (Carpet Sellers) at Baldo's (Blutt, Carpet Sellers, Chimiks...)! They're Garage, they're Trash and they mean lots of fun, good on ya mates! White Fangs are a brand new trio from Brussels formed by guys from thee Marvin Gays, Warm Toy Machine, Wild Zeros, Mean Things, Skeptics, Pneumonias etc, they put 2 tracks on the other side, recorded in April 2011 by Benjamin Daures (Creteens, Jack Of Heart, Yussuf Jerusalem...) in his basement/bedroom in St Ouen! First track is rather "dark", second one is speeded-up Garage Punk Trash à la Reatards, Kill-A-Watts etc. Artwork by Robin Renard.
Reviews :
Razorcake (USA) : "Combomatix: As a person who nearly majored in French, I actively sought good French music. Do you know how rare it is that I hear French music that I like? It's rare, very rare. If I had looked at the back cover before putting this on, I would have realized that it was French; but I didn't because of the drawings of bullshit like a semi-truck and dream catcher on the front. Anyhow, I thought I was listening to the rad-as-fuck garage rock songs on here, and I was thinking that this band was from some middle of nowhere place in the Midwest—some place devoid of all things to do besides rock out at home. Spastic yet controlled jams. Tight! White Fangs: Another pretty awesome garage rock band—this time from Belgium! Bluesy in their approach compared to the zany Combomantix, but still great. – Vincent Battilana"
Bananas Magazine (USA) : "Here is a split between two up and coming European bands. Combomatix (Rennes) and White Fangs (Brussels). It starts off with Combomatix whose name makes me think of a delicious snack machine. Their first track is "Bikini Gorge" an upbeat garage punk rager. Then you have "Mary" which slows things down to a nice sloppy pace. Flipping it on over to White Fangs. Their first song "When everything's Gone" is a cool mid-tempo number with twanging spaghetti western guitar action. For their second song you get a good chugging punker called "I think I can live without you". All four tracks are good enough to be their own 7"s and I'm sure we'll be hearing more good stuff from them in the future."
-----
-FRANTIC 013 - SOLD OUT!
ATOMIC SUPLEX "Rock & Roll Must Die"
Cassette - 100 copies
After the 3 track single which came out on Frantic City in early 2010 (FRANTIC 010), the Super Trash Garage Punk band from Croydon, UK, led by their helmeted singer/guitar-player is back with a (professionally-made) 10-track tape limited to 100 hand-numbered copies! The 5 tracks on side 1 are studio tracks, first song is a new, extended, wild version of their hit "Rock & Roll Must Die", last song is a Farfisa version of "I'm on" which came out on their split 7" with Hercules II on Radiowave Recordings (UK); the 5 tracks on side 2 were recorded live in Japan, Super Trash shit of course, the English Guitar Wolf don't back down on Seiji and the boys' land! You're in for an ear-cleaning Trash Punk blast!!
Reviews :
City Trash (Holland) : "After the early this year released 7" from this British Rock & Roll band frantic City records now presents a cassette holding 10 songs some mixes and remixes and 5 songs performed on some stage in Japan. Really liked the 7" and god knows why cassette seems to be the next big thing, you won't hear me complain that's for sure and definitely not about this one. Some songs well all three that were on the 7" are also to be found on this tape but different though and it's the whole package that counts and well it's mayhem Guitar Wolf style with an added saxo, it's insane! Had my doubts live music on a cassette that's really challenging but works out perfectly it's actually my favourite side. It's trash, it's Frantic... looking good."
Terminal Escape (USA) : "Like Guitar Wolf on mescaline, Atomic Suplex blast through some of the most insane sounding rock & roll I've ever come across. One side features tracks from their full length of the same name (including a self indulgent and saxophone heavy remix of the title track and a version of "I'm On" delivered with farfisa in place of ear splitting garage distortion), and the flip shows Atomic Suplex in their element : live and on fire in Tokyo. The don't-give-a-fuck just edges out the bluesy swamp rock sensibilities that drive this band, but the conflict is what makes them so addictive. 24th Century Buddy Holly broadcasting from Mars - broadcasting straight into your earholes."
-----
-FRANTIC 012 - SOLD OUT!
COMBOMATIX "Cocktail Scandinavie"
7" Vinyl - 300 copies
First single from this young duo from Rennes, France, messed-up trashy Garage Punk, 3 tracks recorded on a 4-track recorder, no over-dubs, raw as a "steack tartare"! Think early-Magnetix, Gories, Oblivians, Oh-Sees... as played by Supercharger (after firing Greg Lowery)! They're a young band but already played with Eddie & the Hot Rods, Thee Oh-Sees, Digger and the Pussy Cats, Yussuf Jerusalem... On a personal note they're good friends of mine and real good blokes you can trust!
Reviews :
Up Yours! (Belgium) : "A new French Duo from Rennes, city with a longtime Rock & Roll history and still a lively active current underground scene. "Cocktail Scandinavie" is a perfect raw and primal trashpunk with screaming vocals on top of tribal drums and guitars soaked in tremble closeby the Link Wray angle. "Man for Sell" recalls the very first Magnetix efforts in all its Cramp-ish splendor while "You're a liar" comes like monsterous, primitive pounder which gets mangled between Gories, Oblivians and Cramps. Three fine, crushing tracks that will surely tear any damn place up and causes to evoke enough upheaval and mayhem for any garage stomping bash. A new neat addition to the Frantic City line-up."
City Trash (Holland) : "Two idiots judging from the sleeve from France play some terrible shitty garage blues. So this is definitely something I enjoy three songs recorded terrible which is the best thing about it. Anyway nothing we haven't heard a duo do before but it's trash and this zine is all about it."
Razorcake (USA) : "These guys don't kick up dust in the same way as the Rip Off stable of bands and their legion of copycats, but they can rave with the best of 'em and throw a nice swing onto three tracks of slinky garage rock here and come out on top of a large heap. – Jimmy Alvarado"
Ox Fanzine (Germany) : "Da hat aber einer fleißig den Crypt-Katalog der Neunziger rauf und runter gehört. Blues und Punk geben sich die Hand, OBLIVIANS, Stand-Tom-Beats, ganz viel Verzerrung und ganz schön LoFi, aber nie so versessen auf schrottigen Klang, dass es beliebig wird. Cooler Gitarrensound übrigens. Gute Band, nicht nur zum Durchdrehen und Bierspritzen im Kellerclub deiner Wahl."
-----
-FRANTIC 011
COBALT CRANES "Freak Out"
7" Vinyl - 500 copies
This one took like a year in the making but I can tell you it was worth the wait!! First single from this Los Angeles combo, first US band released on Frantic City Records, weirdo Garage Punk with Psyched-out guitars, first two tracks are speed Psych-Punk pounders, first one is sung by lovely bass-player Kate, third track on side B is more moody and reminds me a lot of the mighty Wipers every time I hear it.
Get it for 6 euros + shipping - Mailorder
Reviews :
Maximum Rock & Roll (USA) : "A dirty slap of garage punk, the production fuzzed but not totally blown out (close, though). Taking in the basic, primitive thud of all those obscure one-hit wonders on the Teenage Shutdown series, and adding a Stooges/Velvet Underground sonic wail. Side B grooves right into a garage shoegazer vibe, like Sonic Youth without the art school trappings, or Spacemen 3 without the downers. Me like."
Dead Beat Records (USA) : "What's immediately evident about Freak Out is the harmonization of the Cobalt Cranes weirdo Psyched-out Garage Punk. And if you're a sucker for dynamic boy/girl vocals like me, you'll love Tim Foley whose affected sneers have a slightly Cobain-esque drawl and Kate Betuel who holds and howls her notes like a young Exene Cervenka on a good night. The end result is an EP that boasts and squalls with an energy that is classic cool and is the perfect antidote for your Vaselines, Sonic Youth, Gories or Shop Assistants fix."
Razorcake (USA) : "Female but sometimes male vocals with a chunky, punkish rhythm guitar in my left ear, a fuzzy lead guitar doing Nuggetsy things in my right ear, a pleasantly farty bass in the middle of my head, and an oft-cymbal-less (but occasionally tambourine-ful) drumbeat making me feel that I, or someone, should be shimmying a bit to "Freak Out," although they probably ended the thing a minute too early for my rump's tastes. And, now that the taste of my rump has somehow come into play, I think I'll move on, lest I start trying to draw inane parallels between "Take You" and the fourth Psychedelic Furs album. BEST SONG: "Freak Out." BEST SONG TITLE: "Freak Out." Apparently Frank Zappa knew what he was doing, which is surprising. FANTASTIC AMAZING TRIVIA FACT: French people make their numerals weirdly. – Rev. Norb"
Ox Fanzine (Germany) : "Drei mal rhythmischer Garagenshoegazerbeatpunk, der sich leicht gedämpft in die Fußspitzen schleicht und dort zum heimlichen Mitwippen animiert. Lasziv wie die Hölle und ein ziemlich cooles Gemisch, das im Handumdrehen so hip sein könnte wie weiße Ohrstöpsel. Kann was, vor allem die B-Seite ist pure Fickmusik!"
-----
-FRANTIC 010
ATOMIC SUPLEX "Rock & Roll Must Die"
7" Vinyl - 500 copies
Destructo Rock & Roll at its best, these guys from Croydon (Greater London) are the English Guitar Wolf, no joke! The band did a split 7" with the Swankers on Death Pop (UK) before this single, since then they put out 2 new split 7"es with Hercules II on Radiowave Recordings (UK) and with Theee Bat on Swamp Fiction (Japan). They toured Japan twice already and are conctantly playing in and around the London area, I witnessed one of their show and it's complete Rock & Roll mayhem on stage, just as on the record! Three super raw Garage Punk tracks like the Sonics meet Guitar Wolf by those English men and women, screeching guitars, roaring sexaphone and hard-pounding drums!
Get it for 6 euros + shipping - Mailorder
Reviews :
High School Reject Records (Holland) : "I'm a sucker for that kind of loud destructo Rock & Roll!! Fucking great."
Crypt Records (USA/Germany) : "Loud, raw and out of control garage punk. Think of early Guitar Wolf with a saxophone. GREAT!"
Razorcake (USA) : "There are very few times in life that a grown man can get away with claiming that a phrase as simplistic and unimaginative as "the English Guitar Wolf" constitutes a valid review. This, however, is one of those times (except for "Do the Suplex", which sounds like the Mad having an almost-lucid moment). The English Guitar Wolf. Word. BEST SONG: "Rock & Roll Must Die" BEST SONG TITLE: "Do the Suplex" FANTASTIC AMAZING TRIVIA FACT: There are no songs on this record that don't contain the words "rock & roll" or "suplex" in their title. Again, word. – Rev. Norb"
Ox Fanzine (Germany) : "Wer dachte, dass seit Teengenerate keine guten Bands mehr aus Japan kommen, wird jetzt mit Atomic Suplex eines Besseren belehrt. Sie sind natürlich noch nicht auf dem selben Level wie die Crypt-Legenden, oder Guitar Wolf, aber auf dem besten Weg dorthin. Im Auge behalten und die Platte besorgen!"
-----
-FRANTIC 009 - SOLD OUT!
THE SKEPTICS "You make me sick"
7" Vinyl - 300 copies
This is a bedroom project from that guy who plays in the Pneumonias, Wild Zeros, Mean Things and other bands in La Rochelle, Bordeaux and even Paris (did a few gigs with the Creteens as well!), he recorded these 4 songs all by himself in his bedroom, this is complete "Cryptic Teen Trash Fuzz-Punk" with primitive drumming, lots of dirty fuzz and creepy vocals, the kind of stuff that gave its name to labels such as Voxx or Midnight Records; think about bands like The Outta Place, The (early) Morlocks, The Gruesomes etc... Got to dig it!
Reviews :
Fuzz Overdose (Greece) : "As if playing with the Wild Zeros and the Mean Things, among others, weren't enough, Johnny, John or Jo (take your pick) created the Skeptics as an outlet for his triple personality! You got it, the Skeptics are a one man band as Johnny, John or Jo played and recorded all the instruments by himself in his bedroom! 3 Trashy Garage Punk tracks and a cover of the Omens' "Searching" will please all Gravedigger V and Morlocks fans! If I didn't know that this was the work of one guy, I could be fooled that this is a band. I really like the whole homemade aesthetic of the photocopied sleeve, showing a Danelectro toting madman in front of a tomb, as well as the Merinuk designed label! Only 300 people will get to hear this so act fast!"
City Trash (Holland) : "Crazy gloomy sixties all recorded by one guy and not just any guy no by Mr Frantic City himself in his bedroom so it says. Not too sure about the cover ratio and believe me I called in some professionals so that leaves us with "Searching" being the only cover and if that is the case we got a serious case of classic 7" in our hands. Every band project deserves to take a shot at "Searching" and if you come up with three songs like that it's amazing same goes for the sound it's been my wake up soundtrack for the last month gloomy days need gloomy rocking shit. As everything we love this was also on Frantic City Records".
-----
-FRANTIC 008 - SOLD OUT!
WILD ZEROS "Wild Zeros"
10" Vinyl - 300 copies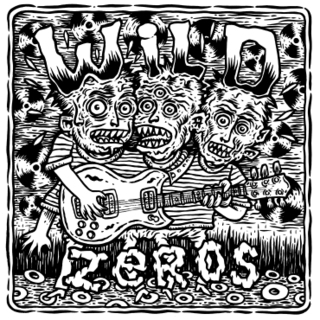 First album by the Wild Zeros recorded in Toulouse with Lo'Spider in march 2009, they picked-up an organ instead of the second guitar and got the Fuzz pedal out of the attic, total Garage Punk Trash!! Terrific cover by Psychodelic Art (Holland).
Reviews :
Demolition Derby Records (Belgium) : "10 tracks of frantic rippin' garage punk recorded by Lo'Spider, this will make my top 5 this year!"
Lost In Tyme (Greece) : "After their debut 7" ep on Frantic City these wyld garage punkers strike back with their brand new 10" release on the same label! 10 new tracks in perfect mix of '60s garage and 77 punk rock! Imagine a mix of the Sonics, Lyres, DMZ, Real Kids and a dose of Back from the Grave compilations. Both sides begin with the great punk songs "Tight tight jeans" and "Get straight" but I mostly like their organ driven garage stomps "Homesick", "I want you", "I'm a mess" and "I never met a girl like you before". There is also a raw cover of "I can only give you everything"."
Ox Fanzine (Germany) : "In der vorletzten Ausgabe hatte ich bereits die Debütsingle der Franzosen zwischen den Fingern und war leider nur mäßig begeistert. 08/15-Garagepunk, ohne Pepp, ohne Hits. Doch das hat sich jetzt deutlich geändert, was mit Sicherheit auch am verstärkten Orgeleinsatz liegt. So wurde zum Beispiel das auf Single eher lahme "Homesick" neu eingespielt und hat sich zu einem der Highlights dieser Platte gemausert. Erstaunlich, was so eine relativ kleine Änderung auszumachen mag. Trotz der Orgel werden die 77er-Wurzeln natürlich nicht vernachlässigt und die Songs sind trotzdem noch genauso so rotzig, wie es sich gehört. Unter den zehn Songs befinden sich auch zwei Cover (oder mehr? Auch, das wäre peinlich...), darunter eine brutal gute Version des EYES-Klassikers "Rowed Out" und eine nicht minder schlechte von MC5s "I can only give you everything" und on top gibt's sogar auch noch ein schikes Artwork. Zum Schulss noch etwas Namedropping, denn die WILD ZEROS sind keine Unbekannten, sondern setzen sich aus den MEAN THINGS, PNEUMONIAS, FLYING OVER und den MAGNETIX zusammen. Hätte mich auch gewundert, wenn da nichts Vernünftiges herausgekommen wäre. Diesmal gibt's also nichts zu meckern, außer vielleicht, dass die Platte mur in 300er Auflage erschienen ist. Aber das ist ja nicht mein Problem, haha! Kaufen!"
Bam! Magazine (Italy) : "Torna la fidata Frantic City assieme ai Wild Zeros, selvaggi francesini che ho già elogiato sulle pagine fisiche di Bam! Magazine. A questo giro il formato si è espanso di ben 3 pollici, rispetto all'ottimo 7" d'esordio, per meglio accogliere dieci brani che rivangano territori già concimati da Infections e Mummies. Le coordinate garage-punk sono quindi immutate, e, nel caso doveste avere dei dubbi, nel lato B trovate due cover – piuttosto scontate, invero – ben eloquenti: "I can only give you everything" e "I never met a girl like you before". Invariata anche la foga e la sporcizia a base di farfisa e fuzz, le loro armi vincenti con le quali prendono le distanze sia dai garagers ortodossi sia dai neo minimalisti post-punk. Tutto sommato un disco piacevole, rabbioso e ricco di "storia". Duole però constatare che, se sulla breve distanza i Wild Zeros lasciano una scia infuocata, lungo il percorso di questo mini-lp l'attenzione non sempre rimane desta. Un discreto 10" per gli orfani della distorsione e per chi non ne può più dei gruppi con i muscoli atrofizzati. Limitato a 300 copie."
-----
-FRANTIC 007
THE BEAVERS "Silly Girls"
7" Vinyl - 500 copies
The Beavers are legends in The Netherlands, they started in the early-90s, recorded their first single on Kogar Records (NL) with Mike Mariconda (Raunch Hands, Devil Dogs...), their second record was a split 7" with none other than trash-kings GAUNT on Demolition Derby Records (Belgium)! They hung the guitars up for a few years while some of them played in The Firebirds, cool Garage/Surf band that extensively toured The Netherlands (they even appeared in some TV shows up there!), but when the Firebirds split the Beavers were called back from the grave. They did a single and a great 10" on the seminal dutch record label High School Refuse Records a few years ago and kept 3 tracks for a single on Frantic City! A-side is a fast Garage Punk pounder, side B starts off with a moody Garage track that sounds like a lost Crimson Shadows song, last track is an instrumental tribute to King Link Wray.
Get it for 6 euros + shipping - Mailorder
Reviews :
Razorcake (USA) : "I remember this band from the mid-'90s when they released several singles but am surprised to see they are still around. It's good, solid garage punk of the Crypt and Estrus style but with a fun and rockin' undercurrent that many of those bands lacked. Fans of the Devil Dogs, Rip Offs or others of the style will find a lot to like here. The band appears to be from the Netherlands and the single is limited to five hundred copies."
Lost In Tyme (Greece) : "This fine Dutch garage band is back with their brand new 7" on Frantic City Records. 3 killer songs like "Silly Girls", a stormy garage punk tune on side A. "I don't care anymore" on side B is an amazing organ driven moody garage song (my fave), that reminds me something between the Crimson Shadows and early Chesterfield Kings. The ep closes with a nice instrumental, tribute to Link Wray."
Ox Fanzine (Germany) : "Die Beavers aus dem Tulpenland mit gewohnt coolem Garagesound im Budgetrock-Gewand. Zwei swingende Songs mit Orgel gibt's zu hören und dazu das fuzzende Instrumental "Link's dead". Wer schon den kürzlich erschienenen Zehnzöller der Groninger mochte, der macht natürlich auch mit dieser Single nichts falsch. 500er-Auflage mit kopiertem Cover (Rip Off Records lassen güssen)."
-----
-FRANTIC 006
WILD ZEROS "Homesick"
7" Vinyl - 500 copies
This is the first single from the La Rochelle/Bordeaux combo mixing 60s Garage and late 70s Punk, 4 tracks recorded by Lo'Spider at Boogaloo Studios in Bordeaux, they do a DMZ cover ("Boy from Nowhere") and that definitely suits them, this band being highly reminiscent of Monoman's bands as well as late-70s winners such as the Real Kids, Saints, Fun Things... Looch Vibrato from the Magnetix plays organ on the last track. The guys have been involved in bands such as The Pneumonias, Flying Over, the Mean Things, The Magnetix (Wild F, the Wild Zeros' drummer is also known as "Arthur Burners" and played bass in the Magnetix for quite some time, he even recorded some tracks with them on their first LP "Magnetic Reaction" out on Flame On Records), Challengers of the Unknown and more!
Get it for 6 euros + shipping - Mailorder
Reviews :
Maximum Rock & Roll (USA) : "Three tracks that could have easily fallen off one of the "When the birdmen flew" or any of the other Aussie comps. Rock n Roll played the way Rock n Roll is supposed to be played - aggressive, drenched in attitude, hooks, and those killer moments that make ya wanna wing your beer straight at the band. Hints of The Real Kids, TV Killers, The Saints, Dead Boys and The Sonics. A band that has perfected the formula without becoming another faceless Rip Off Records clone. Four tracks of great, great, great and greater."
Razorcake (USA) : "Self-proclaimed "Loud Punk from Bordeaux", these guys remind me the most of the Mullens, who were from Dallas, which I believe is one county over from Bordeaux. Nice mix o' 70s Ramones-isms, organ-driven 60s garage-isms, and contemporary ruckus-isms. Not to mention DMZ cover-isms! If this would have come out on Get Hip, it would be among the rawest records on the label; if it would have come out on Dionysus, the other records would shit themselves in terror. BEST SONG: "Homesick" BEST SONG TITLE: "Something To Do" FANTASTIC AMAZING TRIVIA FACT : Recorded on my former guitarist's 43rd birthday! – Rev. Norb"
City Trash (Holland) : "Some of the familiar faces from the Bordeaux scene we know from the Pneumonias, Mean Things and Flying Over form this band. Four songs on here three own songs and one DMZ cover and that's the best way to describe the sound cause they all sound they could have been DMZ songs. Great sound and all the songs are pretty damn good favourite is "Something to do" where they get backed by Looch from The Magnetix on organ."
Lost In Tyme (Greece) : "Wild Zeros is a new punk garage band from France (with Mean Things and Pneumonias members). Their sound brings to your mind great tunes from the late '70s and early '80s and bands like DMZ, Fun Things, Real Kids. You'll surely agree with me when you listen to their amazing garage punk original song "She knows" on side A. What a great tune... It makes you beg for more and more. An excellent cover of DMZ's classic "Boy from nowhere" on side B plus an original garage stomp with punkish vocals called "Something to do" (featuring "master brain" from the Magnetix on organ). Great 7" ep on limited edition of 500 copies. Grab it!!!"
-----
-FRANTIC 005 - SOLD OUT!
HEARTBEEPS "A boring life with no guitar"
7" Vinyl - 500 copies
First single by this band from Bordeaux formed by ex-TV Killers and with members of the Sentimentals, Hurly Burlies and more, 3 great Garage Punk tunes with a weird and crazy sound including a Love cover. Strictly limited to 500 hand-numbered copies!
Reviews :
High Heels Slut (Belgium) : "Back in the second half of the 90s the TV Killers took Europe by storm with their blistering set of Rock & Roll drenched punkrawk that dragged quite a few of their younger compatriots into the wild world of savage Rock & Roll and inspired them to get their own thing going. The TV Killers have split up wuite some time ago though, but former members still pop up here and there. The Heartbeeps feature two of them on drums and guitar. Good to see these guys are still around! Comparisons with their former band are easily made, so sanyone into the TV Killers could pick this one upwithout thinking twice. "A boring life with no guitar" runs a real Pagan-esque riff, "Losin' Control" is an energetic rollin' punk stomper and the Love cover of "My Flash on You" is the most rock & rolling tune that will get you dancing. Bordeaux strikes again, part 385!"
Ox Fanzine (Germany) : "Die französische Retro-Punkrock-Welle rollt weiter, diesmal in Form der Heartbeeps aus Bordeaux. Unter anderem sind hier ehemalige TV Killers-Leute am Start, was man dem Sound auch deutlich anhört. Gesanglich muss ich immer wieder an Chris Bailey und Magnus Sellergren (Dialtones/Plastiques) denken, während musikalisch ebenfalls die guten alten Saints ein wenig Pate gestanden haben. Auch der auf der Hand liegende Einfluss anderer zeitgenössischer Retro-77er-Franzosenbands ist nicht zu leugnen, insgesamt also eine rundum solide Single, wenn auch nicht weltbewegend überraschend."
-----
-FRANTIC 004 - SOLD OUT!
VEINES "Parties Fines sous Cocaïne"
7" Vinyl - 500 copies
First single from this French Punk Rock band from Nice (including ex Flaschen and Electric Mormons), 4 tracks sung in French sounding like Stalag, Olivensteins, TV Killers or Périphérique Est! One of the best late '70s Punk records out of France, only 30 years late!
Reviews :
No Front Teeth (UK) : "Fucking killer French garage – nothing beats that raw '70s style European punk rock... this is faultless. They remind me a lot of Hubble Bubble which is a fantastic thing!! But Veines are less arty and more rockin'... this is just exactly what I want to hear and Veines do it perfectly. Think Rip Off at its very best. They have just had a full-length LP out on Demolition Derby too – you need to get both of these slabs of wax urgently!! Amazing shit... honestly, amazing."
Incognito Records (Germany) : "Die VEINES kommen von der französiachen Riviera, musikalisch traten die Jungs bislang bei den Electric Mormons, Flaschen und Cosmic Condom in Erscheinung. Das Trio versteht sich auf astreinen '77 Punk Rock der alten Schule, und gibt nicht ohne Grund als Einflüsse Bands wie Les Olivensteins, Stalag, The Trend, Sick Things und die Gears an. 4 auf den Punkt gebrachte '77 Punk Granaten, wobei sie mit der Party Punk Hymne "Parties Fines Sous Cocaine" einen absoluten Überhit im Repertoire haben. Limitiert auf 500 Exemplare."
Dead Beat Records (USA) : "Debut single of pure Punk Rock from the French Riviera. With former members of The Electric Mormons, Flaschen and Cosmic Condom these guys really shine on this 4 song single. Awesome retro sounding punk rock à la Les Olivensteins, Stalag, The Trend, Calcinator, The Sick Things and The Gears."
Z Gun (USA) : "French time capsule punk rock of the Kids variety, with enough spunk to make it listenable today. Top of the pile as far as this stuff goes, but would be better live, on booze, in a dank French bar. (SS)"
-----
-FRANTIC 003 - SOLD OUT!
FLYING OVER "Danger Boy"
7" Vinyl - 500 copies
First single from these Rockin' Frenchies after a 13-track CD album, 3 new Punk Rockin' highly reminiscent of the late, great TV Killers, including one sung in French, on a clear vinyl! Co-release with Adrenalin Fix Music and Shit In Can Records.
Reviews :
Maximum Rock & Roll (USA) : "I haven't even listened to this one yet and I can just tell I'm going to like it. The cover has a sort of EPOXIES feel to it. Let's check it out. Wow. This is old school punk rock in a mid-tempo, catchy, but not wimpy style. The Frenchies know their history when it comes to punk rock. They know that punk is simple, straightforward, not meant to be complicated. All three tracks are quality, just like I knew they would be."
Now Wave (USA) : "All right! France's Flying Over is definitely a Now Wave kind of band! The group has been at it since 1996, and put out a CD back in '04. But I believe this is its first 7". It's a good one! Falling somewhere in between straight-up retro '77 and Killed By Death Euro-punk, Flying Over throws it back to the days when the likes of TV Killers and Gasolheads ruled the French punk scene. Boasting fantastic names (Jet Boy, Jet Girl, Gun Boy, Hero Boy) and unassailable influences (Saints, Sex Pistols, Kids, Vibrators), these Frenchie punk n' rollers could very well induce a worldwide revival of pogo dancing. A-side cuts "Danger Boy" and "Fier De Deplaire" burn fast and furious - the former sparked by a call-and-response exchange between Jet Boy and his wife Jet Girl, the latter sung in French and bringing to mind the early Stitches. On the B-side, "I Wanna Destroy You" eases back the speed a tad and snarls in a classic Pistols style. It also kind of reminds me of "Cherry Bomb" by The Runaways - which can only be a good thing! So there you have it, ladies and gentlemen: Flying Over does old style punk right. Now Wave Nation, this is a band to check out!"
High Heels Slut (Belgium) : "This French band seems to have delt with quite a few line-up changes, which is once more the case since they have relocated from La Rochelle to join the wild Rock & Roll nightlife in Bordeaux. Their "Rockin' Frenchies" we bought a few years ago sounded like early Rip Off bands with at times a shot of Dwarves and this is the first time we hear 'em again. "Danger Boy" and "Fier de déplaire" are two fast and tight punk tracks that are heavily influenced by those other "Fuckin' Frenchies", the TV Killers, who blasted around Europe in the late '90s. "I wanna destroy you" on the flip is a total '77 stomper that reminds a good deal of the Sex Pistols, without the cockney accent! For sure a cool release for all you punk lovers out there!"
-----
-FRANTIC 002 - SOLD OUT!
THE PNEUMONIAS "Automatic Pistol"
7" Vinyl - 500 copies
Third single by the Snot Rock trio from La Rochelle, 4 new wild tracks, think Ramones, Kids, Angry Samoans or Rip Offs! First record with the new line-up, recorded by Lo'Spider. Co-release with Adrenalin Fix Music and Relax-O-Matic Vibrator Records.
Reviews :
Now Wave (USA) : "Hey kids! Check out one of the best records of the year! The Pneumonias are from France, and sound a whole lot like The Rip Offs. As if the mid-'90s never ended, they tear through four songs of super-catchy rock n' roll snot-punk on this firecracker of an EP. Hit A is "Automatic Pistol" a revved-up racer reminiscent of Loli and the Chones, Teengenerate, and (of course!) the Rip Offs. Hit B is "Computer Girl", which works a mid-tempo groove in a poppy early Ramones way. And as if it weren't already completely obvious that these guys worship at the Angry Samoans altar, they have at "Stupid Jerk" for good measure. In recent years, we've heard a number of bands attempting to rekindle the old Rip Off sound and producing mostly lukewarm results. The Pneumonias, I'm here to tell you, are not that type of band. They are AWESOME! This here EP could pass for a top-tier R.O.R. issue from back in the day, and owes as much to the The Kids, Pack, or Samoans as it does to any modern garage-punk touchstone. This'll make my year-end top ten for sure. I'm psyched to hear the full-length on Zodiac!"
Terminal Boredom (USA) : "Sounds like a heavier Four Slicks, pushing the muscled up hot-roddy garage. Four high octane tracks, if this is your bag. Kinda got a mid-Nineties Rip Off vibe as well. A bit of snot in the motor oil. Actually, I think they swiped this sleeve design from The Swindlers and just pasted their name and song titles on it. I will say this much, this thing is mastered fucking LOUD. I wish more records roared off the table like this."
Ox Fanzine (Germany) : "Sauber, mit dieser Scheibe haben es die Franzosen endlich geschafft, ihre tierische Live-Energie auch mal ansatzweise auf Vinyl zu bannen. Während ich den Wischiwaschi-Sound des PNEUMONIAS-Beitrags zur "High School Reject"- Reihe noch mit dickem Punktabzug strafen musste, bin ich jetzt vollauf zufrieden. Vier absolut kickende Songs (inklusive circa fünfsekündiger Angry Samoans-Coverversion) belegen eindrucksvoll, dass die PNEUMONIAS in etwa als der perfekte Missing Link zwischen den Ramones und Zodic Killers gelten können und sich auch hinter Landsleuten wie den Neurotic Swingers nicht zu verstecken brauchen. Und wie oben schon gesagt: live bläst die Band alles weg! Also unbedingt zum Konzert gehen und vorher diesen famosen Siebenzöller besorgen!"
-----
-FRANTIC 001 - SOLD OUT!
Split FOUR SLICKS / PNEUMONIAS "Meet the Dirty Beat!!!"
7" Vinyl - 500 copies
2 tracks per band, Hot Rod Punk Greasers from Paris vs. Snot Rock Brats from La Rochelle! Artwork by Malicious Ben!
Reviews :
P.Trash Records (Germany) : "Killer Split 7". You know the Pneumonias from their 1st 7" on High School Reject Rec. they play stuff like the Kids meet the Spider Babies and the Four Slicks give you hot rod Garage punk'n roll from France including ex-Rip Offs' Jon Von on guitar!"
Underground Medicine (USA) : "These two bands are perfect together."
Dead Beat Records (USA) : "Well if yer keepin up on the Four Slicks discography, this ones the toughest single to get out of the lot. Killer Split here. You know the Pneumonias from their 1st 7" on High School Reject Rec. They play stuff like the Kids meet the Spider Babies, while the Four Slicks bash out two more hot rod Garage punk gems. Both bands from France and the Four Slicks contain ex-Rip Offs' Jon Von on guitar! Two French Punk/RnR Kings on one lil slab!! Really nice packaging on this one!!"
-----